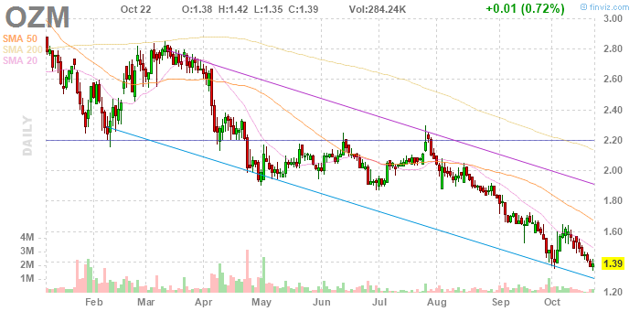 For Och-Ziff Capital Management investors and all stakeholders, calling the last 3 years rough would be a gross understatement. From the start of 2015, OZM is down roughly 88% while the overall market SPY is up over 33%. While the S&P may not be a good frame of reference, and even though other hedge funds, PE firms, and other alternatives have lagged the S&P, it is clear that Och-Ziff has severely underperformed any legitimate benchmark out there. OZM stock lost 25% of its value in 2017 and has lost another 45% of its value in 2018 so far. One would not expect that despite very strong fund performance in 2017, the stock has gotten crushed over the last two years. In 2017, Och-Ziff's OZ Master Fund returned 10.57% net of fees, the OZ Asia Master Fund returned 24.32% net of fees, and the OZ Europe Master Fund returned 5.24% net of fees. While the overall market had significant gains in 2017, these fund returns are still impressive regardless of using a benchmark. 
Just an FYI, this analysis and opinion will not include much detail on valuation and deep modeling with DCF or comparable ratios, but purely on incorrect sentiment and an oversold scenario mixed with forced institutional selling due to regulations. 
The firm managed over $45 billion at its peak a couple years back and has seen a sharp decline in AUM of the last two years. The firm now has $32.8 billion under management, and it appears that the redemptions have bottomed out, and there is a strong chance that AUM increases as the firm moves past the bribery scandal, and new management cleans house and raises additional capital in this changing investment environment and with their newer, striving Real Estate fund.  Additionally, for those of you not familiar with the company and this bribery scandal I have referenced, "In September 2016, the firm entered into settlement agreements with the United States Securities and Exchange Commission and Department of Justice, ending a five-year investigation into violations of the Federal Corrupt Practices Act. As part of the deferred prosecution agreement that settled civil and criminal charges, the firm agreed to pay a $413 million fine. The African subsidiary of the firm also plead guilty to one count of conspiracy." In addition, in the beginning of October OZM agreed to pay $28.8 million to settle a shareholder lawsuit in which it was accused of misleading investors about violations of U.S. laws against foreign bribery, according to a court filing. I truly believe that all of this is behind the company now, and the entire board and executive can return focused on what they do best, invest. 
While average management fees have decreased over the last couple of years, with Och-Ziff's strong CLO business, top-performing credit fund run by James "Jimmy" Levin, and new Real Estate fund performing very well, I expect AUM to increase to $40 Billion by mid 2020, and therefore Profit should be much stronger than prior years where hundreds of millions were spent on litigation and other non-recurring expenses. Och-Ziff's master fund has a net of fees 12% annual return since inception 24 years ago and has been one of the most successful hedge funds of all time. An increased volatility environment, along with a recession looming in the next couple of years, together bode well for the alternative asset management firm with a track record of preserving capital in tough times and providing consistent returns over time. Many institutional investors were forced out of OZM because of regulation regarding bribery charges, along with stock price requirements, which commonly do not allow large institutions to invest in stocks with a price under $5 per share. These large sales of stock added strong selling pressure to the stock, ultimately leading to an oversold situation. In addition, I would not rule out OZM issuing a reverse stock split and I am VERY much looking forward to the earnings conference call on November 2nd. 
Och-Ziff Capital Management may not be worth $12-$14 a share like it was a few years back, but I strongly believe it is worth a hell of a lot more than $1.39 per share. I am confident that the stock should trade north of $2.50 by the end of 2019 and north of $3.50 by the end of 2021. 
Thanks for your time.
Ryan
Disclosure: I am/we are long OZM.
I wrote this article myself, and it expresses my own opinions. I am not receiving compensation for it (other than from Seeking Alpha). I have no business relationship with any company whose stock is mentioned in this article.