Summary
The "Insight" in this article refers to using the average returns of an index
Investing when the index has the best Average return
Avoiding down markets when momentum starts to fade
Bonds - A Study In History
When reviewing historical monthly returns for Bonds, using the BND ETF as a proxy, it becomes very clear there are seasonal patterns to Bonds. This applies to most other areas of investment.
Best month for Bond investing is August with an average monthly return of .82%
The probability of Profit (POP) is over 85%. This means 85% of the time if you purchased BND on August 1st and held it to the end of the month you would make a profit.
April, July, and November are other profitable months with a POP close to 80% or better.
Conclusion: Bond investing returns can be enhanced when trading when POP is highest.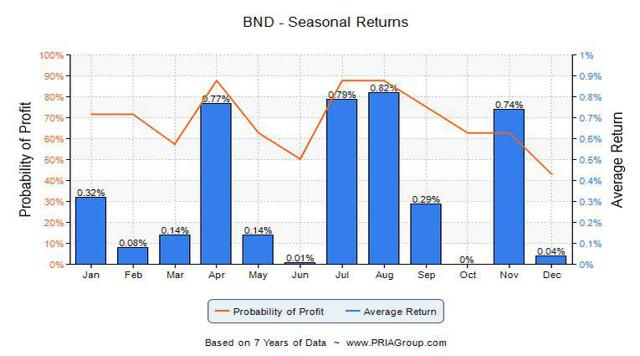 OIL- A Study In History
Using USO as a proxy for OIL we see a seasonal pattern as well.
August through December are typically down months for Oil
Probability of Profit (POP) for this timeframe is under 40%.
Conclusion: When trading USO to the upside look for long trades in Feburary, March, April, and June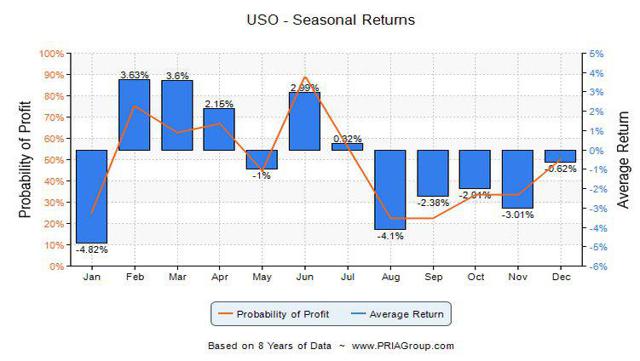 Get Momentum on Your Side
Investing with The Averages also applies to stocks and returns can be enhanced by looking at a much overlooked momemtum indicator.
Percentage of Stocks Over The 50 Day Moving Average
When the percentage of stocks are over 70% on a 50 Day Moving Average it can be looked at as a warning sign that momemtum is starting to slow and it may be best to move out of stocks.
When the percentage of stocks over the 50 Day Moving Average are below 30% it may indicate the stock market is bottoming out.
This indicator can be found in charting packages such as Worden's TC 2000 (Worden has 40 Day and 200 Day) or on sites such as MTR Investors Group or PRIA Group.
Conclusion: Keep mometum on your side by keeping an eye on the percentage of stocks over the 50 Day Moving Average.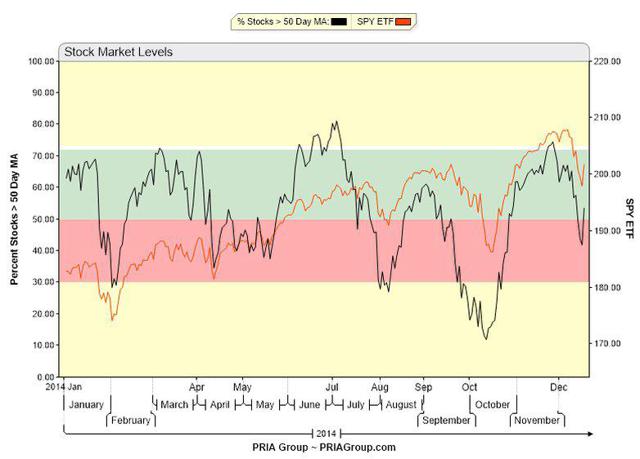 Final Conclusion: When Investing With The Averages, keeping an eye on momentum you can enhance investment returns and reduce investment risk and personal stress.
Disclaimer: This article is for informational and educational purposes only and should not be construed to constitute investment advice. Nothing contained herein shall constitute a solicitation, recommendation or endorsement to buy or sell any security. Prices and returns on equities in this article except as noted are listed without consideration of fees, commissions, taxes, penalties, or interest payable due to purchasing, holding, or selling same.