Asset prices in everything from commodities to bonds to equities have dropped sharply. Rational minds are looking for a reason. Are the markets reacting to something that has happened? Are markets anticipating something that will happen? We want to know!!
Copper, often called Dr. Copper for its ability to forecast global economic growth, has fallen 13 percent to trade at $6,262 a ton. Small cap stocks are known to be a reliable whistle-blower for the entire market and have fallen farther and faster than the broader market. Do these two indicators mean that we are standing on the edge of a cliff?
Several papers have examined the correlation between copper prices and equities. Some work shows that copper can be used as a hedge against equity prices, but evidence shows that copper cannot be used to predict the future price of stocks. The theory that small caps act as the proverbial canary in a coal mine also lacks the scientific research to support the claim. These urban legends are part of trading culture and are widely accepted, but lack any statistical proof. What facts can accurately predict the future price of stocks? Despite the many opportunities that exist to pay a service to find out what will happen in the future, there remains no way to predict the future with any certainty.
What caused last week's route? One of the suspects on the police line up is a robot. Algorithmic trading and high-speed trading have been with us for a while, but the growing sophistication of these tools has generated considerable concern among the adults that oversee capital markets. The implications of algo trading and high-frequency trading were discussed at the annual economic policy symposium in Jackson Hole, Wyoming in August. The speed of selloff on Wednesday and Thursday despite any fundamental changes or headline stories would tend to indicate that the selling was not part of a deliberately thought-out long-range strategy.
So where does last week's, route leave us? There are two forces at work. One is the economy, and the other is human (and robot) psychology. Let us take the economy at face value for the moment without attempting to predict its future. That leaves us with psychology and investor sentiment. At Quartermaster Capital we use the CNN Fear and Greed Index of seven indicators as a barometer to determine the level of investor sentiment.
The current level of investor sentiment is "extreme fear" (11 out of 100). The indicator reached a low of 5 on Thursday, the lowest reading in the last three years.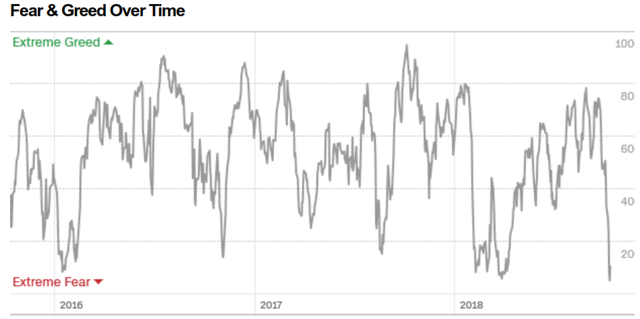 Figure 1 source: CNNMoney
Another indicator; the S&P 500 VS S&P 500 Stocks at 20-Day Highs Minus Lows reached a five standard deviation difference. This is also very rare indicates that the market is at the extreme end of its trading range.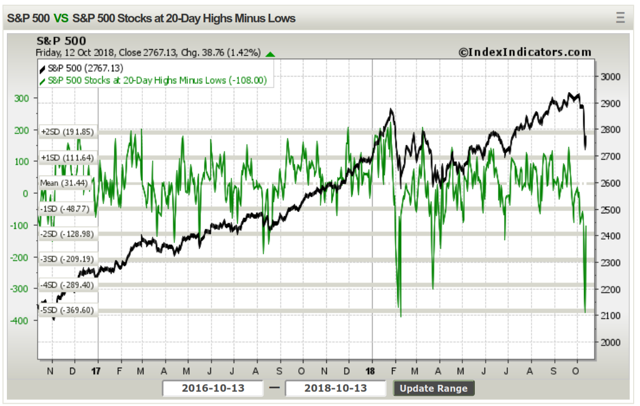 Figure 2 source: Index Indicators
These two indicators can help us to identify where we are with respect to investor sentiment. Investor sentiment can be simplified by the fear and greed cycle.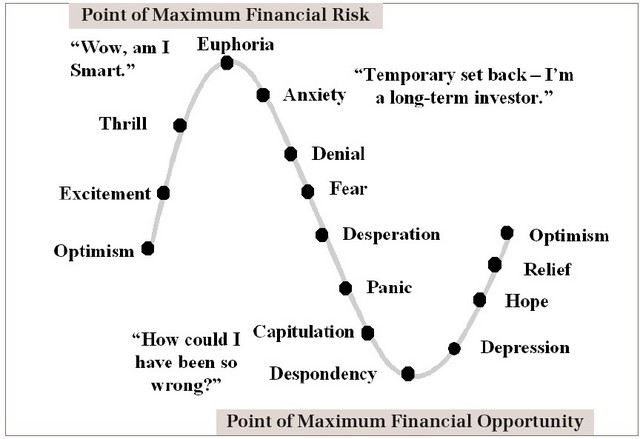 Figure 3 source: Investing Caffeine
The chart of the Fear and Greed Index does not match the figure of the investor sentiment cycle perfectly, but it does give an indication of what to look for. These cycles go up and down like the tide. We want the tide going with us. There are plenty of headwinds for the market to overcome going forward: interest rates, trade tariffs, earnings season, interest rates, the election. This is what is known as the "wall of worry". At this point, it is important to ask yourself whether you are experiencing a sense of euphoria or a sense of despondency. I would argue that after last week's drop the general feeling would be closer to panic. A quick scan of the headlines shows a distinct lack of optimism and excitement and a total absence of euphoria. My major concern here is that the cycle moved so quickly. Some have argued that the current selloff was the result of robot and algorithm trading, and we all know that robots and algorithms do not have emotions. On the other hand, the numbers from the fear and greed index and the graph of the S&P 500 VS S&P 500 Stocks at 20-Day Highs Minus Lows are also emotionless and objective. These indicate that we have reached extreme levels over a long period of observation. This would argue very strongly for at least a temporary bottom. These two indicators tell us that there may be an opportunity in the panic – at least in the short term. The good folks that design the algorithms and program the trading robots have only had a bull market in which to optimize their trading results for the past eight years, and these robots have not been through a tightening cycle in a long time. We can be sure that the robot masters are re-evaluating these programs right now to ensure that they are not liable to do the mathematical equivalent of panicking and that some new subroutines are being worked into the program to reflect the present financial environment. All of these things suggest that this is a good time to at least stick a toe in the water.
At Quartermaster Capital we screen all equity closed-end funds ((CEFs)) on a weekly basis. This screen is accomplished using a complex recipe that includes a quantitative assessment of performance, discount, management fee, the level of leverage, 1-year Z-score, UNII (to check for the sustainability of the distribution), the weekly increase or decrease in the discount, the amount of the discount in relation to the yearly average, and a qualitative assessment of the mutual fund manager and company.
This week's screen comes up with some interesting candidates for bottom fishing. In addition, the selections I will discuss include several different equity sectors to enhance diversification.
Ticker

Name

Strategy

Premium/

(Discount)

Distribution

AGD

Aberdeen Global Dynamic Dividend

Global Equity Dividend

-13.35%

8.23%

FIF

First Trust Energy Infrastructure

Energy/Resources

-10.88%

8.85%

FLC

Flaherty & Crumrine Total Return Fund

Preferred

-11.36%

8.06%

FPF

First Trust Intermediate Duration Preferred & Inc

Preferred stock and debt equities

-12.21%

8.49%

RVT

Royce Value Trust Inc

US Small Cap Equity

-11.74%

8.40%

TY

Tri-Continental Corporation

US General Equity

-12.35%

4.72%
The Aberdeen Global Dynamic Divide (AGD) seeks high current income with long-term capital growth through investment in global corporate equity securities, with investment also in real estate investment trusts, preferred stocks, ETFs and convertible debt securities. It's top three holdings are Apple (AAPL), Broadcom (AVGO), and Delta Airlines (DAL). The fund shares currently sell at a 13.35% discount to net asset value (NAV). The fund pays an annual distribution rate of 8.23% with monthly distributions. Morningstar gives AGD four stars.
The First Trust Energy Infrastructure (FIF) seeks a high level of total return by concentrating on dividend investing primarily in securities of companies engaged in the energy infrastructure sector. FIF generates additional income by writing (or selling) covered call options on up to 35% of its assets. Their largest holding is Enbridge Energy Management (EEQ), followed by TransCanada (TRP) and Kinder Morgan (KMI). FIF's current discount is 10.88% and they pay out a 8.85% annual distribution rate with monthly payments. FIF gets five stars from Morningstar (highest rating).
The Flaherty & Crumrine Total Return Fund (FLC) seeks high current income with capital appreciation through investment in a portfolio of preferred securities issued by U.S. and non-U.S. companies, including traditional preferred stock, trust preferred securities and hybrid securities that have characteristics of both equity and debt securities. The top three holdings of FIF are JP Morgan (JPM), Metlife (MET), and PNC Financial Services Group (PNC). The current discount is 11.36% and they pay out a 8.06% annual distribution rate with monthly payments. FLC gets three stars from Morningstar.
The First Trust Intermediate Duration Preferred & Income (FPF) invests in a portfolio of preferred securities and other income producing securities issued by U.S. and non-U.S. companies, including traditional preferred securities, hybrid preferred securities that have investment and economic characteristics of both preferred securities and debt securities, floating rate and fixed-to-floating rate preferred securities, debt securities, convertible securities and contingent convertible securities. The top three holdings are the debt securities of Enel SpA, Catlin Insurance Co., and Emera, Inc. The current discount is 12.21% and they pay out a 8.49% annual distribution rate with monthly payments. FPF gets three stars from Morningstar.
The Royce Value Trust Inc (RVT) invests in small-cap stocks (generally market caps up to $3 billion). The top three holdings are FLIR Systems (FLIR), HEICO Corp. (HEI), and Quaker Chemical (KWR). RVT has been managed for the past 31 years by Chuck Royce (age 78). RVT shares are selling at a 11.74% discount to NAV and the fund has an 8.4% distribution rate. This fund is not rated by Morningstar.
The Tri-Continental Corporation (TY) uses a quantitative strategy that evaluates stocks based on three broad sub-components - quality, valuation and catalysts (sometimes called momentum). In addition, a portion of the fund uses a fundamental strategy that takes a holistic view, exploring all types of securities issued by one company to determine the best risk/reward profile for the portfolio. Permissible investments include preferred and common stocks, convertible securities (including convertible preferred stocks and convertible bonds, debt securities, repurchase agreements, derivatives, including options, futures contracts, and equity-linked notes, illiquid securities and securities of foreign issuers (including emerging markets issuers). This fund was initiated in 1929. The top three holdings are Microsoft (MSFT), JP Morgan (JPM) and Cisco (CSCO). TY shares are selling at a 12.35% discount to NAV and the fund has an 4.72% distribution rate. RVT and TY pay distribution quarterly, so if these funds interest you for the yield then you must stay with them until December and the next ex-dividend date. TY gets five stars from Morningstar (highest rating).
These six funds provide a diversified set of investment strategies for the individual investor looking for a managed basket of investments generating a high level of income. They all have a human manager to oversee the robots that may assist with the stock buying and selling. The future may not be known, but human nature tells us that this may be an opportune time to establish a few positions. As usual, position size and trading stops are important means to limit losses should the timing of these investments be off and the market continues to tumble.
Disclosure: I am/we are long AGD, FIF, RVT, TY.
Additional disclosure: I wrote this article myself, and it expresses my own opinions. I am not receiving compensation for it (other than from Seeking Alpha). I have no business relationship with any company whose stock is mentioned in this article.