Introducing ShipBrief
Our new product will be hosted at ShipBrief.com, which will include a secure log-in and sign-up page for our research. Members will receive bi-weekly reports, each of which will include market updates, macro discussion, and a specific company focus.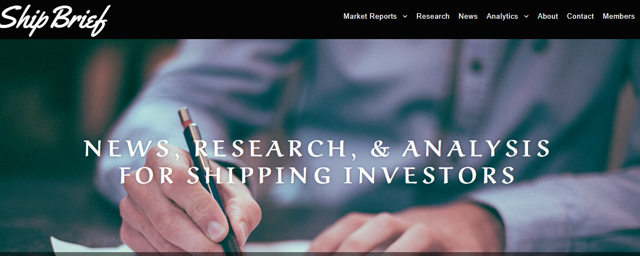 Free Sample Reports
James and J have already produced several sample reports and the latest 1 October report is ready for distribution to paying members. Please click below to review previous iterations.
In the past 2 weeks alone, the two combined picks have returned an average of 11%. Sign up now to receive our latest report & pick.
Income & Growth
Our research will focus both on speculative/growth opportunities as well as occasional top income ideas. We've provided an exclusive income portfolio at Value Investor's Edge for the past 2 years, where we have beaten the market on average and NEVER had a dividend cut.
This newsletter will incorporate some of these top picks, which might also income occasional preferred equity and baby bond opportunities. James and J are excited to finally offer a more affordable product so that everyone can take advantage of these opportunities.
Sign up now for access to exclusive reports and future income picks.
Ship Brief FAQ
The following is a few questions to help overview the product. If anyone has any questions that we didn't cover below, please post a comment or send a private message at any time.
Q: What Will ShipBrief Provide?
ShipBrief will provide regular reports on a bi-weekly basis. These reports will cover market updates, a macro review, and provide a specific company focus. This focus will include growth ideas, speculative trades, income opportunities, and warnings against bad firms.
Q: Who are the analysts?
J Mintzmyer and James Catlin have partnered to offer world-class shipping research at an accessible price. James and J are well known in the industry and have been active contributors on Seeking Alpha for a combined 11 years and have more than 12,000 unique combined followers.
Q: What is the price to subscribe?
ShipBrief will be offered for $399/yr or $39.95/m. The first 100 subscribers will receive an introductory rate of $299/yr, and the next 100 subscribers will receive an introductory rate of $349/yr. You can see our current prices on the sign-up page.
Q: Why ShipBrief? Why now?
Value Investor's Edge is the 2nd most popular research product on Seeking Alpha out of over 170 offerings. James and J have worked together for over 3 years on that platform and have been very successful in the industry; however, the price point simply isn't accessible for many of our readers- $1499/yr or $179/m. In fact, prices at Value Investor's Edge are actually set to increase further in the next few weeks.
We've received cumulative hundreds of inquiries about a more 'retail-oriented' or 'affordable' product. ShipBrief is the solution. At just $399 per year, less than an average lunch per week, readers will receive access to industry commentary and some of our top picks. We're also offering introductory rates of $299/yr for the first 100, and then $349/yr for the next 100.
Q: How long will the $299 pricing last?
The first 100 members will be eligible for this introductory rate. In all honesty, James and J don't know how long that will take to fill, but based on the interest received thus far, I'm anticipating somewhere between 3 and 5 days.
Q: How does this compare to Value Investor's Edge?
ShipBrief is a high-quality product. We've posted two free sample reports above to illustrate what members can expect. The primary difference is that ShipBrief is a bi-weekly newsletter whereas Value Investor's Edge is an immersive platform covering nearly 100 different stocks. Members of Value Investor's Edge coordinate on a 24/7 live chat platform, with lively collaboration. All trades, top ideas, and portfolios are shared in real-time.
Value Investor's Edge is a top-tier platform, but James and J realize the price point is a bit steep for many of our readers. ShipBrief is a quality product, but Value Investor's Edge is clearly the top-tier.
Q: How will research be delivered?
ShipBrief has a fully-functional website, subscribers will receive a log-in with access to exclusive analytics and reports. We will also email our reports to all members. Annual members can log-in and download copies of all previous research reports.
Q: Do you offer a monthly product? Differences?
We offer a monthly product for $39.95/m, but monthly members will not receive access to past research reports or our analytics. They will only receive the emailed reports on a bi-weekly basis. This offers folks a great way to try out our research; we also have two full-length sample reports posted above.
Q: When can we expect reports?
Reports will be delivered on the first and third Monday of each month prior to the opening of the market (0930 EST).
Q: Are you providing investment advice?
Our motto on Value Investor's Edge is "We Research; You Decide." The same is true here. James and J are offering our expertise and our ideas, but these are just our opinions. We always fully recommend that each investor conducts their own due diligence and consults their own investment and tax advisers on a case-by-case basis.
Q: I have more questions!
Great! Please feel free to send me a private message at any time or simply post a comment below.