Team Zuckerberg launched the IPO of Facebook today, but it was anything but seamless. After announcing in February of this year that FB would file with the SEC to conduct an IPO, the stock was expected to trade on the Nasdaq exchange at 11 am ET. But, this did not go as planned. The Nasdaq delayed the trading of FB and the opening took place at 11:30 am. The exchange had problems delivering the opening print and traders were stuck with rapidly changing orders before the stock even began to sell. The volume of the IPO was believed to be the biggest reason for the stock getting off to a late start. The stock was set at an opening price of $38. Within the first 10 minutes of the opening, $7 million shares were traded and the stock set a high of $45 a share. Unfortunately, less than 20 minutes after the opening, shares fell all the way back to the opening price of $38. The stock price eventually closed around $38 per share.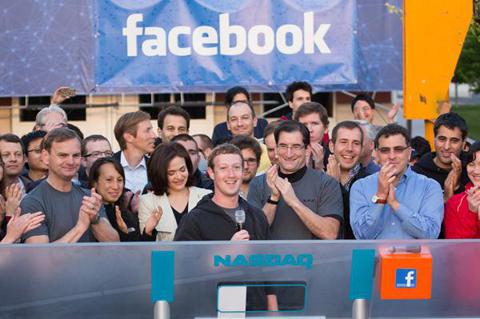 Facebook chose to list its stock on the Nasdaq versus the New York Stock Exchange because the NYSE is personified as an exchange for "blue chips". Nasdaq, however, is where a majority of the Silicon Valley companies are listed and this fits the character of Facebook. The social networking giant is facing some issues with its users downloading the mobile version of FB. This has been noted as a difficult way for the company to reasonable make a profit. Although, FB's first quarter 2012 revenue was $1.06, up from $731 from the prior year, analysts expected $1.3 billion. Additionally, the quarter over quarter revenue is down 6% which marks the first time in over 3 years the company has had a revenue lower than the previous quarter.
Facebook should be recognized for making some history on Wall Street. It's filing is expected to raise close to $16 billion dollars. If this happens, it would stand as the largest Internet related IPO in history breaking the record made by Infineon Technologies at $5.9 billion in 2000. Over 458 million shares were traded making Facebook's debut the single largest volume trading day over GM's record day. Facebook continues to be seen as one of the fastest growing companies in US history. With over 900 million users, the future of FB continues to look promising. For now, investors will have to soak in the day's price movement and hope FB and the bankers set the price appropriately. One thing is certain, however, is that Facebook users will continue to gush with friends about their lives and possibly add photos they may one day regret.
follow me at:
Disclosure: I am long FB.