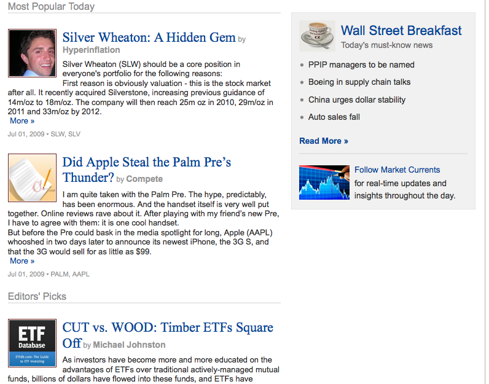 When Seeking Alpha was in its early days, we published about 25 to 30 articles per day. So it made sense to offer our readers a "Daily Dispatch" email, containing links to all the articles arranged by theme and sector.
But despite our high article rejection rate, we now publish 200 to 250 articles per day excluding conference call transcripts. As a result, the Daily Dispatch email became too long, and the click through rate of any but the top articles was low. This matters, because there are about 150,000 subscribers to that email alone.
So we've redesigned the Daily Dispatch email. It now features Wall Street Breakfast, our daily news summary, the two most popular articles from the last day, and the top two Editors' Picks.
We've ensured that there is backward compatibility for those who liked the longer list. First, there's a link at the bottom of the email to "View all of today's articles by sector at Stocks & Sectors", which covers most of the content of the old email. Second, you can get the entire content of the old emails by subscribing to the collection of emails on the email alerts dashboard. The old email was Stocks & Sectors + Macro View + Investing Ideas + ETF Daily, all of which are available separately. The downside is that you now have to subscribe to 4 emails to get the same as the massive old Daily Dispatch; the upside is that they are easier to navigate and less cumbersome.
We've learned that whenever we make changes, some of our readers always prefer the way things used to be, and they are often the most vocal. So we listen carefully to feedback, but also track the impact of changes in the usage stats, in this case the open rate and click through rate of the emails. We hope our readers will like the changes.
As the number of articles we publish continues to rise, personalization becomes more important. We're seeing steep increases in the number of our readers setting up portfolios and following authors they like. On the email side, that's reflected in a rise in subscriptions to the daily email alert featuring articles on the stocks in your portfolio and articles by the authors you follow. You can set up that email by clicking on "Settings" in the bottom toolbar after logging in.