Before you're all off to enjoy Thanksgiving, I wanted to provide a short update on what we've been up to in November.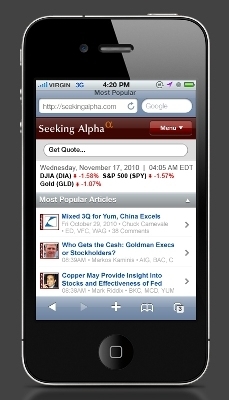 Seeking Alpha Launches Mobile Site
Last week we launched our mobile site (finally!), enabling faster page load times and a cleaner user experience for  smartphone users. The mobile site has been optimized for iPhones, iPod Touches and Android phones; we hope to add support for Blackberries in the near future. It's particularly good for viewing our real-time market commentary Market Currents.
When bookmarked or added to your iPhone home screen, the new mobile version of Seeking Alpha feels like a native iPhone app.

New: Investing for Income
We recently added a
new area
on Seeking Alpha, to help users find smart content specifically geared towards income investing.  Largely thought to be popular with retirees and those approaching retirement, we're finding that investing for yield appeals to a wider audience than expected.  Many non-retirees are looking at dividend stocks, bonds and other income strategies to generate supplemental income during periods when they are under-employed or have long-term doubts about the market.  We've actually seen a significant increase in interest for SA articles covering  income investing from non-retirees.   

On other finance sites, content for income investors is typically buried under 'personal finance' and often includes simplistic and evergreen articles that are not relevant for sophisticated investors. In contrast, here are a few recent articles that give you a sense of what's available on Seeking Alpha:

Investing Apps hit 20,000 Installs
On October 10, we
launched
a platform for web-based investing tools on our site –
Investing Apps
.  The Apps let users track, analyze and manage their investments on the Seeking Alpha site.  Tools available cover a wide range of investor needs such as research from providers like Zacks and Morningstar, charts & data, stock screeners, and portfolio management.  In one month, users have installed over 20,000 Apps.
We continue to raise the number of Apps offered on Seeking Alpha through partnerships. New Apps that will launch on the platform soon include:
Earnings Window from Midnight Trader - Earnings calendar including call and earnings information, with the ability to create a watchlist of stocks you follow.

Live Briefs from Midnight Trader - Breaking real-time market moving news and trading ideas, sector summaries and earnings alerts.

BornToSell - A covered call ideas screener and covered call portfolio management tool.

ETF Research Center - ETF Fundamental Research with an ETF screener.  

TheFlyonTheWall - A real time financial news feed with market intelligence.

StockTraders Almanac - Newsletters, alerts, and tools based around historical /technical stock market cycles and seasonal trends.  

Site Traffic at an All Time High
During the week starting the 7th of November, Seeking Alpha had the
strongest traffic
in the history of our site -- 7% more traffic that the second strongest week in the history of the site and 40% more than we saw in the same week in 2009.