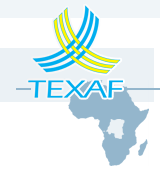 Company profile
Texaf (EBR:TXF) is a Belgian holding company active in the Democratic Republic of Congo. Its business model is simple, offering unique exposure to high-end real estate in Kinshasa (DR of Congo) and a sandstone quarry supplying local infrastructure and concrete needs. Most of its revenues are generated by its real estate and sandstone quarry divisions, but it also has a limited presence in agriculture and a micro-finance start-up institution.
The company is listed on Euronext Brussels and has a market capitalization of roughly € 120m. The Société Financière Africaine (SFA) is majority shareholder with a 62.3% stake. This company is controlled by the company Chagawirald, which in turn is owned by the Texaf CEO Philippe Croonenberghs. Since 2014, Middle Way Ltd. is the second reference shareholder, holding a 10% stake acquired via a contribution in kind. Middle Way Ltd. is ultimately owned by the Cha family (real estate developer HKRI (listed) in Hong Kong). The Cha family has been active in Africa since 1964. The last few years they managed to grow the dividend on average with 20%
Real estate is the most important division, generating 72% of revenues.

The portfolio includes more than 150 ha of land in and around Kinshasa,including 53ha in the city's security zone. Over the years,Texaf has developed 35 villas and 185 apartments for the upper-class and 20k m² of offices. The company now targets a 50/50 residential and office portfolio. The current projects are c. 100% occupied and serve as investments, but Texaf plans to build and sell housing units for the middle-class in the future.
Additionally, it owns a sandstone quarry and crushing plant called Carrigrès, which still has c. 50 years of capacity. Its revenues are generated by mining raw materials for road construction and the production of concrete.
The agriculture companies only make a small contribution to earnings-a situation that is expected to last -but they represent a valuable land bank spread across the region. In2H14, Texaf co-founded the micro-finance institution i-Finance via a 10% stake. The results of this company are not consolidated, but its business appears to be growing more quickly than anticipated.
Investment case
Texaf is a unique organization holding a valuable landbank and sandstone quarry in and around Kinshasa (DR of Congo). Its revenue growth is reflected in a track record of 20% EPS growth per annum.
Its landbank offers more than 10 years of development potential in mid-& high-quality housing units and offices:
• Its UtexAfrica site is of outstanding quality, located in the safe zone of Kinshasa, enjoying high-demand from national and international tenants. Next to high-end residential units, Texaf intends to develop a new business district on this site. The current portfolio is fully occupied and generates a solid, euro-denominated cash inflow. We see further value appreciation ahead.
• The company owns a +100ha site 10km from the city centre where it plans to develop residential middle-class units in several phases. I strongly believe that its true market value is not yet reflected in the balance sheet.
The sandstone quarry and crushing plant has enough inventories to cover more than 50 years of production, making it a strong asset in the current environment of high demographic growth and need for improved infrastructure.
The company has almost no debt and therefore a very low operational risk profile. Increased leverage could accelerate real estate growth
A closer look
Texaf is a Belgian holding company solely active in the Democratic Republic of Congo. Though its roots are in the textile industry, its current business is mainly driven by two activities: 1) real estate development & investments, and 2) the industrial activities of its sandstone quarry and crushing plant (Carrigrès). The company also has a small presence in agriculture and micro-financing. Annual turnover amounted to roughly € 18.9m in FY14; 72% from real estate and 28% from Carrigrès. Looking ahead, Texaf would like to play an important role in the revival of the DRC. The company employs roughly 200 staff.
INDUSTRIAL ACTIVITIES
Carrigrés(located approx. 10km from Kinshasa centre) offers raw materials for road construction and the production of concrete. Its reserves are estimated at circa 25 million tonnes and are expected to last another 50 years.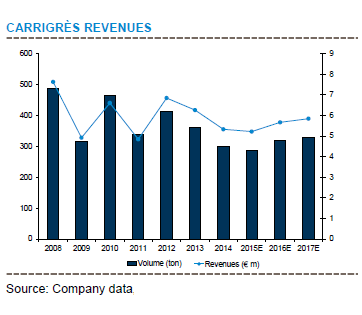 In FY14, Texaf embarked on drastic restructuring and renovations (replacement of a sifter, refurbishment of crunchers, etc.) in order to improve efficiency. Management is now guiding for increased profitability in the coming years.
REAL ESTATE
Still 100ha of buildable area available Most of Texaf's revenue is generated by the real estate division. The company owns four sites: Utexafrica, Cotex, Petit Pont and CPA. The land is owned via easily-renewable 25-year concessions. The Utexafrica site is well-known for its high-quality residential buildings and benefits from its inclusion in the security zone of the city. In contrast to the city, this site is clean, green and breathes tranquility. It covers 51ha (o.w. 14ha was occupied by the old textile factory), offering sufficient potential for new-build projects in the coming years.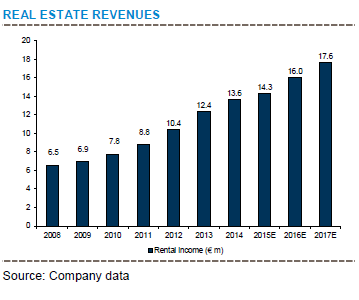 Part of this land already houses 35 villas and 185 apartments. The location and quality attracts expats from international companies, embassies, non-government organizations, not to mention wealthy locals. Texaf furthermore offers retail, sport facilities and a restaurant. Amongst the tenants are a supermarket, baker, pharmacy, bank agencies, etc. The site's attractiveness results in c. 100% occupancy.
Texaf also owns a 3.2ha complex in front of the Utexafrica site called Cotex. This site offers the potential for office developments. One part contains redeveloped logistics buildings, the other was rented until end-FY14 and is partly up for sale to finance the construction of other projects.
They also have small, but extremely-well-located piece of land was acquired by Texaf in February 2008 called ¨Petit pont. It used to be illegally occupied, but the company has recovered its use in the meantime. However ongoing court cases prevent the construction of a prestigious project on it.
At approx. 10 km from the Kinshasa city centre (Kinsuka), Texaf has acquired full control of the CPA site of 104ha(!) along the Congo river. This piece of land (formerly used to house the Immotex factory) offers the opportunity for a huge urban development project of about 1,500 units. Texaf will develop this site in phases.
SMALL PRESENCE IN AGRICULTURE
The company also owns two agriculture companies (Cotonnière and Estagrico) which have limited activity, but which still hold a land bank across the region (Kasaï Oriental, Maniema, Sud-Kivu and north of Katanga). In 2014, Texaf increased its stake in Cotonnière from 60% to 94%, (the remainder is in government hands), while Estagrico is fully-owned. The contributions of these companies to group earnings are negligible, but they still help to realize social responsibility and civic activities
MICRO-FINANCE START-UP I-FINANCE
The micro-finance institution i-Finance kicked-off successfully in September FY14. At present, it has already recorded $ 10m of credits. Texaf holds a 10% stake and does not therefore consolidate the results. It currently looks as if i-Finance will reach break-even sooner than expected.
Portfolio update
Over FY11-14, Texaf invested € 26.7m in real estate via the construction of 64 apartments and the reconversion of semi-industrial buildings into offices. So far in FY15, Texaf has already delivered 20 apartments, while it plans to finalize the development of 33 new apartments (which are 60% financed via debt) in FY16.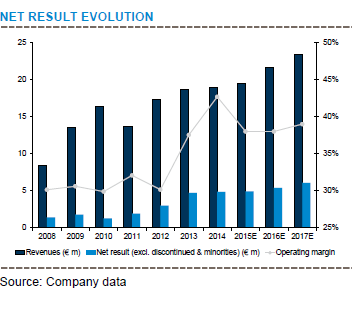 The target real estate portfolio is composed 50/50 of high-quality residential units and professional real estate. This latter segment attracts a diversified tenant base of international organizations, public administrations, non-government companies and small & medium-sized enterprises. Texaf is effectively creating a new business district on its UtexAfrica land bank. The occupancy rate on Texaf's portfolio is almost 100%.
The crushing activity generates revenue by delivering raw materials for road construction (30-40%) and the production of concrete (60-70%). In FY14, important road construction works were completed. Currently, there is little visibility on new projects, leading us to believe that a larger proportion of revenue will come from concrete production in the short run.
In FY15, Texaf expects a small increase in rental income from € 13.6m to € 14m, driven by the delivery of new apartments but tempered by the gradual decline in income from the UN troop building at UtexAfrica (partly from January 1st and the remainder from April 1st). Carrigrès revenues are guided to fall due to lower volumes. Overall guidance is for an increase in REBIT y/y.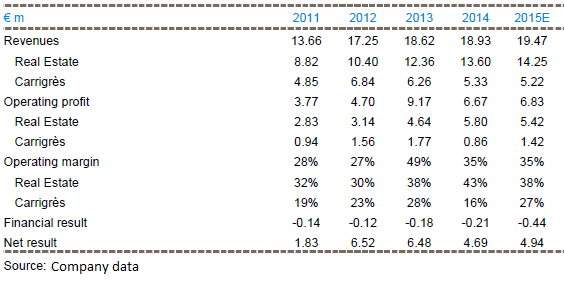 In FY15, the company expects the one-off personnel restructuring costs to weigh on the operating margin. In the coming years, however, they expect this margin to recover mainly driven by improved efficiency at the Carrigrès quarry. They foresee an increase in operating margin from 35% to 37% over FY15-17. From this we see the net result increasing 23% from € 4.9m to € 6.1m, which coincides with a small drop in EPS in FY15 (linked to the increased number of shares). I strongly believe the company would continue its increase in EPS by 20% annually.
Texaf's balance sheet profile carries low risk. Net debt is small, making debt-to-EBITDA or equity ratios negligible. Given the low level of credit lines, renewal proves easy and the bilateral credit lines are increasingly revolving in nature.

However, Congolese banks have limited equity. It can therefore be expected that they start looking to raise debt in Belgium in order to support its acceleration in real estate development. Another problem with the Congolese banks is that they charge extremely high interest rates. The company's current cost of debt stands at 8.5% but this rate should decline in the future.
Conclusion
I have applied the sum-of-the-parts method to value Texaf. Valuation multiples such as P/E and EV/EBITDA are irrelevant because they don't reflect the hidden value of the land bank that doesn't generate income. We've used an 11% yield to value to rental properties. We've assumed a value of € 436 per sqm for the bare land at the top location in Kinshasa and € 34 per sqm for the CPA site located 10km from Kinshasa. In 2013, Texaf sold 7,236 sqm for $ 4.1m next to the Utrexafrica site. This transaction implied a price of € 436 per sqm. Note that the Belgian state has recently sold a site that is close to the Utexafrica and Cotex sites for about € 800 per sqm. I arrive at € 53.3/share or € 42.6/share after applying a 20% discount for the country risk and illiquidity of the stock. The current stockprice is €34.60, so this stock is currently seriously undervalued in my opinion. These estimates reflect the situation at the end of 2015.