By Victor Ajeneza
Victor Ajeneza is an undergraduate student majoring in Actuarial Science in the Eli Broad School of Business at Michigan State University.
The beginning of 2017 has been marked with Merger and Acquisition or "M&A" as a trending topic in the business world. A proposed Verizon (SYMBOL: VZ) merger deal with Yahoo (SYMBOL: YHOO), rumors of a T-Mobile acquisition (SYMBOL: TMUS), and AT&T (SYMBOL: T) acquiring Time Warner (Symbol TWX), are just a few M&A activities making the headlines. Companies are opting for M&A in coping with risk and as a strategic management approach, as the Nestle CEO Ulf Schneider mentioned as reported by CNBC, "if the opportunity presents itself and it makes strategic sense for Nestle, the food and beverage giant will be ready…"
A Sneak Peek Into 2016 M&A
M&A activities in the US are projected to increase in 2017 based on last year's result. Willis Towers Watson reported a Shareholder 5% increase in value creation from M&A in 2016. The Telecommunications, Media & Technology sector (hereafter, TMT) recorded more deals as companies are tapping into the digital world. This does not come as a surprise as more companies are looking to get closer to customers, and technology creates the right media. A total of 1,114 TMT deals in the US was recorded in 2016 valuing at US$363 billion.
M&A activities increased in all sectors with a 65% increase in the energy, mining and utilities sector. The figure below illustrates the top sectors in 2016 and the number of M&A deals. The best explanation to the TMT sector performance in M&A activities can be explained by the increasing need to move toward digitalization.
The Willis Towers Watson Quarterly Deal Performance Monitor, a study of M&A deal performance, predicts 50% of the companies in the Insurance sector will acquire new technologies via M&A in the next 3 years, backing up digitalization as one of the main driving factors of M&A activities.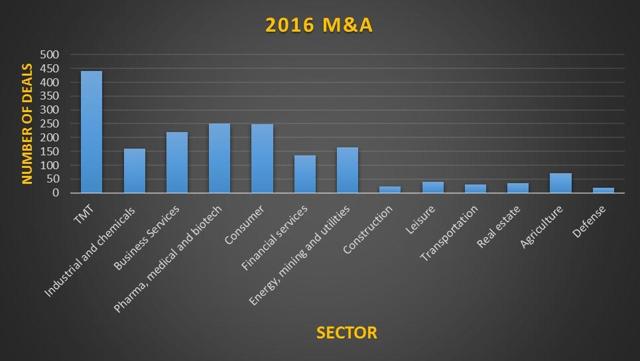 Figure 1. M&A Performance By Sector in 2016 As Recorded By White & Case, whitecase.com
What's in for Verizon & AT&T?
Marketers are switching to mobile advertising as opposed to traditional means such as TV advertisements. With an estimated 38% in U.S. Mobile advertising spending, over 112 million retail subscribers and Yahoo with about 600 million monthly mobile users, Verizon is projected to see an increase in cash flow. M&A opens up the door to a wider market as well as being a strategic way to minimize risks associated with entering new markets, and Verizon's move sums up the goal of the acquisition.
Companies such as AT&T are using M&A to stir up innovation to remain competitive in their respective industries. AT&T acquisition of Time Warner brings to life an extensive library of media content to the largest base of TV subscribers in the world with a goal to provide premium video content most especially premium mobile content for $85.4 billion. Time Warner with an all-time high 130 million subscribers in the history of subscription business, $28 billion in revenue in 2015 ranking as fourth-largest media company in America that year, and second-highest-grossing studio in 2016, the deal promises an increase in AT&T revenue as well as a potential increase in shareholders' value from a diversified portfolio.
Will M&A Reach Record High Volume?
2017 is expected to witness promising M&A results. Despite political uncertainty after Brexit and US elections and a slow 2016 start, the largest volume of M&A deals was recorded in the last weeks of 2016. The figure below illustrates M&A projections by deal volume flow with TMT still the top sector.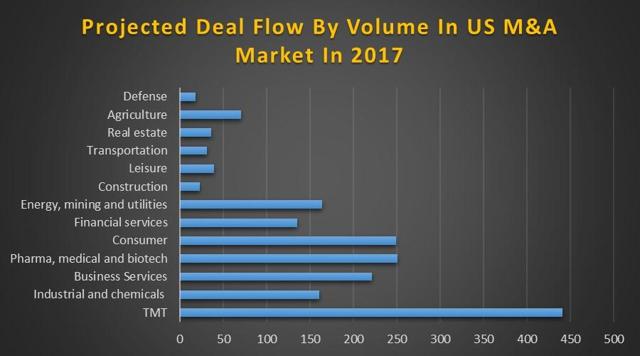 Figure 2. Projected Deal Flow By Volume In US M&A Market In 2017 A Predicted by White Case, whitecase.com
The US stock market is a major factor that influences M&A activities. The strength and health of the US stock provide buyers and vendors with the confidence to carry out transactions. Financing the large transactions is also less hectic with near-historic low US interest rates and bond and loan markets providing the right financing environment.
As companies are looking to tap into the growing digital world by making cross sector strategic decisions, there are growing rumors on mega deals that we might see during the course of this year. A T-Mobile merger with Sprint? Facebook considering Netflix? In all cases, 2017 is a promising year for M&A.
References
http://usmergers.whitecase.com/building-momentum?utm_source=Q1SearchAd&utm_medium=Search&utm_campaign=IndustryGrowth&utm_content=GoogleSearchMAPrivateEquityQ1SearchAd&gclid=CO32u8zuktICFYQDaQode24GLw
http://www.cnbc.com/mergers-and-acquisitions/
https://www.willistowerswatson.com/en/insights/2017/01/How-diverse-growth-strategies-can-advance-digitalisation-in-the-insurance-industry
https://www.willistowerswatson.com/en/press/2017/01/Shareholders-witnessed-a-5pp-increase-in-value-creation-from-MnA-in-2016
https://www.towerswatson.com/en/Services/our-solutions/mergers-acquisitions-and-corporate-transaction?webSyncID=e35abd4e-8ba0-d21a-7314-1cd1b2d8340e&sessionGUID=63d1a042-d070-904b-50b4-7ba8559b4103
https://www.willistowerswatson.com/en/press/2017/01/digitalisation-drives-new-wave-of-MnA http://www.cnbc.com/2017/02/16/nestle-targets-2-4-percent-growth-this-year-after-2016-profit-miss.html
http://www.cnbc.com/2017/02/14/t-mobile-ceo-john-legere-humored-by-takeover-rumors.html
https://www.washingtonpost.com/news/the-switch/wp/2016/10/21/att-could-soon-own-almost-everything-from-hbo-to-cnn-to-dc-comics/?utm_term=.6bf79a1932ce