By Jacqueline Baratta
Jacqueline Baratta is an undergraduate student majoring in Accounting in the Eli Broad School of Business at Michigan State University.
Federal Chairman Janet Yellen said "Our decision to raise interest rates should certainly be understood as a reflection of the confidence we have in progress the economy has made and our judgment that the progress will continue. It is a vote of confidence in the economy." The interest rate for home mortgages has been at historic lows since 2009. The Federal Reserve began increasing interest rates in late 2016 and is expected to increase rates several times in 2017.
The traditional 30-year mortgage rate is based on the 30 year US Treasury Bond rate. A higher US Treasury borrowing r ate causes an increase in the cost of housing for the home buyer. The rising interest rate makes for a more difficult borrowing environment which has the potential to slow home sales.
History shows that with interest rate hikes, the housing market starts to slow as new construction becomes less affordable for the consumer. To determine the impact of Federal Reserve policy to raise interest rates on housing, we must weigh several variables such as the magnitude of the increases, income affordability, supply of homes and other construction cost variables must be considered to determine the relevant impact on home demand.
The determining factor in whether the housing market is adversely impacted by rising interest rates is found by comparing the cost of housing (interest is one cost component) to the affordability of the houses for the purchaser. The economy is growing and the median family incomes are also increasing due to an improving economy.
Wells Fargo CEO, John Stumpf, (SYMBOL: WFC) states that "if we do see some rate increases coming, because it reflects a stronger economy, nobody is going to not buy a house because the mortgage rates went up. They can choose a different product and probably get the same rate. The same thing is true for small businesses."
On the other hand, Bank of America CEO, Brian Moynihan (SYMBOL: BAC), contradicted John Stumpf by saying "If you see rates rise, you'll see the Mortgage market slow down." CEO of Blackstone Group, Steve Schwarzman said "twenty- five out of 26 times when interest rates went up, home prices went up." Therefore, the affordability comparison is a critical comparison to determine the impact on the home buyer purchase.
A simple mortgage calculation shows a loss of about 12 percent in purchasing power from a one-percentage point rise in mortgage rates. For example, a person taking out a $200,000 using a 30-year fixed rate mortgage at 3.75% rate would have faced $926 monthly payment (just on principle and interest). At 4.75% and to keep the same monthly payment, the loan amount has to be cut to $177,500. The purchasing power has been reduced by higher rates.
Home buyers develop an emotional attachment when they purchase their home. Generally, they will pay more than they originally budgeted for the home due to this emotional component. The change in cost may mean selecting a lower cost neighborhood, smaller house, or less features than what they had envisioned. Rather people find ways to put additional money or a down payment to reduce the monthly payment or reallocate their expenditures from other activities to pay a higher mortgage payment.
The Median Family Income has risen 5.75% from 2012 $64,548 to $69,929 (2015). In the latest press release, Sentier Research spokesman Gordon Green summarizes the recent data:
Median annual household income in 2016 has not been able to maintain the momentum that it achieved during 2015. Real median income in January 2016 was $58,308, not significantly different than the November 2016 reading of $58,221.
However real median income has increased by 1.2 percent from May 2016, when it was $57,552. We continue to monitor the course of inflation, as this has a significant effect on the trend in real median annual household income.
We are now at a point now where median household income is slightly higher than at the beginning of the great recession in December 2007, and only 0.3 percent lower than January 2000, the beginning of this statistical series."
A family is able to absorb a higher monthly mortgage payment today versus in the year 2012. However, the cost of land and construction has also increased. A more relevant metric is not a monthly payment but a monthly payment in relation to income. The typical home buyer dedicates 15 percent of their income for mortgage principal and interest.
A factor that suggests home sales would not be impacted from rising mortgage rates is that the unemployment rate is currently at 4.75, which is the lowest rate since 2007, and families have greater income. There is also a large pent-up demand of young adults living with their parents that seek to form their own separate households. In addition, due to high stock market valuations, which increases family wealth, some people can diversify out of the stock market and put funds into real estate down payments.
In conclusion, If the fed continues to increase interest rates, the housing demand should not be adversely affected, assuming that moderate and median family incomes continue to increase at a similar rate.
According to Zacks, the largest US homebuilders ranked by current year revenue estimates are Lennar Corp (Symbo: LEN, $11.93b), DR Horton (Symbol: DHI, $13.76b), Pulte Group (Symbol: PHM, $8.78b), and Toll Brothers (Symbol:TOL, $5.75b) and KB Homes (Symbol: KBH, $4.04b)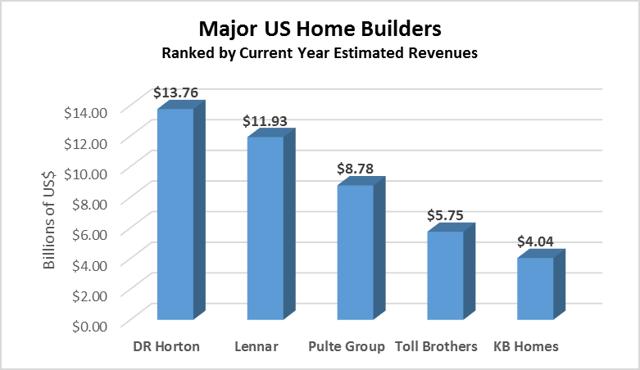 Source: Zacks.com
http://www.businessinsider.com/real-wages-in-america-below-2002-peak-2016-11 (quote from Gordon Green)