By Zachary Terry
Zachary Terry is an undergraduate student at the Eli Broad School of Business at Michigan State University. He is majoring in Supply Chain Management
We are living in what is the dawning of a golden age for Supply Chain. Supply Chain innovation is experiencing exponential growth, and the world is seeing that companies are often competing less on product innovation or increased quality, but more on how efficient their supply chains are.
In recent years, Amazon (SYMBOL: AMZN) has solidified its place as the de facto leader in e-commerce retail, due to its hyper efficient and innovative Supply Chain. One of the most ground breaking new Supply Chain innovations recently announced by Amazon is Amazon Prime Air, a drone delivery service for last-mile shipping.
Amazon Prime Air, the drone delivery service unveiled by Amazon's CEO Jeff Bezos, is slated to launch either in late 2017 or 2018. The program will start by delivering packages that weigh 5 pounds or less, which at first seems like it would affect a small portion of Amazon's multi-billion-dollar business. However, Eugene Kim at Business Insider, reported that these small packages constituted 86% of all the company's orders.
To put into perspective what 86% of shipped packages by Amazon looks like, we'll use the estimate by Forbes: at ~2,500,000 packages shipped every day, it is estimated that Amazon Prime Air has the potential to affect 2,150,000 packages on a daily basis, and that was based on data from 2013.
Cost of Drone Delivery Services
Due to Drones limited range, Amazon will use them for last-mile shipping, the last leg of a package's journey to its destination. According to Deutsche Bank (and reported by Eugene Kim at Business Insider) The effective employment of drones will allow Amazon to achieve "80% cost savings coming to last-mile shipping". Kim reports that Deutsche Bank has estimated the following costs for packages roughly the size of a shoebox: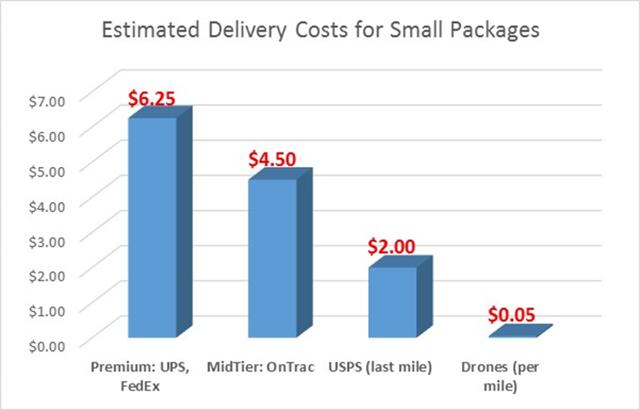 "The most staggering part about Amazon's upcoming drone delivery service", 15 June 2016
Amazon has said that Drones will be used for distances of no more than 15 miles, so even if drones are used for the maximum amount of distance, it results in a last-mile shipping cost of $0.75. Comparing last mile USPS ($2) to one mile of drone delivery ($0.05), by using the drones instead of USPS Amazon has the potential of decreasing their one-mile shipping costs by 97.5%.
In classic Amazon fashion, the company is more likely to focus on market share over profits with the implementation of Amazon Prime Air and thus transfer most of the savings of drone delivery to its customers. Figure 1 below illustrates how successful implementation of Amazon Prime Air will affect not only delivery times but what the consumer can expect to pay for Amazon Prime Air delivery:
Graph source: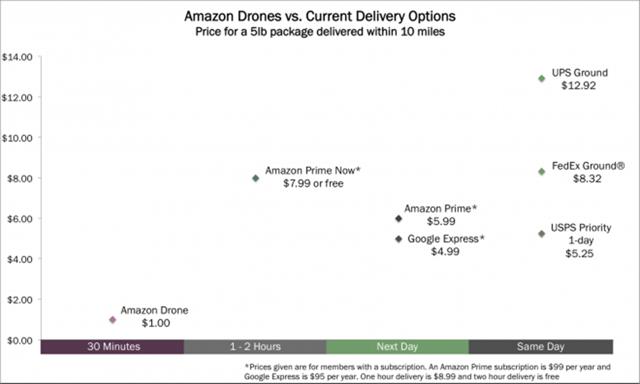 What issues are facing Amazon Prime Air?
Amazon Prime Air is an exciting and innovative idea that has the potential to save both Amazon and its customers millions of dollars in shipping costs.
If Amazon can successfully implement the drone delivery service on a wide enough scale to no longer need to rely on UPS and FedEx, the company could save $1.1 billion annually, according to Citigroup Inc. analysts as reported in the Wall Street Journal.
With that said, it is not without its share of issues. The biggest concern about Amazon's drone delivery system is the safety of the drones. Amazon has mentioned numerous times that its drones have been built with a sophisticated "Sense and Avoid" technology but until they are employed in the real world on a large scale it's impossible to determine how "safe" the drones will be.
Another major concern facing Prime Air is the safety of the packages they will be carrying. Not only is there concern for the packages being damaged during the "flight" but there is significant cause for concern for the packages being stolen from the drones during transit.
It is still unclear how Amazon will identify delivery locations, and at only 55 pounds, it is entirely possible for individuals to physically intercept the drones themselves. Whether it is other companies adopting them or personal drones becoming increasingly popular and affordable, drones will become more and more common
Amazon.com, Inc traded at a total market capitalization of $394 billion as of 31 January 2017. Zacks estimates Amazon will earn $4.76 per share on revenues of $137.2 billion for FY Dec 2016 and $8.81 per share on revenues of $167.7 billion. The company does not pay a dividend.