By Furat Zomay
Furat Zomay is an undergraduate student majoring in Finance in the Eli Broad School of Business at Michigan State University.
The Madison Square Garden Company (SYMBOL: MSG) is a holding company divided into two divisions: entertainment and sports. The sports division owns and operates the New York Knicks, New York Rangers, New York Liberty and two developmental league teams.
MSG Sports also presents other sporting events such as boxing and college basketball. MSG Entertainment features many fixtures such as concerts and special events. MSG Entertainment also contains venues such as Radio City Music Hall and The Chicago Theater to name a few. With the amount of valuable and increasingly high revenue producing entities MSG contains I believe that the stock will increase in the foreseeable future.
The most valuable asset for MSG is the New York Knicks. The Knicks play in The National Basketball Association (NBA) which is a multi-billon dollar company. According to Forbes, the average NBA team is worth $1.32 billion. The NBA team that is worth the most amount of money happens to be the New York Knicks. They were recently valued at $3.3 billion.
The winning record of the professional team is not as relevant to the valuation as most would think. The Knicks are currently on pace to finish with the 8 th worse record in the NBA which would put them in the bottom half of the league. This did not change their value nor is it an anomaly.
Three of the five most valuable companies in the NBA currently have losing records. This in turn means that a losing product on the court should not scare investors from investing. NBA teams still pull in a profit whether they are playing well or not.
If the New York Knicks do end up becoming a good basketball team whether through the NBA draft or key free agency signings, then that would only increase the revenue of the team through increasing ticket sales and merchandise of a team that is already profiting.
In 2014 the NBA signed a lucrative television deal with ESPN and Turner Sports on behalf of all league teams that is worth about $24 billion over nine years. The deal took effect starting in the 2017 season that pays the NBA $2.6 billion annually. This television deals puts it at the largest in NBA history which means teams are now making more money than ever before.
Redevelopment of the Garden?
For the past decade there have been talks about possibly tearing down the Madison Square Garden, which lies above Penn Station in the middle of Manhattan, and relocating to another venue, in order to allow the Port Authority to build a new above-ground Penn Station. In 2013 the New York City Council voted to limit Madison Square Garden's permit at its current location to 10 years.
Recently in 2016 a price tag was estimated at $5 billion to build a new MSG arena and Penn Station. This expensive tag makes it highly unlikely for Madison Square Garden to relocate; thus investors may not need to worry about that looming $5 billion price tag affecting any profits of MSG.
MSG 2nd quarter earnings ending on December 31, 2016 showed year over year increases in revenues of 8%, a 19% increase of operating income, and a 17% increase of adjusted operating income. This bodes well for investors interested in MSG. There is an upward trend in their revenue and operating income.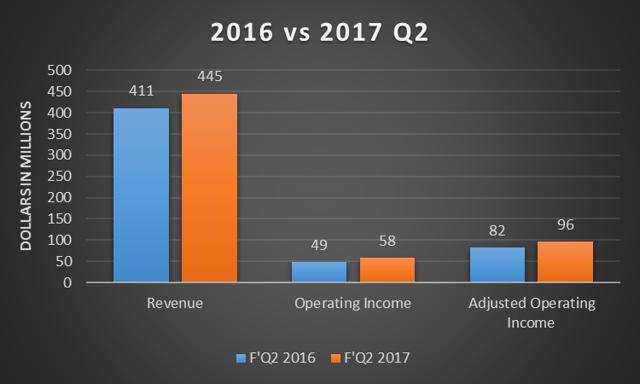 References
http://www.nba.com/article/2017/02/15/forbes-nba-franchise-values-new-york-knicks-la-lakers-lead-way
http://www.espn.com/nba/standings
http://www.marketwatch.com/story/in-the-nba-teams-dont-have-to-be-good-to-make-a-lot-of-money-2017-02-15?siteid=yhoof2&yptr=yahoo
http://www.basketball-reference.com/contracts/salary-cap-history.html
http://www.usatoday.com/story/sports/nba/2016/07/07/nba-salary-cap-projections-lebron-james/86808464/
http://www.ibtimes.com/nba-free-agency-2016-explained-how-salary-cap-tv-revenue-are-about-make-players-even-2387835
http://www.marketwatch.com/story/msg-profit-easily-tops-estimates-2017-02-03
http://arenadigest.com/2016/05/05/at-5b-replacing-madison-square-garden-doesnt-seem-likely/
http://www.espn.com/new-york/nba/story/_/id/9507646/madison-square-garden-lease-limited-10-years-penn-station-renovated