By Minwoo Lee
Minwoo Lee is an undergraduate student majoring in Supply Chain and minoring in IT in the Eli Broad School of Business at Michigan State University.
The steam media market is exploding; As both uploaded and live videos can deliver easy and high quality information (or entertainment), increasing number of viewers choose to watch videos online.
Netflix, (SYMBOL: NFLX), one of the largest stream media providers in the world, reported $8.3 billion in global streaming revenue (35% y/y growth) in FY 2016. The company reported over 93 million members using their services.
Google(Symbol: GOOG) the owner of the very popular YouTube video streaming service is forecast to earn $33.35 per share this year on overall company revenues of $105.8 billion and grow to $38.9 per share next year on revenues of $122.5 billion according to consensus estimates by Thomson Reuters. Some of this profitability and growth will result from the growing attraction of advertisers to its streaming products.
Thus, it is no surprise that companies in diverse industries are willing to expend considerable amounts of advertising dollars to content makers, such as Google's YouTubers, to attract these consumers.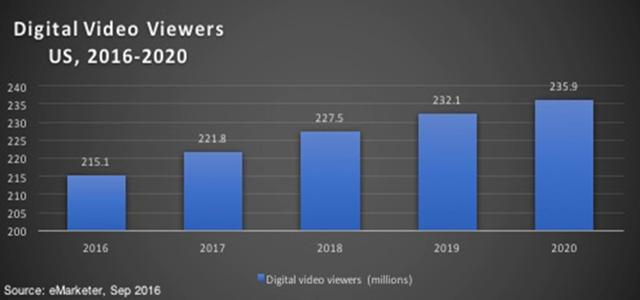 According to Social Blade's analytical report, one of the top YouTube user's video, Play Doh Sparkle Princess has gained over 520 million views and counting. Her video of unboxing Disney toys generated almost $5 million through ad commission in 2014.
YouTube is offering content makers 68% of ad revenue after calculation if the makers link their channels to Google AdSense (see Google AdSense Revenue Share).
However, this is not the only option for the makers to create a business. As increasing number of ad networks provide different revenue shares with distinctive terms and conditions, users ought to search for the right partner, who is willing to take the same business direction with their unique contents online.
Ad blocking
It is becoming more recognized that the variety of opportunities exist for online content making market. As more users seek to exploit the market, additional online tools are being introduced to create user friendly web environment. Ad blocking software tool is a major disrupter of the current market.
Users are actively adjusting to the current ads' trends. Both positive and negative reactions have shown over the past years. According to Mitel data, approximately twenty percent of internet users utilize ad blocking software on a regular basis.
Plus, more than sixty five percent of users actively avoid ads while using online contents with ads. PageFair's data indicates such software usage increased close to fifty percent from 2014 to 2015.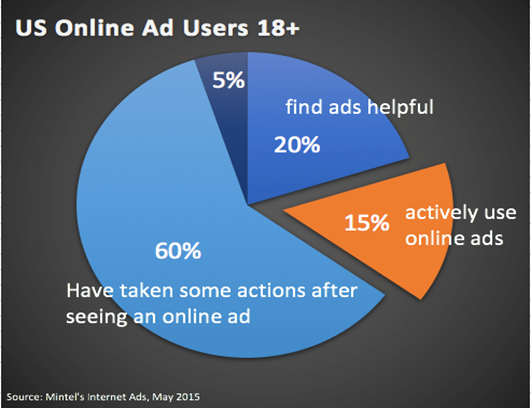 In spite of a high avoidance level, Mintel's analytical report on online ad describes, 'advertisers appear unconcerned'. The pie chart shows that online ad is still a favorable tool for the advertisers.
Not only one fifth of surveyed users 18+actively use online ads to search products and may engage in unsolicited purchasing transactions, nearly sixty percent of users 18+ gave some attentions to provided online ads. Users may try to ignore the online ads, but the collected data shows that large number of users end up interacting with online ads in some ways whether they like it or not.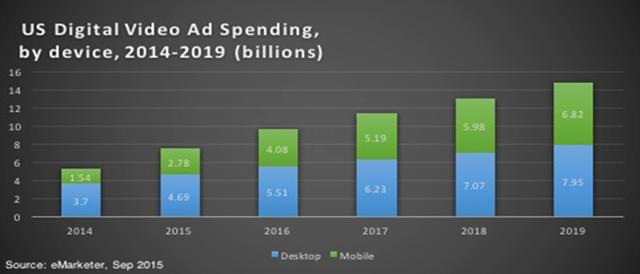 Per eMarketer's research on the U.S. digital video ad spending in both desktop and mobile, a steady growth is shown aligning with the growing demand of online contents (top figure). This also supports the idea that the majority of advertisers have not shown big concerns in regards to the 'ad block' trend.
In efforts to increase efficiency of adverting, both advertisers and content makers (to satisfy advertiser's requests) are providing diverse ways to promote their products. In hopes of gaining more viewers for the ads, some websites are blocking the Ad Block software completely.
Viewers must disable Ad Block in order to engage any activity on such websites. For content makers, some ad networks are even requesting makers to include the promotion image or comment in the content itself. In addition, website URL, informative description, and promotion date are being included as attachments. This may seem as a bit excessive task to content makers, but there are some upsides to this as well.
Managing the business
In order for content makers to operate like sole-proprietors, they not only have to generate unique content on a regular basis, but also be able to manage businesses with multiple sponsors. Having diverse preferences on how to be promoted can come to content makers as an advantage. It allows makers to diffuse many promotions throughout to satisfy advertisers while less distracting the viewers.
Successful content makers are using both static and dynamic contents. Static contents are just recorded (or made) and uploaded videos for viewers to watch whenever audiences desire. Since there is essentially no limit on how many videos they can upload, some makers often create multiple short videos in order to increase the total views for the channel. Dynamic contents are live stream videos.
More platforms including Facebook and Instagram are now offering this feature due to increase in demand for interactive and 'smart' communication between creator and audience. Many content makers also record the live videos to upload not only to increase the number of listed contents made, but also to allow audience who missed the live steaming to watch the recorded version at convenient time.
On the top of 'fair share', YouTube for example, provides additional tool to increase content maker's revenue. Fan Funding feature by Google allows fans to support creators. By using this, content makers can directly receive monetary supports from their audience. This feature is offered for limited regions.
In short, with digital video advertisement spending showing consecutive growth, not only online streaming industry's, but also private content providers' future earnings seem promising in upcoming years. If starting content makers of the stream media market can successfully form businesses with ad agencies and utilize updating features provided by multiple platforms to stay competitive, any individual with unique ideas for their contents may operate like a sole-proprietor, but with far less startup capital!