By Minwoo Lee
Minwoo Lee is an undergraduate student majoring in Supply Chain and minoring in IT in the Eli Broad School of Business at Michigan State University.
Today, it seems natural to see people holding smart devices wherever they go. Per Pew Research Center, adult's smartphone ownership in the United States jumped from 35% in 2011 to 77% in 2015. While internet usage took nearly sixteen years to increase the percentage use by 30% from 2000 to 2016, smartphone marked a significant record of near 40% increase only in four years.
Nexon, (TYO: 3659), a company founded in South Korea but now headquartered in Japan, and today one of the leading companies in the global gaming industry noticed the trend. Nexon is known for various types of online PC games such as, first person shooter (FPS) and role playing games (NYSEARCA:RPG). The company has been investing its production share to mobile platform. Figure 1 shows that Nexon is gradually working their way to the adjusted business plan.
Figure 1: Nexon's Revenues, by Platform 2011 to 2016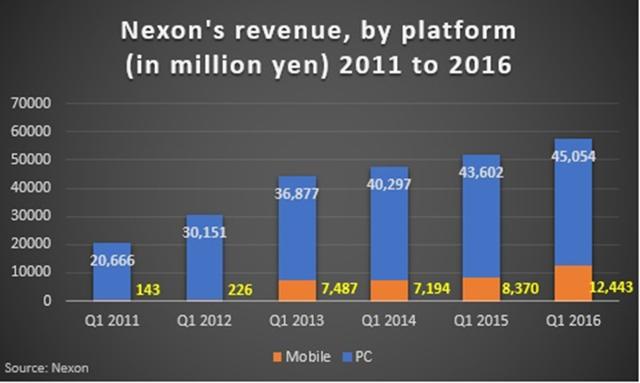 However, a few discouraging factors for mobile devices as the leading gaming platform exist. For instance, mobile devices are comparably limited to utilize low capacity and quality of overall experience. Nexon games are known for high quality and broad scale. The company is yet to launch mobile versions of their many leading title games. In Q1 2017, Nexon launched mobile version of Dungeon & Fighter (D&F). D&F has been one of the leading RPG game provided by Nexon. In their opening ads, they are emphasizing the level of similarity of the game to convince more PC users to utilize both platforms.
As more people seek to stay "connected", diverse industries are shifting their gears to follow along the trend. According to Gartner Market Research, total number of mobile app downloaded worldwide reached roughly 270 billion hits in 2017. Coming from only 2 billion downloads in 2009, such abrupt increase indicates a huge expansion of both users and business ideas.
Electronic game industry has been dominantly adhered to provide contents through traditional gaming consoles and PC platforms. As mobile segment is gaining supports from growing number of users, gaming industry was not an exception for the shift change.
Figure 2: Report by Mintel: Frequency of gameplay by platform, 2011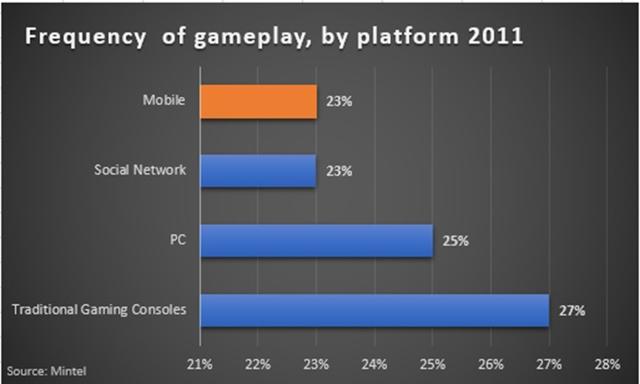 A report by Mintel, shown in Figure 2, shows the growth stage of mobile segment as a gaming platform six years ago. Although PC and traditional gaming consoles, such as Xbox by Microsoft (NASDAQ:MSFT), PlayStation by Sony (ADR: SNE), and Wii by Nintendo (TYO: 7974) seem superior in data chart from 2011, that is not the whole picture here. Both leading platforms have been around in the gaming industry forever while mobile games were just getting recognized at the time. The percentages comparison above is rather a shocking result considering the amount of time each platform has entered the gaming industry.
Figure 3: Report by SuperData Research: Digital games industry revenues, by platform, 2016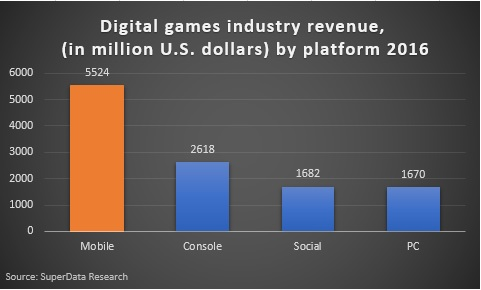 Figure 3 amply explains the scene behind the dramatic growth stage of mobile segment as a new gaming platform. Super Data Research's report exhibits the data above to show that mobile games dominated the digital games industry revenue last year.
However, this may not be the final decisive indication that mobile platform is dominating the industry yet. One thing to note is the cost of making games for each platform. Per Applico's product engineering plan for making an app, typical business objective apps cost between $100,000 and $300,000. A simple app may even cost as low as $5000 or less.
Hence, when an organization or individual desires to build an app for various purposes, the cost may not be the major discouragement. Since smartphones have low capacity in regards to quality of gaming, mobile game apps require significantly low efforts and skills considering their scale of contents.
On the other hand, PC and traditional console games are at a whole different level of costs. Grand Theft Auto 5 (GTA V) created by Rockstar Games, a division of Take Two Interactive (NASDAQ:TTWO), is a famous video game for both PC and traditional console platforms achieved six Guinness World Records for its sales when launched in 2013.
Industry analysts estimate Rockstar Games, creator company of GTA V spent over $265 million U.S. dollars to create and promote the game. This record is a notable reference to the figure 3. Although individual games for PC and console may generate higher revenue, the gap between production cost is creating an imbalance quantity of games produced.
In addition to the lack of capacity and quality deficiency compare to other platforms for mobile environment, overall performing function as a stable gaming platform is not yet established. Although cellular internet has worked its way to 4G and LTE service, it remains much slower than the average speed of home internet service. Regardless of this reference however, the fact that more people are being interactive with mobile game apps remains solid.
In short, it is incredible to see how smart mobile devices are occupying people's life in growing number of categories. Although technological barriers still exist in gaming industry, with fast increasing number of users supporting, such discouragements are just a matter of time. It is also conclusive that mobile devices are capable of becoming the leading platform in any industry in near future.