By Kristen Lidwell
Kristen Lidwell is an undergraduate student majoring in Actuarial Science in the Lyman Briggs College at Michigan State University.
American International Group Inc. (SYMBOL: AIG) has been undergoing a two-year restructuring plan since the beginning of 2016. However, writing in the Insurance Journal, Nikhil Subba reports that as the end of 2016 marked the halfway point in the plan, AIG's net loss has increased to $3.04 billion from $1.84 billion the year before, making the company worse off than before.
According to The Wall Street Journal, the directors of AIG are now in the process of reevaluating the performance of CEO Tom Hancock, which could mean removal from the position altogether due to the disappointing results. This leaves the company deciding where best to allocate capital as they continue to try to improve the company's performance.
In a statement on the restructuring plan, Hancock stated
"With these actions, AIG has taken another major step in simplifying our organization to be a leaner, more profitable insurer, while continuing to return capital to shareholders and improve shareholder returns. The creation of more nimble, standalone business units that can grow within AIG or be spun out or sold allows us to do what is in our shareholders' best interests" (Pandey).
Clearly, the results of the company are not matching well with the statements that he is making, causing concern for investors. The plan overall has had some successes, and some setbacks, as to be discussed below.
In 2016, AIG was predicted to benefit from an interest rate hike since the economy as a whole was stabilizing. In the second quarter of 2016, AIG earned more than their estimated earnings for the quarter for the first time in a while, as shown in Figure 1.
Writing as of November of last year, Robert Karr noted that AIG stock had increased by 15%. However, this result was short-lived, as in the following two quarters, AIG's operating income per share was far lower than expected, so the interest rate increase was clearly not as beneficial as predicted.
Figure 1. AIG's Operating Income Per Share Data.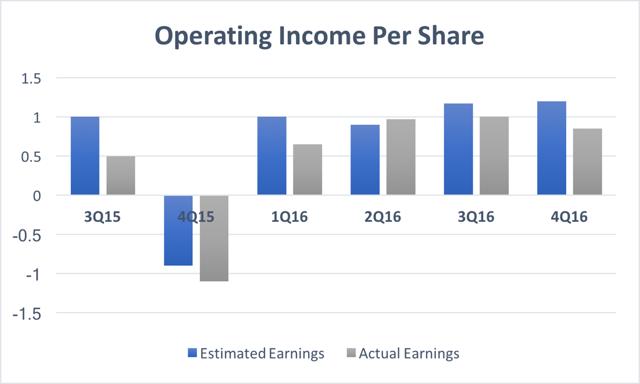 Source: NASDAQ
Although overall AIG has been worsening in performance, one aspect of the restructuring plan that has been successful is improving the AIG balance sheet. AIG's exposure to super senior corporate debt and collaterized loan obligations was reduced to zero compared to $2.5 billion at the end of 2014's fourth quarter, according to Market Realist.
Essentially, AIG is working toward a lower exposure of structured instruments and targeting lower leverage (Karr). By doing this, it should lead to an improvement in capital structure as shown in Figure 2. Further improvement could also be achieved by the fact that AIG is not planning any additional debt in 2017 (Karr).
Figure 2. AIG's Capital Structure.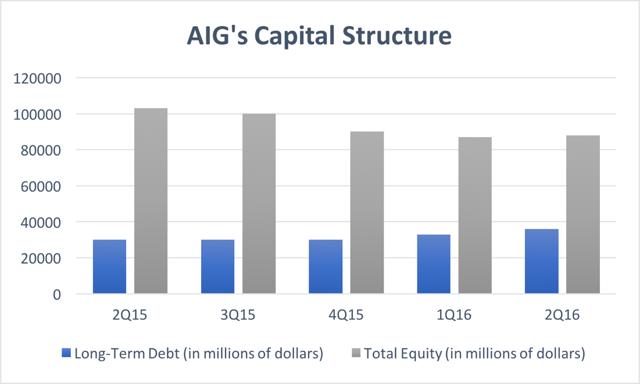 Source: Google Finance
Another AIG restructuring initiative taken to improve company performance in 2017 is increasing efficiency. Toward the end of the third quarter of 2016, according to Market Realist, AIG spent $210 million to target inefficiencies ad expenses. This resulted in a reduction in operating expenses and improvement of AIG's return on equity (Karr).
However, the fourth quarter data as shown in Figure 3 shows that although operating efficiency has been on an increasing trend since the plan began, it decreased greatly to -25.47% in the fourth quarter. Therefore, it seems the trend may not be continuing in 2017.
Figure 3. AIG's Operating Efficiency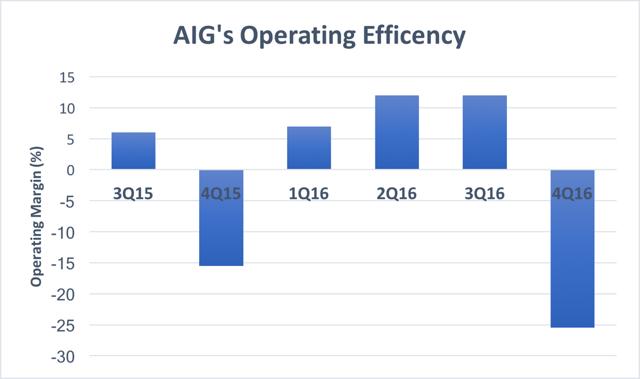 Source: Google Finance
The book value of AIG did increase by about 13% by attempting to make strategic transactions in 2016 as shown in Figure 4. This is much higher than the increase in book value of AIG's insurance company peers (Karr).
However, the other companies are performing better overall so the higher growth is not as positive as it could be. Still, especially for insurance companies, book value is very central to the valuation of a company, so any increase is beneficial to AIG.
Figure 4. Book Value Growth of Insurance Companies in 2016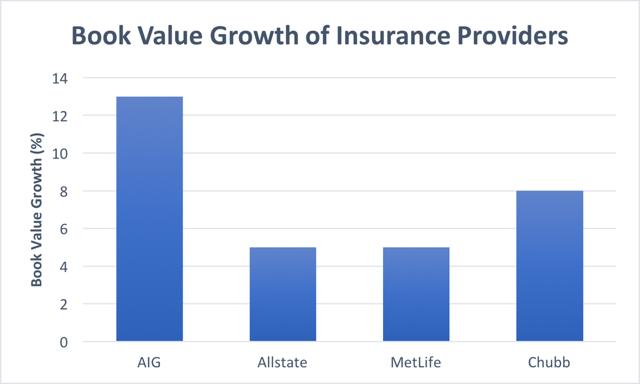 Source: Karr, Robert. "AIG's 3Q Is a Miss, Sees Higher Investment and Commercial Income." Market Realist
Despite the more positive aspects of the plan, AIG stock barely increased in 2016, going up only 1.1% from the beginning of 2016 to the end of the fourth quarter, even with the restructuring plan (Google Finance). This is likely due to low investment income, loss-making operations, and inefficiencies (Karr).
It appears that even with the plan in action for a year, AIG still has a weak operating performance overall and slower than predicted improvement. Further, the fact that the company is labeled as a systematically important financial institution leads to higher costs and lower valuations for AIG (Karr). The improving capital structure as discussed earlier is expected to help improve the stock price, but this is an effect that will be seen over the long-run rather than soon.
If replacing CEO Hancock, improving the balance sheet, and other restructuring initiatives still lead to company losses overall, an alternate approach to the restricting plan may be necessary. After the financial crisis of 2008, the federal government used emergency bailout funds to save the insurance company and the company decreased in size (Pandey).
AIG sold their Asian life insurance units and its aircraft leasing business to do this (Pandey). That served as a temporary fix, but here has been a lot of pressure since 2015 to split AIG into three companies since AIG had such poor performance that year (Subba). With the restructuring plan not working well as AIG is increasing their losses instead of improving them, the pressure will remain.
Decreasing the size of the company may be the best way to improve the company's performance and free it from its title of a non-bank systematically important financial institution, according to billionaire activist investor Carl Icahn (Subba). Further, Icahn released in a statement that it would cut $1.6 billion costs and return at least $25 billion to shareholders in the two years after the split would be enacted (Pandey).