By Zachary Terry
Zachary Terry is an undergraduate student at the Eli Broad School of Business at Michigan State University. He is majoring in Supply Chain Management
Back on January 2 nd, 2014, Advanced Auto Parts (SYMBOL: AAP) closed the deal to purchase a major automotive parts distribution industry competitor, General Parts International, a $2 billion deal that left both management and investors excited for the future. Advanced Auto Parts stock rose 50% compared to the Dow Jones Industrial Average from the time the deal was announced until just after it was closed:
Figure 1: AAP stock price relative to the DJIA, September 2013 to March 2014

Chart Source: Google Finance
What makes these investments particularly impactful is it allows AAP to service two different business models: the DIY (do it yourself) model that former GPI stores used and that its customers still look for, and the DIFM (do it for me) model that AAP has always used.
AAP management predicted the acquisition would yield over $150 million per year in cost saving synergies while broadening the company's ability to serve multiple key customer segments. Immediately following the acquisition, however, was a series of Supply Chain Management blunders that hampered the effectiveness of the merger.
In the information age, few things are as important to a company as effective E lectronic procurement and inventory management systems. Prior to the merger, Advanced Auto Parts and GPI had both.
Unfortunately, when AAP acquired GPI, the company was unable to merge the systems as well and throughout the organization. According to the Technology and operations management community of Harvard's Business School
"Many key capability areas within the organization, including field operations and sales support, continue to utilize two separate legacy systems (including parts catalogs, POS systems, and parts availability systems)"
The problem arising from a lack of a common platform has compounded itself into a slew of inventory related issues, like above average inventory carrying costs, as well as its basic ability to serve its customers.
Despite this array of missteps, AAP was able to reestablish investors' faith in the company, evident by the chart below:
Figure 2: AAP stock price compared to the DJIA, November 2016 to January 2017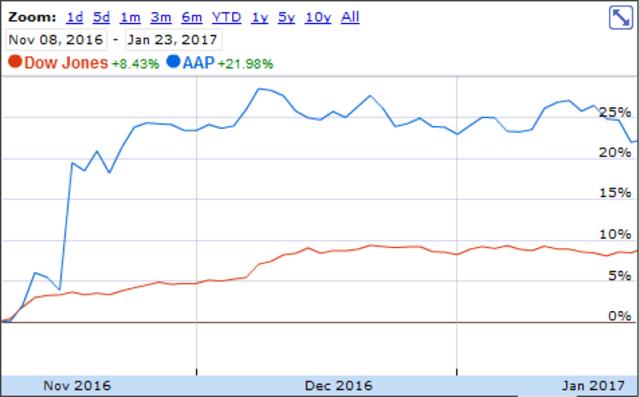 Chart Source: Google Finance
The question is, how were they able to do it? The root of the answer lies in their significant supply chain investment and focus. Throughout 2014 Advanced Auto Parts delivered on its promises of focusing $350 million CapEx on its supply chain, which allowed for increased service rates from its distribution centers, as well as an increased investment in inventory growth.
Now that AAP has solidified its ability to service its wide variety of customers, it can drive significant cost savings by focusing on making its supply chain leaner. As Tom Greco, Advanced Auto Part's CEO, said on the Q3 earnings call for 2016 in November
" We took deliberate actions to reduce inventory levels versus Q2, which resulted in cost headwinds. Going forward, we'll continue to bring our inventory levels down without disrupting our customers".
The chart of Advanced Auto Parts revenues, costs, and profits, below, illustrates Tom Greco's remark on falling costs.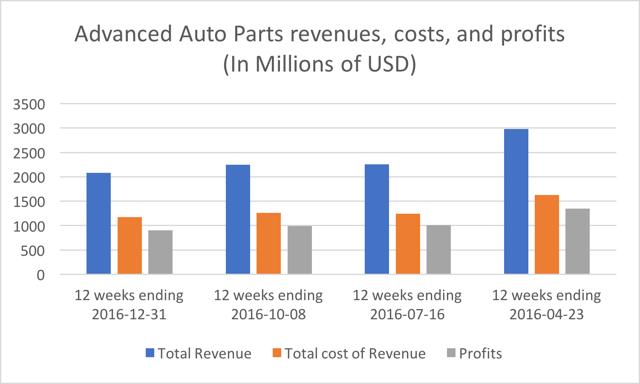 Data Source: Google Finance
Harvard business: https://rctom.hbs.org/submission/advance-auto-parts-a-golden-opportunity-tarnished-by-operational-missteps/
$350M Capex investment: http://risnews.edgl.com/retail-news/Advance-Auto-Parts-Focuses-$350M-CapEx-On-Supply-Chain,-Inventory91101
Tom Greco quote:http://seekingalpha.com/article/4023782-advance-auto-parts-aap-tom-greco-q3-2016-results-earnings-call-transcript