By Alex Urban
Alex Urban is an undergraduate student in the Eli Broad School of Business at Michigan State University. He is majoring in Finance.
Sales in the automotive industry have been rapidly rising since 2011, to reach the highest sales levels in history. Innovation as well as increased economic growth has caused automotive sales to see grow at a steady pace, improving the overall outlook of the industry.
Figure 1: US Auto Sales (in millions)

Data source: Federal Reserve Bank of St Louis
US automaker like GM (SYMBOL: GM) and Ford (SYMBOL: F) have offered deep discounts and dealer incentives that have been making buying/leasing a car easier than ever. Consumers have responded to these incentives by purchasing new models every few years. In some ways, cars have become commodities that need to be upgraded every few years, following the replacement trend of modern day technology.
Consumers have also piled up the debt as they replaced their cars with newer models. Roughly 30% of these auto loans were subprime and Morgan Stanley recently reported that the share of these auto securities tied to deep subprime loans has risen from 5.1 percent in 2010 to 32.5 percent today on their debt. According to S&P, losses on these subprime auto loans were 9.1% in January, up from 8.5% in December.
Figure 2: Growth of Subprime Loans by Lenders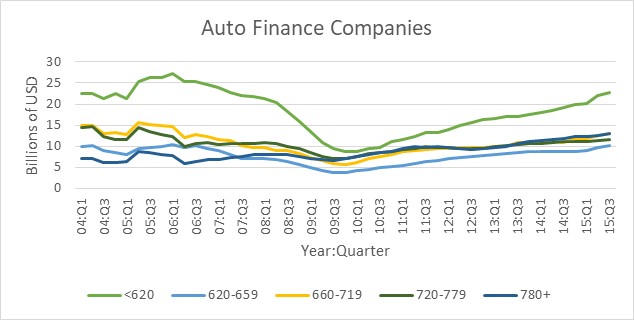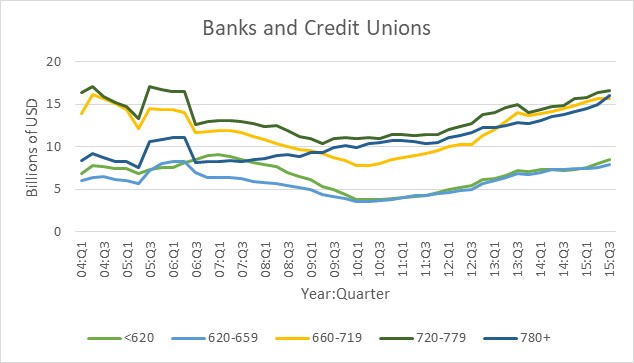 Date source: Federal Reserve Bank of New York: libertystreeteconomics.newyorkfed.org/20...
Regarding loan payments, according to the Federal Reserve Bank of New York, more than six million U.S. consumers are at least 90 days late on their car loan. Also, consumers in the U.S. finished 2016 with about $1.2 trillion in outstanding auto loan debt, up 9% from 2015 and 13% higher than the pre-recession peak in 2005, according to the Department of Transportation. This debt is compared to only a 3% rise in median household income in 2015.
In addition to this large amount of debt, after seven straight years of sales growth from 2009-2015, automotive sales in the United States have finally begun to decline. In early April 2017, it was announced that total automotive sales fell roughly 9% in 2016 and first quarter 2017.
Both Ford and FCA (SYMBOL: FCAU) report sales were down 7% and 5% respectively in the month of April alone and are expected to continue to fall the rest of the year and continue into 2018. March has been FCA's third consecutive month of decreased sales and GM's second. The decrease in new car sales will become a problem as car manufacturers and lenders will try to maintain sales and profit despite the lack of sales. To do this lenders will lower their standards and raise the risk limit on who gets a loan. If this current and falling standard on who gets a loan continues, there is no telling how big the automotive bubble can get.
With more people taking on an increased amount of debt through auto loans, a perfect storm seems to be gathering to finally burst the automotive bubble. First, any negative fluctuation in the economy could reduce sales dramatically. This fluctuation is expected as the current economy has been growing over the last couple of years so it likely that the Fed will start to put in place some type of contractionary policy. Following this policy change, the Fed is expected to raise interest rates roughly four times in the next year.
In addition to the increase of interest rates, there will be an increased stream of formerly leased cars into the used market. In 2016 the number of new vehicles that were leased hit a record 4.4 million last year, triple the number in 2009. The most common type of lease agreement is for three years, so after these three years, roughly 3 million vehicles will return to the market.
In 2017 there is an expected record 3.6 million off-lease vehicles that will be hitting the lot throughout the year. With so many off-lease vehicles hitting the market and the expected lower amount of automotive sales, will cause the used car market to experience a severe price drop in the value of their vehicles. This is the start of the drop in the value of most vehicles which could severely hurt auto owners and would hurt the automotive market as a whole.
A combination of the increased default on auto loans, the expected increases in the interest rate and the flood of off lease cars hitting the market, will finally cause the automotive bubble that has been forming the past couple of years to finally burst. When the bubble bursts there will be a hit to car prices and will have an effect on the national economy. In anticipation, it is a wise idea to start looking at the value of your vehicle and how your finances will be affected to adequately prepare for this incoming burst.