By Victor Ajeneza
Victor Ajeneza is an undergraduate student majoring in Actuarial Science in the College of Natural Science at Michigan State University
Interest rate hikes come at a price. For example, the public debt as it stands today may become difficult to finance and this can lead to a series of negative outcomes, potentially weakening US international leadership and global influence.
Higher rates will lead to rising US government interest costs for the current debt as well as future budget deficits.. The current debt is $20 trillion and is estimated by many to rise by $10 trillion in the next 10 years. A one hundred basis point increase in interest rate amounts to a $1.6 trillion increase to the ten-year deficit according to the CBO, which also projects the fastest growing of the federal budget to be interest payments on the debt.
The cost bearers are of course taxpayers from whom the government collects from to raise funds. Although it might not be felt directly, the impact might be observed over the long run through budget cuts in public investments such as social security, education and nondefense infrastructure.
Today, the net US debt interest costs are higher than the cost of defense and Medicaid. 1.3% of GDP was used on interest costs last year and projected to increase to 3.7% in 20 years. With more interest rates hikes rumored to happen this year, a 400 basis point increase in interest rates, for example, would cost tax payers approximately $6.4 trillion.
Other costs will come in the area of student loans. Federal Student Loans do not fluctuate with changes in rates as they have fixed rates. Generally, rates are fixed for a period of a year, from July 1 st through June 30 th, therefore it is unlikely that the current change will be felt by current students with federal student loans. However, the cost of borrowing will increase for future students.
U.S. student loan debt amounts to $1.4 trillion, almost all, 92.5%, are financed by the federal government. In addition, Federal student loan interest rates are set based on 10-year Treasury note. According to Tom Anderson, Personal Finance Writer, in his CNBC article, if 10-year Treasury yields stay at 2.6% rates on new federal student loans will be about 0.9% higher and these are expected to rise with the government plan on cutting taxes to boost infrastructure spending.
However, students with private loans are most likely to be impacted by hikes in interest rates. Private loans have variables interest rates and make up 7.5% of U.S. student debt, about $102 billion. Private loans are set by prime rates meaning they vary closely with federal funds rate therefore students with private loans are more likely to feel the impact of rising federal funds rate.
Background
On March 15 th, the Federal Reserve (Fed) raised interest rates for the third time since 2008. The Fed raised the Federal Funds rate by 25 basis points, 0.25%, from 0.75% to 1%. In recent years, interest rates have been close to zero in an attempt to get US economy out of a recession after the 2008 economic crisis. This was done to stimulate economic activities. The Fed goal and belief is to drive the economy to a 2% inflation level which the economy has been moving towards with close to 1.9% at the end of January.
The US economy performance as monitored by the Fed using consumer price index (NYSEARCA:CPI) and producer price index (PPI) has been positive and growing steadily. The unemployment rate has recently fallen to 4.7%, a level that the Fed considers to be full employment mainly due to favorable February weather conditions which registered about 58,000 jobs from the construction only. In the month of February a total of about 235,000 new jobs were registered. The rising level of employments have also been followed by a robust pay gains and rising inflations.
Figure 1 Unemployment Level (Based on Data obtained From The Federal Reserve Bank Of St. Louis)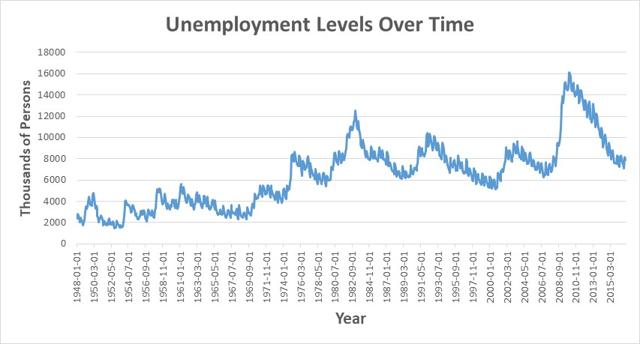 In an effort to cope with the changes and growth, the Fed undertook the route of raising the Federal funds rate acknowledging that a slower response from the Fed to the current economic growth might to disruption in the market eventually plunge the economy into a recession as mentioned by Fed chairwomen Janet Yellen.
Fed governors have various opinions on how many interest rate hikes we should expect this year but most agree on the need to raise interests with San Francisco Fed President John William saying that central banks shouldn't rule out more than three increase in total this year, Philadelphia Fed President Patrick Harker supporting two more raises in an effort to avoid falling behind the curve while avoiding rushing the tightening plans of the Federal reserve and Boston Fed President Eric Rosengren judging four rates hikes to be appropriate for this year. It is not to be ignored that despite the raise of the Federal funds rate, it is still at a historical low level as it can be recalled to be above 5% in December 2006 before the recession and close to 10% in the mid-to-late 80s.
Figure 2 Effective Federal Funds Rate (Based on Data obtained From The Federal Reserve Bank Of St. Louis)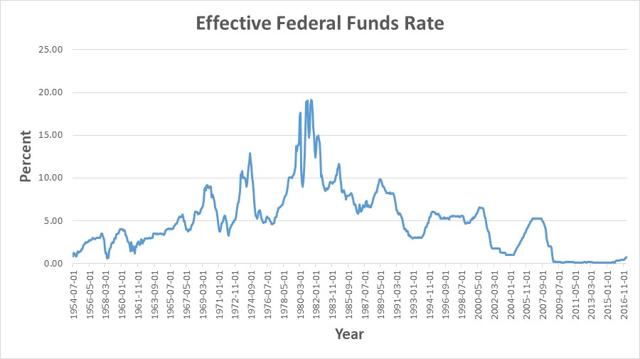 Costs felt elsewhere
Rising interest rates will also lead to an increase in consumers' and businesses' cost of borrowing as the prime rate and credit card rates would naturally increase. Some estimate an immediate increase in credit card interest rates of about 0.25%.
Savers however are not going to experience the burden of these costs. Quite the opposite. However, banks are less likely to implement a raise in interest rates on deposits as quickly as they raise rates on loans. For example, the average rate on a six-month certificate of deposit in late March 2017 was 0.14 and not much lower last year at the same time 0.13%.
References
http://www.cnbc.com/2017/03/29/Feds-williams-dont-rule-out-more-than-three-rate-hikes-this-year.html
http://www.cnbc.com/2017/03/15/Fed-raises-rates-at-march-meeting.html
http://www.bbc.com/news/business-39286091
http://www.cnbc.com/2017/03/29/with-commodities-sliding-stocks-could-be-in-trouble.html
https://www.nytimes.com/video/business/economy/100000004990738/Federal-reserve-on-interest-rates.html?rref=collection%2Ftimestopic%2FFederal%20Reserve%20System
https://www.nytimes.com/2017/03/15/business/economy/Fed-interest-rates-yellen.html
http://video.cnbc.com/gallery/?video=3000601721&play=1
http://nypost.com/2017/03/13/why-the-Fed-will-defend-raising-interest-rates/
https://www.nytimes.com/topic/organization/Federal-reserve-the-Fed?inline=nyt-org
https://www.nytimes.com/2017/03/14/business/economy/consumer-interest-rates-Federal-reserve.html?rref=collection%2Ftimestopic%2FFederal%20Reserve%20System&action=click&contentCollection=timestopics&region=stream&module=stream_unit&version=latest&contentPlacement=10&pgtype=collection
https://www.nytimes.com/interactive/2017/03/15/business/Federal-reserve-interest-rates.html
http://www.cnbc.com/Federal-reserve/ https://www.nytimes.com/2016/12/14/business/economy/how-the-Feds-interest-rate-increase-can-affect-you.html?_r=0 https://ig.ft.com/sites/when-rates-rise/#what-is-happening
http://www.investopedia.com/articles/stocks/09/how-interest-rates-affect-markets.asp http://www.investopedia.com/articles/stocks/09/how-interest-rates-affect-markets.asp
http://www.cnbc.com/2016/12/14/how-a-Fed-rate-hike-impacts-your-wallet.html
http://fortune.com/2017/03/15/Fed-meeting-interest-rates-increase/
https://www.forbes.com/sites/learnvest/2016/12/14/what-the-Federal-reserve-interest-rate-hike-really-means-for-your-money/#741346f24d67
http://nationalinterest.org/blog/the-buzz/us-taxpayers-dont-realize-theyre-paying-billions-service-the-17796