By Nakita Patel
Nakita Patel is an undergraduate student majoring in Accounting in the Eli Broad School of Business at Michigan State University
Since the privately-held on-demand ride sharing service Uber has become available, many of their competitors have been driven into bankruptcy. According to Business Insider, Joe Fitzgerald Rodriguez, the San Francisco Examiner, Yellow Cab filed for bankruptcy protection on January 25, 2016. When Rodriguez spoke to "longtime taxi industry sources," he told them that "ride-hailing services like Uber and Lyft are among the sources of Yellow Cab's financial woes."
While Yellow Cab of San Francisco has an estimated 1,500 drivers, Uber claimed to have up to 20,000 drivers. Yellow Cab Company of San Francisco is not the only company that has filed for bankruptcy; Yellow Cab of Chicago, Taxi Club Management and Taxi King in New York, Barwood Taxi Service in Maryland, and many other companies also had to file for bankruptcy due to Uber's entry into the market.
Medallion Outlook
The dream for traditional cab drivers around the world is to get a taxi medallion, which is a license to own their own cab. Having a medallion traditionally offers a lot of benefits, including allowing the operator to drive whenever he or she wants, rent out to other cab drivers, and more. The waiting list to get a medallion is often as long as 10 years in cities like New York, but because of the pressure received from Uber, there is now a waiting list to sell the medallions, rather than purchase.
Figure 1: Taxi Cab Medallion Revenues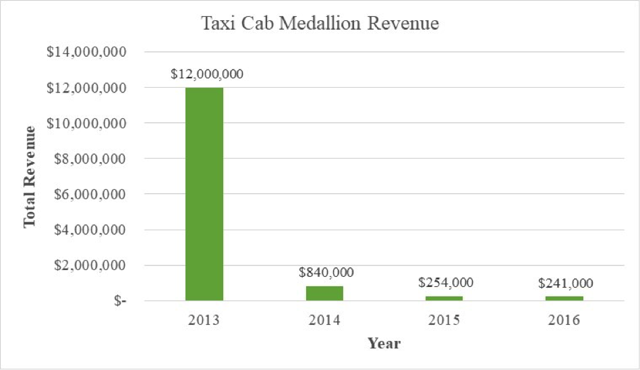 Source: Slate Technology, 2016
From 2013 to 2014, there was a dramatic decline in the price for how much a medallion cost. From 2014 on to 2016, the price began to slowly decrease even more. By 2016, the price has reached an all-time low of $241,000. It is quite clear that the total revenue for medallions has definitely gone down since the upcoming of Uber.
Why People Prefer Uber Over Taxis
When debating between ordering an Uber, or hailing a taxi, people are factoring in three things: price, convenience, and quality and safety. Uber has been found to be cheaper than a regular taxi by at least 20%. Not only is the price lower when choosing an Uber over a taxi, but it is also incredibly convenient. All you have to do is open the app, set your pick-up location and your destination, and you are set to go. It even gives you the choice to split the fare with other passengers and allows you to pay easily with a credit card. Lastly, the quality and safety of an Uber car typically beats the quality of a taxi.
According to Slate Technology (published 8 January 2016),  
"If you're going to bet on an asset that requires substantial capital outlay, a shiny black car with a leather interior certainly looks more attractive at this point than a little tin plate with a number and an expiration date."
One of the great safety features of using an Uber is that the GPS tracking system in the app knows constantly where you are located and who is currently driving you. This protects you from drivers behaving badly and if something were to go wrong, the Uber app would know your whereabouts from the GPS tracking.
Figure 2 shows the estimated net revenue for Uber from 2014 to 2016.
Figure 2: Uber Net Revenue
Source: Business of Apps, 2017
Uber's Business Model
As Uber grows bigger and bigger, the possibilities seem to be endless. Uber's business model is backed up by many benefits. One of the greatest ways that Uber makes money is their surge in prices according to the demand. Not only does this make more money for Uber, but the drivers make more as well. People believe that Uber's business model is extraordinary because of how easy it is to call a cab for cheap and get to your designated location.
The Future
Uber discovered two big market gaps and filled them both to create the company. Now users are able to easily find a cab and use a credit card to pay from the ease of their cellular devices. From being just a small start-up company, Uber has grown to become one of the biggest tech companies in the world. Alongside taking down many taxi cab companies, Uber has proven to be the new go-to and convenient transportation system, and many people are happy with it. Taxi cab companies represents the past, while Uber is our future.