By Parth Redey
Parth Redey is an undergraduate student in the Eli Broad College of Business at Michigan State University.
For lack of a proper call by a referee, the United States Men's National soccer team might have found themselves in the World Cup next year in Russia. Panama was awarded a goal that never crossed the line in a game against Costa Rica, and that was one of the reasons the United States will be missing the 2018 World Cup. Missing in CONCACAF qualifying tournament management was goal-line technology and replay review.
Hawk-Eye Innovations, a Sony group company (ADR Sym: SNE), is a highly regarded sports innovation company. Sony bought Hawk-Eye in 2011 because they wanted to stretch their business further into the sports market. Sony notably sells sports headphones, where the demand for these types of headphones are now high. The global smart headphone market in 2022 is expected to reach $7.48 billion.
 Hawk-Eye was first started as a broadcast tool for analyzing cricket. It now produces a new view on the way sports are played and viewed, and it is used in over twenty sports, but most notably for tennis, soccer (football), and cricket. The company has taken many steps since it has been founded in 2001, but with Sony at the helm, the company can expand its horizon and have a dramatic impact on the future of sports.
In the round of 16 of a World Cup loss against Germany in 2010, Frank Lampard's strike rebounded off the crossbar and crossed the line. This should have been a goal, but the referees disallowed this. Players and fans routinely believe that the mistakes from the refs have costed their team a few games. Hawk-Eye was founded to change that.
One of the key components Hawk-Eye offers is its ball tracking technology. Tennis currently has the challenge system for its major events. If an athlete does not agree with a call from one of the line judges, they can challenge the call using Hawk-Eye to see exactly where the ball landed.
Soccer has goal line technology to help determine whether the entire ball has crossed the line. This could have been a saving grace for the US Men's soccer team if technology was present to waive off the Panama goal against Costa Rica. Hawk-Eye is also now a vital part of coaching with technology like player tracking. The technology can use its software to bring up data and video analysis from its cameras to help coaches improve the skills for their players.
The Federation Internationale de Football Association (FIFA) is currently with Sony's competitor GoalControl, but in 2013 the English Premier League (NYSE:EPL) decided to go with Sony's Hawk-Eye as their first goal line technology. The contract between the EPL and Hawk-Eye was a five-year contract worth £10m ($15,848,770). With Hawk-Eye's ball tracking system in soccer, the ref wears a watch and if the ball crosses the line, the referees' watch buzzes.
According to an article published at the DailyMail.com by Laura Williamson on April 29, 2013, the expected cost to install Hawk-Eye's goal line technology in the English Premier League was £250,000 ($382,126 in 2013).
Ever since this, soccer leagues have also adopted the Hawk-Eye technology called Video Content that is a part of Hawk-Eye's SMART Replay technology. In real time, it is difficult to determine the extent of a foul in soccer, so with this technology, the extent of a foul can be determined with replays and it helps decide if a player should be sent off. This technology also helps determine whether a player was offsides when they score a goal.
The EPL has announced that the earliest they would add the Video Content technology (also known as Video Assistant Referees (VARs)) would not be added to the league until at least early 2018. This means that this is not until the end of their current contract with Hawk-Eye, so this means that their next contact will most likely include the edition of VARs.
The sport of Cricket uses the Decision Review System to see if an athlete has been out due to a "Run out" or "Leg before Wicket" along with the Pulselive technology, which offers ways to keep the game interesting for the fans.
In late 2010, just before Sony bought Hawk-Eye Innovations, the net worth of the company was at £907,335 ($1,402,642 in 2010), and as of March 31, 2016, the net worth of the company is now at £13,891,556 ($18,832,407 in 2016). The net worth of the company from March 31, 2015 to March 31, 2016 had increased 32.72%. These increases demonstrate that Sony and its Hawk-Eye technology are the leaders when it comes to sports innovation. Figure 1 shows increases of net worth from 2010 to 2016. The figure shows that the things have very successful since time Sony bought Hawk-Eye Innovations.
Figure 1: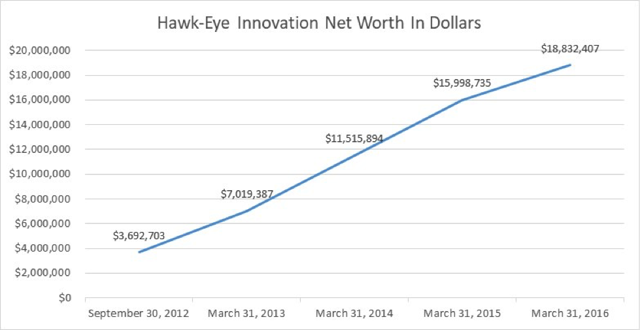 Note: Conversions were done by the exchange rates for each of the years individually.
For tennis, installing Hawk-Eye could cost up to $100,000 per court. This technology is found at nearly all the biggest tennis tournaments. With some organizations spending so much money on this technology, the use of referees in some sports may become considerably lessened.
 In tennis, if a line judges makes a mistake, an athlete can only use Hawk-Eye's line judgement technology within the limited challenge system. This is an inefficient way to use this technology because not all the calls are going to be correct since players are limited to how many times they can challenge a call. This theory is going to be tested this year with a tournament early in November of 2017 where the tournament will not include any line judges and all the calls are strictly based off Hawkeye and the only official on court is the chair umpire.
According to an article published by Steven Kutz on July 2, 2016 on MarketWatch.com, the National Football League (NFL) and the National Basketball Association (NBA) are both in the top four of all sports leagues in the world with revenue earned as of 2016. Both sports deal with replay reviews from television cameras and many of those result in dealing with evidence that is hard to dispute but it is the incorrect call after further studies. In basketball, referee rulings often deal with who touched the ball last, and in football, issues deal with whether athletes have full control of the ball dealing involving completions and fumbles.
As Sony's Hawk-Eye continues to innovate sports, this technology will soon surface to both leagues very soon, and the net worth of Sony's Hawk-Eye will increase at a faster rate than it already is. This is a good sign for Sony investors because the net worth of the subsidiary company is increasing at a quick rate, and adding two of the top four revenue sports in the world will increase that rate even more.
References:
Hawk-Eye sport firm sold to Sony
Hawk-Eye Innovations Official Website
HAWK-EYE INNOVATIONS LIMITED. Free business summary taken from official companies house information. Free alerts. Registered as 04253791
Hawk-Eye : United Kingdom : Sony Professional
Yearly Average Exchange Rates for Currencies - 1990 to 2015
FIFA to cash in on goal-line technology with all 20 Premier League clubs forced to pay £15k... a total of £300k!
Beyond The Line Call: How Technology Is Changing Tennis
Hawk-Eye to be used for all shots at ATP NextGen Finals
NFL took in $13 billion in revenue last season - see how it stacks up against other pro sports leagues
The Ultimate Wireless Sports Headphones for Your Workouts
Hawk-Eye awarded five-year contract for Premier League goal-line technology - Goal.com
Premier League won't bring in Video Assistant Referees until 2018-19
Lampard: My disallowed England goal changed football - Goal.com