By: Lauren Stefforia
Lauren Stefforia is an undergraduate student majoring in Supply Chain Management at the Eli Broad College of Business at Michigan State University.
When it comes to autonomous driving, there is no longer the question of if it will become a reality, but when. Major automakers such as GM (NYSE: GM), Ford (NYSE: F), BMW (ETR: BMW), and Nissan (TYO: 7201) are racing to team up with technology-focused companies such as Intel (NASDAQ: INTC) as well as with NASA to be the first to unveil a fully autonomous, consumer-ready vehicle that will change the automotive industry as we know it.
The push for autonomous driving creates an entire new category of suppliers for car companies to consider – technology firms. Neither automakers nor their current suppliers of engines, frames, seating, or metal have the knowledge necessary to supply the software that is needed to make a car drive itself. The future automotive supply chain will involve technology suppliers, materials suppliers, and automakers all working together to share ideas and design information.
Autonomous and electric vehicles will also put pressure on smaller, second and third tier auto suppliers to either conform to the new way cars need to be manufactured, or risk losing business. In an article published on Medium last year, SCM editor, Elementum states:
"Auto parts are facing shorter and shorter product cycles, putting pressure on manufacturing strategies ... Well known components such as analog gauges and ignition are growing obsolete".
A new way of operating a car comes with a new way of designing, supplying, and manufacturing a car as well.
At the 2016 Consumer Electronics Show, automakers were looking for the perfect Silicon Valley firm to pair with to take on autonomous driving technology. For example, Audi (ETR: NSU) teamed up with Nvidia (NASDAQ: NVDA), and BMW secured partnerships with both Intel and Mobileye (OTCMKTS: MBBYF). These companies were prompted to do this following the news of GM's acquisition of Cruise and Nissan's partnership with NASA, sensing a new trend in the automotive industry.
These acquisitions will create even more complex supply chains for automakers as they figure out the logistics of transferring information between business units. As Bloomberg reports,
"The auto industry's self-driving revolution has spurred the biggest two years of car-supplier takeovers in a decade, with further acquisitions on the horizon as many parts makers struggle to keep up with tech demands."
This is unlike anything ever seen before in the industry, with automakers spending enormous amounts of money to secure a partnership with a technology supplier. Bloomberg found that spending on automotive-supplier takeovers more than tripled between 2014 and 2015, and remained high in 2016. Early estimates show that 2017 will prove to be another expensive year.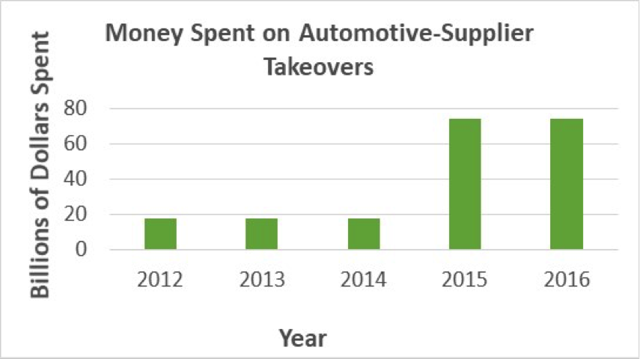 Spending on takeovers skyrocketed as Automakers come closer to making autonomous driving a reality. Source: Bloomberg
The other aspect of the supply chain that autonomous driving is set to impact is demand planning for manufacturing. GM recently announced that they have produced 50 third-gen autonomous vehicles, complete with air bags, crumple zones, and comfortable, consumer-friendly seating. These vehicles are currently being assembled at a plant capable of producing hundreds of thousands of vehicles per year, making these new cars seem like a coming reality. The question is, will consumers actually purchase them?
A recent survey conducted by The Gartner Consumer Trends included 15,000 people in the United States and Germany found that only 45% of consumers would ride in a fully autonomous vehicle. However, the same report found that just over 70% of consumers would feel comfortable riding in a semi-autonomous vehicle.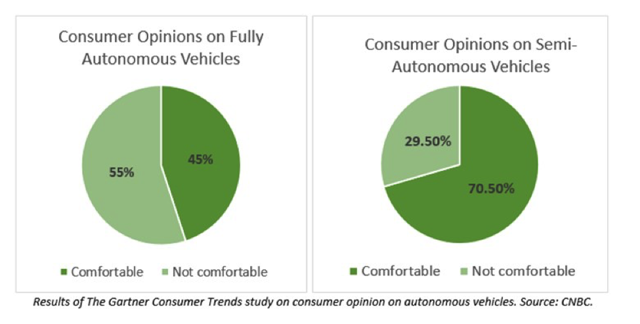 Although automakers and technology companies continuously report that autonomous vehicles are actually safer, most consumers are familiar with technology malfunctions and viruses that would make them hesitant to let a computer drive them around.
Consumers like to have control, and the idea behind these cars is lack of control. This discovery is important to supply chain and business leaders as they begin to anticipate demand for this ground-breaking new product and figure out the logistics of manufacturing something so technologically complex.
 Automakers will need to collaborate with both their technology and materials suppliers to determine which parts of the vehicle consumers will feel comfortable having automated, and which they will want to retain control of. It will require a deeply integrated supply chain in order to keep the flow of information continuous, which explains the sudden surge in supplier takeovers. It is easier to manage communication with suppliers when they are a part of your own company. Operations managers will also need to be aware of changes in car design and accommodate factories and warehouses accordingly.
For companies like Audi, BMW, Nissan, and Ford, this means maintaining a close relationship with their new Silicon Valley suppliers. For companies like GM, who are already very close to mass producing autonomous vehicles, this means a very careful marketing and supply chain strategy to get these cars transporting consumers across the globe.
Regardless, the reality of self-driving cars will create new problems for supply chain leaders to face and cause a wide-scale change in the world of supply chain as we know it.
Sources:
Elementum. "How Autonomous Vehicles Are Driving a Shift in Supply Chains." Medium. Self-Driving Cars, 01 Mar. 2016. Web.
Ferris, Robert. "Tons of People Still Don't Want to Ride in Self-driving Cars, Says Survey." CNBC. CNBC, 24 Aug. 2017. Web.
Stewart, Jack. "As Self-Driving Cars Approach, the Auto Industry Races to Rebuild." Wired. Conde Nast, 03 June 2017. Web.
Wayland, Michael. "GM's Cruise Automation Touts Bolt EV as 'first Real Self-driving Car'." Automotive News. N.p., 12 Sept. 2017. Web.
Wright, Micah. "How Self-Driving Cars Could Shake the Supply Chain." The Cheat Sheet. The Cheat Sheet, 12 Dec. 2016. Web.