By Christopher Chacko
Christopher Chacko is an undergraduate student majoring in Supply Chain Management at Michigan State University
The retail rivalry of the century between Amazon (SYM: AMZN) and Walmart (SYM: WMT) has been especially aggressive in recent months. Each company sprung up from vastly different origins. But as they both grew, the two competitors have begun to see a lot of overlap within their customer reach. This same overlap has gone on to create competition for market space and dominance in the ever-changing retail industry.
On August 28th, Amazon made headlines by acquiring Whole Foods Market for an estimated $13.7 billion and promising lower prices and a stronger Amazon Fresh program. With strategic price reduction and the name "Amazon" sprinkled around the store, Whole Foods overall has experienced approximately a 25% increase in foot traffic just days after the acquisition.
Yet, Whole Foods (once joked as "Whole Paycheck") is not the only one receiving improved results as Amazon has benefited from Whole Foods' reputation as well. According to One Click Retail, an e-commerce analytics firm, Amazon.com and its services such as Amazon Fresh have so far generated over $1.6 million in sales since the takeover with some of the organic grocer's products completely selling out online.
As Walmart currently holds the title for the largest grocer, it was only inevitable Amazon would do something in the fresh produce market. The large acquisition of Whole Foods and its early success represents Amazon's attempt to break into the $800 Billion grocery industry. To put the deal into perspective, Amazon's 2016 total acquisition spending was $103 Million compared to the single purchase of Whole Foods at $13.7 Billion.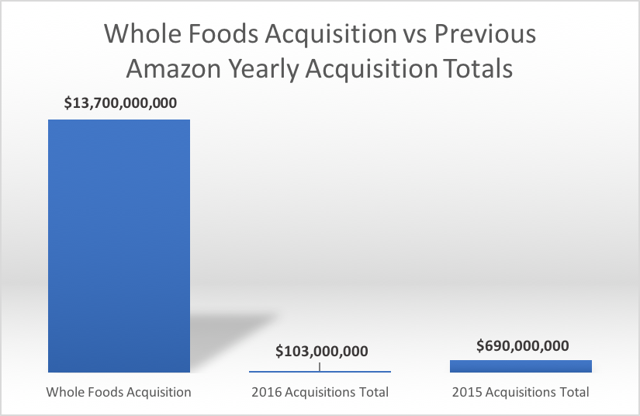 (Source: www.geekwire.com/Amazon)
But not only is Amazon chasing after Walmart, but it is also vice versa. Walmart has recently been on a spending spree acquiring companies to try and break into Amazon-dominated industries as well. The most important being about a year ago when Walmart shelled out $3 Billion in cash for Jet.com, a digital commerce site that regularly competes with Amazon. The acquisition has helped Walmart gain a digital presence and reach an audience that prefers Jet's online shopping against Walmart's brick-and-mortar stores.
Although Jet.com was one of Walmart's largest purchases, it was not their only influential acquisition. In order to reach different consumer groups and become a more effective competitor to Amazon, Walmart has made moves in many industries from men's high fashion with Bonobos, to women's vintage clothing in Modcloth, and even furniture with Hayneedle, all of which help solidify Walmart's online visibility.
With Walmart chasing Amazon's commanding online presence and Amazon reaching for more real-estate in franchises like Whole Foods, it is clear they are now competing directly against one another for dominance in the consumer retail/food sector.
Partnerships
Amazon has made subtle, recent news by fostering a partnership with Nike after they were most recently deemed the most-purchased apparel brand on Amazon. Although both Nike and Amazon have been experiencing growth and stability, the partnership should help bring Nike continued visibility in the online marketplace and help Amazon further establish itself with the trust and elusiveness that comes with the swoosh.
If the Amazon-Nike partnership flourishes, it could set off a domino effect in bringing other sneaker brands and big name athletic apparel companies to consider an Amazon partnership in order to survive. In other words, there may be no escaping Amazon's forceful waters.
Seeing just how many industries these two retail giants can span, there is one thing that they have still not been able to fully capture; the undivided attention of the Millennial consumer. Young consumers are noticeably comfortable using online e-commerce websites to purchase an increasing number of their belongings, however, when it comes to higher-end retailers, the popular brand Nordstrom remains a factor.
Do Not Ignore Nordstrom
Founded in 1901, the Nordstrom brand has remained relevant through exceptional partnerships and ongoing innovation throughout the years. Come the 2000s, they too saw their opportunity in the digital retail market and soon took advantage, although not without their own struggles.
Nordstrom took risks by acquiring Los Angeles based shopping website Hautelook and subscription-based online clothing service, TrunkClub. Online shopping has taken its hit on the entire brick-and-mortar clothing retail industry, but despite that, Nordstrom has begun to take note of what other high-end, brick-and-mortar retailers have been doing to stay afloat in the age of the internet and altered their own business plan.
For example, Nordstrom Local is an initiative to roll out smaller "showrooms" instead of large store locations where consumers can try out different articles and see what works for them. This model may help high-end retailers to maintain their personality and survive the retail apocalypse which has taken its toll on Nordstrom and its competitors.
Nordstrom faced the same challenges as did other, larger retailers in their same division. Fortunately, even during the 2008 financial crisis they were able to declare net sales of about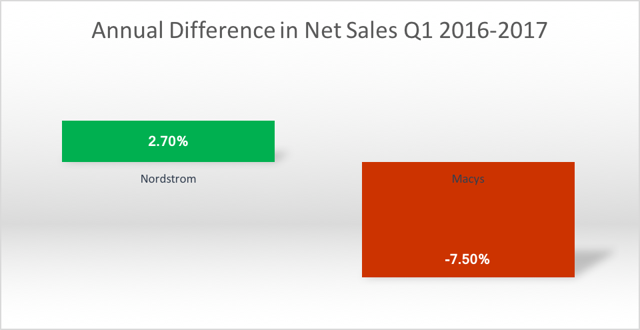 $3.28 billion in Q1 of 2017, a 2.7% increase from the previous year, while a larger competitor such as Macy's found themselves netting less in Q1 of 2017 than Q1 of 2016 by about 7.5%.
There are many factors that lead to Nordstrom being the ideal next acquisition for Amazon, although Walmart may have the same idea. For one, the Nordstrom family has been looking to take the company private, indicating they may be very open to a buyout that can give Nordstrom the push it needs to remain a driving force.
For Amazon, the more frugal parent company, Nordstrom would mean more physical locations and a stronger presence in the physical world. If Nordstrom Local takes off, this could also mean more stable physical locations that could serve the purpose of handling returns, customer services, and act as network for distribution techniques as Amazon expands its own physical presence. Although, for Walmart, Nordstrom might be the missing factor to become an unstoppable force in the apparel sector and establish their position in the online apparel industry.
For both companies though, it means the interest of the Millennial and younger generation, who seem to prefer shopping at Nordstrom over other retailers. As Nordstrom searches for a solution in the coming weeks, the options may wobble between an acquisition or privatization. Either way Nordstrom may be a golden ticket for e-commerce.
References: