By Scott Freeland
Scott Freeland is an undergraduate student majoring in Actuarial Science at Michigan State University.
On October 28th, The Wall Street Journal reported that CVS Health Corporation (SYM:CVS) has been in recent talks concerning the purchase of the nation's number three health insurer, Aetna, Incorporated (SYM:AET).
Various sources, which I reference throughout this article, have claimed that this pending deal is "insane" and try to make sense of the pharmaceutical company's desire to acquire the major health insurer. Others view CVS Health as smart for taking this bold move; it could put CVS ahead of the competition. This much is certain: the estimated $66 billion deal would be the largest proposed deal for the insurance industry ever.
The Deal: An Intuitive Pursuit
Writers such as John Divine, who is an investing reporter for U.S. News & World Report, believe that CVS is making both a reasonable and strategic move. Divine has been writing professionally about investing for the last five years and has been an investor himself over the past ten years. In his report from the 27th of October, he elaborates that, "in owning a major health insurance company, CVS could bargain much more effectively with drug companies on pricing."
Most consumers are aware that CVS is a pharmaceutical company, although some may not be aware that they are also what is referred to as a "pharmacy benefits manager." Abbreviated as "PBM," a pharmacy benefits manager is a firm that negotiates on behalf of insurance companies to bring down the costs of the drugs that they decide to cover in their plans.
In purchasing Aetna, CVS Health would gain even more power in its negotiations for the costs of drugs that insurance companies decide to cover in their plans. Put simply, CVS Health would erase the middleman from the drug supply chain. Resultantly, costs would be reduced on the supply side of the private health care system. This is a practical application of vertical integration inside the health care industry.
"Insane" Foray into the Insurance Industry
Other critics have shared more concerned and confused reactions to this would-be mega-deal. Writers Nick Wingfield and Katie Thomas, who report on The Wall Street Journal, delve into a wearier opinion on the monstrous deal. Wingfield and Thomas explain that CVS's decision appears more so to be a result of behemoth Amazon's (SYM:AMZN) likely entrance into the private health care industry.
As reported on The Wall Street Journal on October 27th, the writers elaborate, "The latest category alarmed by the specter of competition from Amazon is the pharmacy market. With huge amounts of consumer spending and frustrating inefficiencies, it is the type of business that invariably attracts Amazon's attention."
This sudden flood of rumors about Amazon entering the pharmaceutical space is in part why CVS Health would make this deal so swiftly – to compete with Amazon, who has a reputation for smothering its competitors in most markets it's entered, CVS Health has made this sooner-than-anticipated monumental offer to acquire Aetna.
Though the rumors of the deal spilled relatively suddenly in response to the rumors that Amazon will venture into the pharmacy industry, the deal still makes sense according to various strategists. If successful, this merger could push current Aetna members toward shopping at CVS pharmacies and visiting Minute Clinics.
Aetna could also gain more information on patients by having access to data from CVS clinics and retail counters. Furthermore, by integrating drug and health care together, medical costs are greatly reduced. Consumers look forward to this because it means lower costs in refilling prescriptions and visiting Minute Clinics. Suppliers look forward to this because it means added efficiency to the drug supply chain.
A Step Back: Looking at Today's Health Care Players
Walgreens Boot Alliance (SYM:WBA) is currently the major competitor to CVS Health in the pharmaceutical retail industry. On October 27th, John Divine reported on US News and World Report that, "[Walgreens and CVS] are the two biggest pharmacy chains in the US by light years; both have market capitalizations above $70 billion, and the next-biggest player? That would be Rite Aid Corp (SYM:RAD) at $1.6 billion." Figure 1, pictured below, illustrates the stark disparity in market caps for major pharmaceutical retailers in this industry.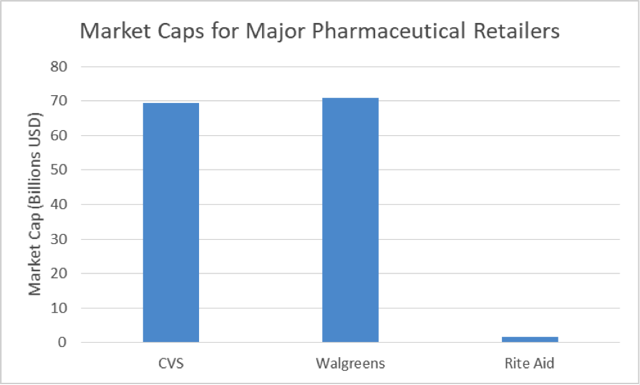 Figure 1
Source: Yahoo! Finance (Accessed 30 October 2017)
Walgreens had previously attempted to purchase Rite Aid entirely. Due to antitrust concerns, Walgreens was denied the purchase. After two years of fighting, it eventually settled on a $4.38 billion deal to buy 1,932 stores. Will CVS Health suffer a similar fate in purchasing Aetna?
Probably not. Again, CVS is applying vertical integration in this pending deal. Unlike Walgreens attempting to purchase one of its competitors, CVS Health is looking to purchase Aetna, a health insurance corporation that is within the drug supply chain, yet one that performs a different task in the industry.
Therefore, the chances that the government will push-back against such a merger are small. These are two firms who do different things. The result would be reduced costs in production, falling premiums for those who purchase health care, and an overall more pleasant experience for consumers. Carolyn Y. Johnson, writer for The Washington Post (reported on 30 October 2017), illustrates,
"[A] joint CVS-Aetna company could create health-care plans with low co-pays if people seek care at walk-in MinuteClinics to discourage more expensive visits to physicians' offices. It could use its regular contact with patients to get better insight into whether people with diabetes or high blood pressure were filing their prescriptions on time."
Disrupting Health Care
Amazon has been eyeing the pharmacy business. If its technological advantage allowed it to steamroll its brick-and-mortar competitors in the book retail market, then what could stop it from doing so against its competitors in the prescription drug market? That's what many believe sparked CVS Health into what could be its mammoth deal with Aetna. Beyond a defense strategy, CVS Health can reduce significant costs in the drug industry by vertically integrating with a health insurance firm.
CVS Health is vulnerable and needs to defend the equity value of its capital base. It needs to control its own destiny, and acquiring Aetna is a strong strategic move for the pharmacy corporation.
Works Cited
Campbell, Todd. "How CVS Health Can Beat Amazon.com." The Motley Fool, The Motley Fool, 28 Oct. 2017, www.fool.com/investing/2017/10/28/how-cvs-health-can-beat-amazoncom.aspx.
Divine, John. "It Makes Sense For CVS Health Corp (CVS) to Buy Aetna Inc (AET)." Money.usnews.com, U.S. News & World Report L.P., 27 Oct. 2017, money.usnews.com/investing/stock-market-news/articles/2017-10-27/cvs-health-corp-aetna-inc-merger-why-will-it-happen.
Franck, Thomas. "'Insane': Wall Street Analysts Puzzled by CVS Health's Possible Costly Foray into Insurance." CNBC, CNBC, 27 Oct. 2017, www.cnbc.com/2017/10/27/insane-wall-street-analysts-puzzled-by-cvs-health-foray-into-insurance.html.
Humer, Caroline, and Carl O'Donnell. "CVS Bid for Aetna: A $66 Billion Bet on Cutting Drug Costs." Reuters, Thomson Reuters, 29 Oct. 2017, www.reuters.com/article/us-usa-healthcare-insurers/cvs-bid-for-aetna-a-66-billion-bet-on-cutting-drug-costs-idUSKBN1CY0EI.
Johnson, Carolyn Y. "Fears of Amazon Moving into Prescription Drug Sales Are Already Disrupting Health Care." Chicagotribune.com, Chicago Tribune, 30 Oct. 2017, www.chicagotribune.com/business/ct-biz-amazon-prescription-drugs-20171030-story.html.
Mattioli, Dana, et al. "CVS Makes Blockbuster Aetna Bid." The Wall Street Journal, Dow Jones & Company, 26 Oct. 2017, www.wsj.com/articles/cvs-health-is-in-talks-to-buy-aetna-sources-1509047642.
Thomas, Katie and Wingfield, Nick. "Hearing Amazon's Footsteps, the Health Care Industry Shudders." The New York Times, The New York Times, 27 Oct. 2017, www.nytimes.com/2017/10/27/technology/amazon-pharmacy-drugs.html.