By Nikita Patel
Nikita Patel is an undergraduate student majoring in Supply Chain Management in the Eli Broad School of Business at Michigan State University.
Prior to its $13.7 billion purchase by Amazon (Sym: AMZN) in August of this year, Whole Foods reported 2016 year-end earnings lower-than-expected and a sixth straight quarterly decline in sales. No longer an exclusive big box retailer of organic food, Whole Foods has been experiencing severe competition from conventional grocery stores that now offer similar products at lower prices. John Mackey, co-founder and chief executive officer of Whole Foods Market spoke to CNBC and said,
"In this increasingly competitive marketplace, we are committed to taking every step necessary to improve comps and deliver higher returns for our shareholders. To this end, we are refining our growth strategy, refocusing our efforts on best serving our core customers, and moving faster to fully implement category management.
 Evolving our purchasing operating model while developing data-rich, customer-centric category management capabilities is critical to our go-forward merchandising, pricing, marketing and affinity strategies."
From 2014 to 2016, there has been a steady decline in the amount of profit Whole Foods has recorded.  
Figure 1: Whole Foods Profit from Years 2015 to 2016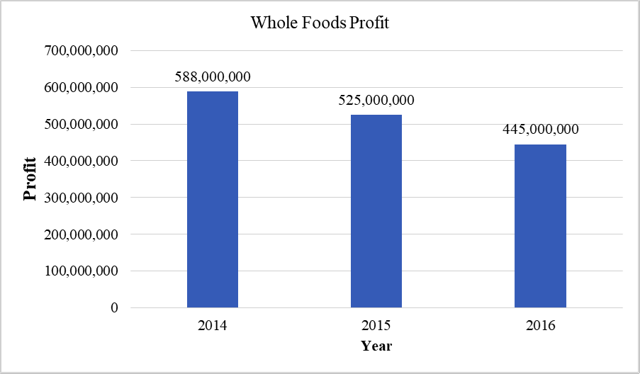 Source: Whole Foods, 2017
There has been intense competition between many different grocers, including Kroger (Sym: KR), Wal-Mart (Sym: WMT), and even Amazon. The Whole Foods Company has been trying to lower prices and has been experimenting with other options. Beginning next February, Whole Foods will be closing nine of their stores and all three of their commissary kitchens.
The Cons
Whole Foods has trademarked the phrase "America's Healthiest Grocery Store," because they only carry natural and organic foods, while maintaining the strictest quality standards in the industry. The chain's prices are known to be very expensive.
People now believe that anything you might desire to buy at Whole Foods, can be easily found elsewhere at a much cheaper price. In addition to steep prices, Whole Foods does not make it easy for consumers to use coupons. Not only do they require a manager's approval at every coupon use, but consumers have to wait for the manager to arrive and endure the stares of everyone who is waiting in the long line behind them.    
Amazon Purchase
Amazon has many ideas as to how they plan on changing Whole Foods to become more profitable. Amazon has promised that price cuts will be made as soon as they take over and these price cuts are already being made in stores. Bloomberg reported that the price cuts in Whole Foods has led to a 25% increase in customer traffic.
Figure 2: Price Change in Products Before and After Amazon Take-Over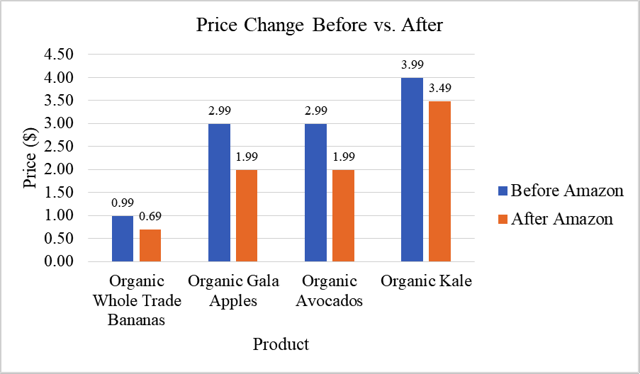 Source: CNBC, 2017
Along with lowering prices on Amazon, Amazon Prime members are going to receive special discounts. It is estimated that half of American households have an Amazon Prime membership leading us to predict that people will be benefiting from the Amazon take-over. Whole Foods products will also be available through the Amazon website, making it convenient for members to purchase products from the comfort of their own home.
What's Next?
The Amazon.com website has benefited from the purchase of Whole Foods. The site listed over 2,000 private-label products on the website and most of them happened to sell out completely. Bloomberg noted estimated sales of Whole Foods products on the website totaled more than 500,000 in just the first week. Analyst Lloyd Walmsley said that,
"We expect Amazon to leverage the Whole Foods Market brand and supply chain to source high-quality food and build demand for it, but ultimately leverage Amazon's expertise to drive efficiency in the logistics efforts, fulfilling orders outside of the Whole Foods Market store footprint."
From lowering prices and adding to the convenience of shopping for people, Amazon purchasing the Whole Foods Company has done a lot to improve it.
Sources
Why Whole Foods Is Continuing to Underwhelm Investors
Whole Foods to Close Nine Stores After a Year of Sluggish Sales
Amazon's Price Cuts Created a 25% Bump in Whole Foods Foot Traffic
Whole Foods just got a whole lot cheaper
Amazon's booming online sales and Whole Foods acquisition make it a buy: Analysts