By Scott Reader
Scott Reader is an undergraduate student majoring in Supply Chain Management at Michigan State University
Supply chain management is focused on working to reduce costs, decrease time, and optimize efficiency.  Innovations like MRP systems and automated warehouses have been instrumental in the pursuit of improvement, but what's next? Diverse companies across the globe like Target (Sym: TGT), Addidas (ADR: OTCQX:ADDYY), Macy's (Sym: M), and the Chinese company, General Steel Holdings, are implementing the use of Radio-Frequency Identification (RFID) chips in hopes that they will be the next progressive advancement.
Radio-Frequency Identification (RFID) tags are small chips that are placed into a product that communicate radio waves to a reader in order to automatically identify and locate that object.  Supply chain professionals see the integration of RFID tags as a solution to a multitude of industry wide issues.  Most notably, RFID tags will have a massive impact on inventory accuracy which directly effects a multitude of major cost-based decisions. 
According to a statement made by Karl Bracken, Senior VP of Supply Chain Transportation at Target (Zubair, Oct 2017), the inaccuracies found in the supply chain are caused mostly from human touch points.  The more times a product is handled, the higher the probability there will be an issue with that product.  To combat this issue, RFID tags provide a viable solution.  The tags provide the ability to monitor real-time movement and product location which will lead to decreased handling costs and an ultimately more accurate inventory.
Taking a closer look, research performed by Katina Michael and Luke McCathie from the University of Wollongong, indicates that in a distribution center, total distribution cost is made up of 50-80% labor costs (Michael, McCathie, 2005).  The authors then reference another study done by Keith et al. that anticipates the implementation of RFID's decreasing inventory check-in time by over 60%, labor costs for order picking by over 30%, and order verification costs by 90% (Michael, McCathie, 2005).  The combination of this information provides an interesting point of view on the holistic effect that RFID's could have on a company.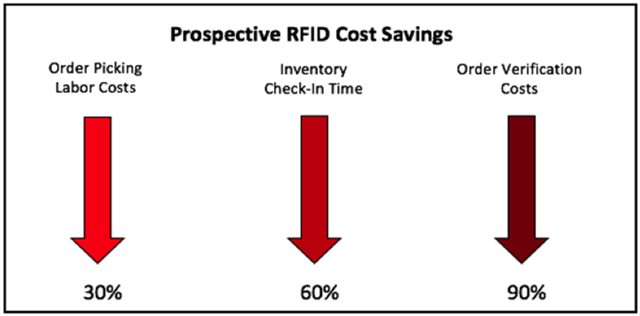 Source: (Michael, McCathie, 2005)
The increase in inventory accuracy immediately improves successive decision making processes.  For example, when planning for consumer demand and plant consumption, inaccurate inventory may cause planners to over purchase.  Over-purchasing then causes a domino effect that results in an increase of plant wide costs.  More inventory causes added handling costs, extra holding costs, and an increase in yield for those materials that will not get used.  This shows that having an accurate inventory will reduce expenses throughout the entire supply chain.
Industry Uses
One of the biggest uses of RFID technology has been in the retail industry.  According to a study done by Auburn University's RFID Lab (CYBRA, 2017), there were approximately 3 billion RFID tags used in 2014, with an estimated use of over 8 billion in 2017.  The study also concluded that the industry's adoption of RFID technology grew by over 32% from 2015 to 2016.  In an industry that has such a strong focus on physical inventory and the flow of products, this consistent rate of growth is all but unexpected.  The ability to maintain accurate metrics is the lifeline between profit and debt.
In an article that studied the impacts of RFID tags on Adidas' business (Benton, 2017), the increase in visibility caused a direct upsurge in its bottom line.  By increasing the ability to deliver products on time through clear inventory management, Adidas found that if they are able to deliver within 24 hours of purchase, the probability that the customer returns that item drops 20%.  This results in a 40% increase in sales and a direct reduction in logistics costs (Benton, 2017).  These unforeseen results of RFID technology are shedding new light onto the benefits of accurate inventory management. 
One company that has fully committed to the implementation of this technology is Macy's.  According to Barbara Thau, contributor at Forbes magazine (Thau, 2017), Macy's has chosen to track every single one of their products by the end of 2018.  Although many companies have been apprehensive about the costs associated with RFID tags, Macy's has bought into the fact that the prospective advantages dramatically outweigh the costs.  Not to mention, the price of RFID's has dropped from $1 in 2003, to about 10 cents today (Thau, 2017).  This drop in price has made the technology almost irresistible for companies with large physical inventories.
Another way that RFID tags are being used is in logistics. Companies are integrating RFID tags into their logistics management systems in order to increase efficiency, optimize real-time data, and improve customer satisfaction.  According to a study done on General Steel Holdings Inc. (General Steel, 2015), the Chairman and CEO Henry Yu stated that the increase in visibility will generate more working capital and improve financial flexibility within the industry.  The RFID tags allow the company to provide their customers real time information on transportation progress which allows them to optimize their planning strategies.  This downstream effect facilitates cost savings for the customer due to a higher level of clarity and communication between the buyer and seller.    
Aside from the physical advantages that stem from using RFID, the analytical possibilities are also a huge player in what makes this technology so valuable.  Right now, data runs business.  The idea of big data and the internet of things is heightening the demand for business analytics and the ability to make strategic decisions.  Through data analysis, companies will be able to optimize forecasting accuracy which directly correlates to purchasing, and ultimately effects the bottom line.  The decisions that stem from the data provided by RFID tags is what is giving companies their competitive advantage.
Works Cited
Benton, Dale. "Supply Chain 4.0: Adidas and Amazon Re-Write the Rules on Supply Chain Management." Supply Chain Digital, BizClik Media, Inc., 10 Feb. 2017, www.supplychaindigital.com/scm/supply-chain-40-adidas-and-amazon-re-write-rules-supply-chain-management.
CYBRA Corporation. "5 Huge RFID Statistics for 2017." CYBRA We Identify with Success., CYBRA Corporation, 2017, cybra.com/5-huge-rfid-statistics-2017/+.
General Steel Holdings, Inc. "General Steel's JV Signs Letter of Intent to Deploy RFID-Based Logistics Management at Tewoo Group's Seven Steel Coils Logistic Centers." Cision PR Newswire, PR Newswire Association LLC., 16 June 2015, www.prnewswire.com/news-releases/general-steels-jv-signs-letter-of-intent-to-deploy-rfid-based-logistics-management-at-tewoo-groups-seven-steel-coils-logistic-centers-300099727.html+.
Michael, Katina, and Luke McCathie. " e Pros and Cons of RFID in Supply Chain Management." University of Wollongong Research Online, Proceedings of the International Conference on Mobile Business, 2005, ro.uow.edu.au/cgi/viewcontent.cgi?article=1104&context=infopapers.
Thau, Barbara. "Is The 'RFID Retail Revolution' Finally Here? A Macy's Case Study." Forbes, Forbes Magazine, 15 May 2017, www.forbes.com/sites/barbarathau/2017/05/15/is-the-rfid-retail-revolution-finally-here-a-macys-case-study/#6395c9563294. 
Zubair Bokhari, Syed M. "Category: RFID, Automated Data Collection, and Internet of Things." Retail Executives with Some Straight Talk on RFID in Store, Upstream in Supply Chains, Supply Chain Digest, 11 Oct. 2017, www.scdigest.com/ontarget/17-10-11-1.php?cid=13132.