Parth Redey is an undergraduate student in the Eli Broad School of Business at Michigan State University.
Last  year, the University of Michigan athletic program announced it would switch to Nike (Sym: NKE) products after being with Adidas (ADR: OTCQX:ADDYY) for the previous eight years. In 2016, Michigan signed a deal worth up to $173.8 million over a 15-year period (about $11.6 million year), which at the time was the biggest deal ever. The prior deal with Adidas was worth about $8.2 million a year.
Soon after this deal was finalized, The Ohio State University and the University of Texas took over as Nike's highest paid sponsorships by signing deals worth $252 million ($16.8 per year) and $250 million ($16.67 per year), respectively, for 15 years. These three schools are among the biggest deals that any sports apparel/shoe company has with any university.
Adidas and Under Armour (Sym: UAA), along with Nike, are the most famous sports apparel/shoe brands. The top universities in Division 1 sports all have sponsorships by one of these three companies. Adidas has deals with universities like Texas A&M, whose athletics in 2016 generated the most revenue out of any school. Another school that has a deal with Adidas is Louisville, the company's biggest contract with a 10 year-$160 million deal.
The University of California Los Angles (UCLA),  home of the most lucrative NCAA apparel deal for the 2017-2018 academic year, was paid $18.5 million by Under Armour. Figure 1 shows the five biggest athletic equipment and sponsorship deals for the 2017-2018 academic year.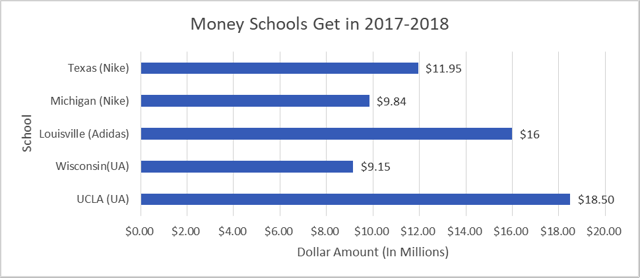 Source: Data comes from article in the Portland Business Journal written by Clare Duffy
Some schools are beginning to sign sponsorship deals that also provide benefits to other segments of the university community. For example, in the University of Michigan deal, college students from the university are promised internships with Nike.
Adidas is also working with schools like Nebraska and Arizona State to test and research athletic gear in exchange for internships. Jonathan Jensen, a researcher who works for the University of North Carolina, believes that this will be the trend.
According to a database the Portland Business Journal keeps of NCAA deals, Under Armour, Nike, and Adidas gave more than $300 million to college athletic programs last year. The research done by Jensen showed this amount to be an economic bargain for the three companies. He said that high-priced deals recently are a result of the rise of Under Amour as the third competitor.
Previously, Nike and Adidas were the only companies competing in this space. Nike in particular could pay under-market value to schools, but that situation changed once Under Armour signed a deal with Notre Dame back in 2014. Under Armour started making deals with schools like Wisconsin, which then forced Nike and Adidas to pay more money for sponsorships
The competition between the three brands is not only a rivalry with university endorsements. Companies fight to endorse the top athletes along with endorsing different teams with international sports. Nike took over as the uniform providers for the National Basketball Association for this past season.
The amount of money that the companies spend for endorsement deals increase as their competing companies sign more deals. According to an article in the Portland Business Journal written by Matthew Kish on September 2nd, 2016, Nike had about $9.4 billion for 2016 in deals on their books. This was a 52 percent increase from 2015. Adidas and Under Armour would need to spend about the same amount of money if they wanted to stay competitive with Nike.
The apparel companies still benefit from these deals even when they are spending huge amounts of money. The companies are getting free advertising through live television. All teams who compete in Division 1 sports will have the apparel company's logo displayed on the uniforms.
Fan loyalty is key. Companies tend to target college students because they know that college students and alumni identify with their favorite team by purchasing branded athletic gear. Jensen states this group of fans typically has more disposable income for these purchases. If companies release new gear for a specific team, many fans will buy that because they want to feel closer to their team.
Most deals involve universities getting cash payments along with millions of dollars' worth of gear. Many of the deals include royalty payments, but only a small percentage of a typical apparel sale goes to the schools while the rest goes to the apparel companies. For example, Michigan is getting 5% royalties from footwear and 15% royalties on other apparel while Nike will get to keep the rest of the Net Sales.
As Nike, Adidas, and Under Armour continue to compete, they have separated themselves as the top three endorsers for university athletic programs. This is a good thing for investors in these three competitors because at present there is not a fourth company that is putting up a challenge.
References:
Why $300M on NCAA deals is a bargain for Nike, Adidas and Under Armour - Portland Business Journal
Michigan finalizes Nike contract for up to $173.8 million
Nike Spent Almost $10 Billion on Endorsements in 2016 | Nice Kicks
Apparel battle continues with UCLA signing mega-deal with Under Armour - Portland Business Journal
Swoosh! U-M returns to Nike with major apparel deal
Exclusive: See the top NCAA apparel deals from Adidas (ADDF), Nike (NYSE: NKE) and Under Armour (NYSE: UAA) for 2017-18 (Database) - Portland Business Journal