By Andrew Loathaveerungsawad
Andrew Loathaveerungsawad is an undergraduate student majoring in Supply Chain at Michigan State University
McDonalds (NYSE: MCD), one of the largest fast food chain restaurants in the world has recently launched a new low-calorie menu initially targeted to customers in California. With this new healthy option menu, the company is looking to make a significant change to the competitive landscape in the fast food industry.
Leveraging Current Market Position
According to The Sales Lion, McDonalds has constructed one of the most effective company brands. With its company headlined by Ronald McDonald and the Big Mac, the company has an abundance of brand images that are embedded into the American culture.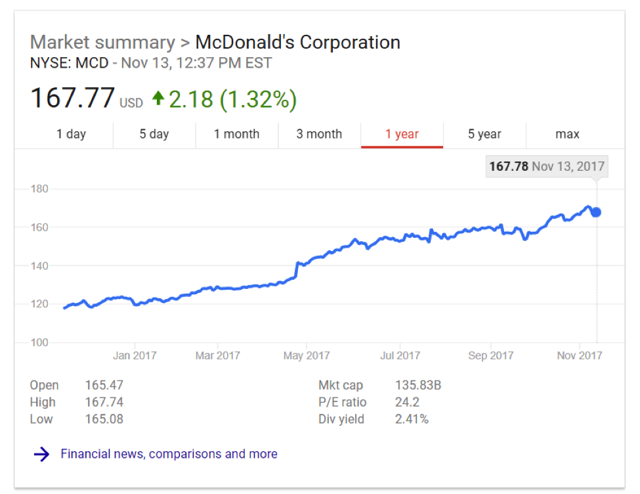 Source: Google Finance
Secondly another factor that makes McDonalds so successful against their competitors is their market intelligence and rapid reaction to consumer change. So with the launch of the new low calorie menu options, the company is trying to stay one step ahead of its competitors in this consumer space.
McDonald's is targeting all customer demographics with the current menu roll-out. For kids, the happy meal will incorporate apple slices as well as Yoplait Go-Gurt and milk jugs. The fast food chain also looks to meet the needs of vegetarians and vegans with options such as southwest salad, fruit yogurt parfait, and a mandarin orange as well.
With the current health trends expanding greatly as well as the ongoing increase of overall child obesity, McDonalds is put under pressure in producing an appealing healthy options for its consumers. According to Stephanie Strom, by incorporating options such as salads, apple slices, and yogurt, the fast food chain looks to show its contribution to overcoming child obesity as well as compete for health-conscious customers by offering options lower in fat, salt, or sugar content in comparison to other traditional fast food items.
Despite weak sales from prior attempts to offer healthy menu options, the current plan once again offers the opportunity to increase the company's total revenue and increase its market share and make a lasting impact because by being able to meets the needs of society trends and expectations, the company is able to draw a larger abundance of consumers. Also, with the health trends going on these days, consumers are open to spending additional money to be able to get the healthiest options, allowing for favorable consumer sales.
Overall, with the addition of healthier options to the McDonalds menu, the company is able to make a beneficial impact on society as well as for its company. McDonalds has always been ahead of their competitors by being the first with innovative ideas. This is why the fast food chain is so successful. Furthermore, by adopting a healthier menu the company is able to attract a larger abundance of consumers as well, and meets the needs of the current fitness and health trends. Lastly, incorporating healthier menu options within the company benefits the company by increasing revenue as well as expanding its markets shares.
Citations
7 Reasons Why McDonald's Crushes Burger King Year After Year. (2017, June 13). Retrieved October 31, 2017, from 7 Reasons Why McDonald's Crushes Burger King Year After Year
Drayer, L. (2017, January 27). McDonald's best menu picks, by a nutritionist. Retrieved October 31, 2017, from McDonald's best menu picks, by a nutritionist
Strom, S. (2013, September 26). With Tastes Growing Healthier, McDonald's Aims to Adapt Its Menu. Retrieved October 31, 2017, from With Tastes Growing Healthier, McDonald's Aims to Adapt Its Menu
Team, T. (2016, July 25). 'Healthy' Food Options In The Core Menu Can Drive Revenues For McDonald's. Retrieved October 31, 2017, from 'Healthy' Food Options In The Core Menu Can Drive Revenues For McDonald's
Week, S. T. (n.d.). McDonald's rolls out low-cal breakfast for SoCal. Retrieved October 31, 2017, from McDonald's rolls out low-cal breakfast for SoCal