By: Lauren Stefforia
Lauren Stefforia is an undergraduate student majoring in Supply Chain Management at the Eli Broad College of Business at Michigan State University.
Inditex (BME: ITX), the Spanish parent company of retail titan Zara, is often hailed as having the best supply chain in the industry. Coupled with continuously strong financial performances, they seem unstoppable.
Success driven by supply chain
In 2016, Inditex reported $27.5 billion in sales, with Zara alone making up 66%. The company produced over a billion units of fashion pieces and accessories, which sold in over 7,000 stores globally. Their 1,805 suppliers reported 6,959 factories, with Inditex adding 14 semi-automated factories of its own in Spain.
Amancio Ortega, cofounder of Inditex, is consistently ranked in the top three richest people on the planet, alongside Bill Gates and Jeff Bezos. On August 30th, 2017 Ortega held the top spot with a net worth of $85 billion, but fell back down to third place less than two days later due to slight slip in Inditex share price on Spain's BME stock exchange.
Inditex attributes much of their success to their supply chain strategy. A company with so many suppliers and retail locations requires a robust, efficient supply chain that is agile enough to meet the ever-changing demand in the fashion world.
One way that Inditex achieves this is through vertical integration. A majority of their products are designed and manufactured in-house, giving the company greater control of and transparency into their processes. This also allows them to take a product from design to store in just four to six weeks – half the time of the industry average.
With new designs hitting stores twice a week, customers feel more motived to visit Zara often. Short lead times paired with small lot quantities allow the company to take advantage of fleeting trends while they're still hot.
At what cost?
Inditex must achieve this speed and profitability somehow, and unfortunately it seems that labor conditions tend to be sacrificed for shorter lead times. According to Project JUST, an independent researcher and reporter on the fashion industry, the 2017 Australian Fashion Report "found that the brand does not publicly share aggregated wage data and only 1 – 25% of Inditex's traced facilities pay a living wage".
The fast fashion industry as a whole is plagued with child labor – Inditex included. Young girls in nations such as India, China, Bangladesh, Egypt, Pakistan, Thailand, and Uzbekistan are recruited to work, and promised comfortable living conditions and a lump sum of money after three years. However, The Guardian reports that is hardly the case:
"Field research shows that in reality, they are working under appalling conditions that amount to modern day slavery and the worst forms of child labor. Child labor is a particular issue for fashion because much of the supply chain requires low-skilled labor and some tasks are even better suited to children than adults."
In 2015, Inditex was involved in a scandal in Brazil regarding working conditions and child labor. They were fined 5.29 million euros for findings that 7,000 workers had been mistreated since 2012. Accidents and illness on the job was extremely common, as well as 16+ hour work days. In 2011, the government had to rescue 15 workers from "sweatshop-like" conditions in a subcontracted factory for a company responsible for 90% of Zara's Brazilian production. One of those workers was just 14 years old.
Inditex was also subject to undergo a substantial number of audits in 2016 – 10,883 audits, to be exact. Below is a summary of the different types of audits undergone by Inditex, as reported by Project JUST. This number of audits is exceptionally high, even for a company of this size and scale.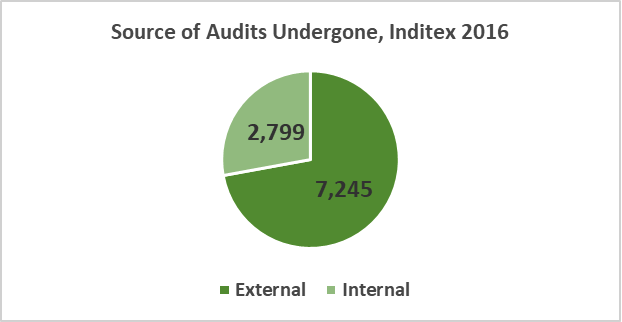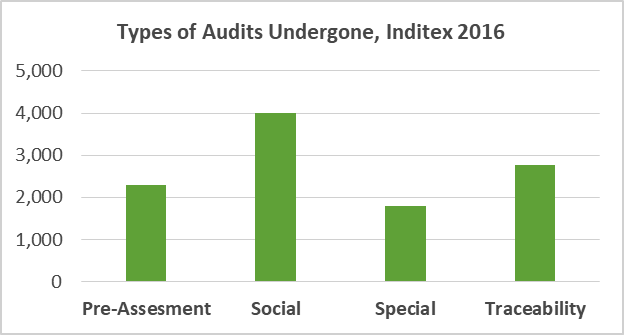 Based on known, public audits as of August 24th, 2017. Source: Project JUST
While the company does have a Code of Conduct and "prohibits any interference with workers rights to freedom of association, union membership and collective bargaining", in 2016 only 38% of suppliers were compliant with the Code. Of the 62% of suppliers who were not compliant, only 3% were subject to Corrective Action Plans.
In November 2017, Zara's labor practices were brought to attention again when a story broke that Zara shoppers in Istanbul found messages from factory workers in their purchases. Inside the tags, a message read "I made this item you are going to buy, but I did not get paid for it". A corresponding Change.org petition claims that employees of a factory in Turkey that produces clothing for Inditex had their wages withheld, before the factory was shut down and they were left with nothing.
While Inditex may be an extremely profitable company with an impressive supply chain, upon closer look it is evident how they achieve such "success". Sacrificing human rights and compliance practices to improve the supply chain and further the wealth of top CEOs may sell stocks, but could ultimately prove to be an unsustainable business model.
References:
Butler, Sarah. "Zara Owner Inditex Faces Fines in Brazil over Poor Working Conditions Claim." The Guardian, Guardian News and Media, 12 May 2015, www.theguardian.com/fashion/2015/may/12/zara-owner-inditex-fines-brazil-working-conditions-claim.
Gorrepati, Kris. "Zara's Agile Supply Chain Is The Source Of Its Competitive Advantage." Digitalist Magazine, Digitalist Magazine, 18 July 2017, www.digitalistmag.com/digital-supply-networks/2016/03/30/zaras-agile-supply-chain-is-source-of-competitive-advantage-04083335.
Kirsch, Noah. "This Spanish Retailer Just Became The Richest Person In The World." Forbes, Forbes Magazine, 31 Aug. 2017, www.forbes.com/sites/noahkirsch/2017/08/30/this-spanish-retailer-just-became-the-richest-person-in-the-world/#466958115f76.
Moulds, Josephine. "Child Labour in the Fashion Supply Chain." The Guardian, Guardian News and Media, UNICEF, labs.theguardian.com/unicef-child-labour/.
Roberts, Joe. "Shoppers at Zara Find Disturbing Messages in Clothes Tags." Metro, Metro UK, 5 Nov. 2017, metro.co.uk/2017/11/05/shoppers-at-zara-find-disturbing-messages-in-clothes-tags-7054614/.
"Zara: Ethics, Sustainability, Labor Rights Researched by JUST." Project JUST, Project JUST, 24 Aug. 2017, projectjust.com/brand_zara/.