By Jennifer Vusich
Jennifer Vusich is an undergraduate student majoring in Marketing and minoring in Information Technology in the Eli Broad College of Business at Michigan State University.
In September, Spotify, the privately held online music and video streaming service announced a first-of-its-kind premium streaming bundle with Hulu, a major video-on-demand service owned by Disney (Sym: DIS), 21st Century Fox (Sym: FOXA), Comcast (Sym: CMCSA) and Time Warner (Sym: TWX).
Spotify's joint offer is valid for U.S. college students only - thus allowing students to stream music, television shows and movies through a single subscription, at just $4.99/month.
Spotify Redesigns Market Strategy with Hulu Partnership
The Spotify + Hulu partnership was a large step for Spotify in maintaining a competitive advantage over their leading competitor, Apple Music. The company also announced that broader market offerings are to follow.
Targeting millennial students has been a successful marketing strategy for the company over the past few years. In 2014, Spotify announced its competitive subscription deal to millennials; offering college students in the United States Spotify Premium for just $4.99/month - the same price as the September 2017 deal - giving consumers around the ages of 17-23, 50% off of the normal Premium subscription price.
Spotify CMO Seth Farbman stated,
 "Especially for a millennial, music is one of those things, like fashion, that gives you a voice and a point of view; it also allows you to fit in. It's this human condition of wanting to stand apart but fit in."
Spotify was able to emerge early in the music streaming business and consistently adapt in order to remain a dominant leader. Spotify's algorithm capabilities to predict users possible interest in artists, songs and playlists, allows the company to stand out amongst their competitor Apple Music.
Growing Subscriptions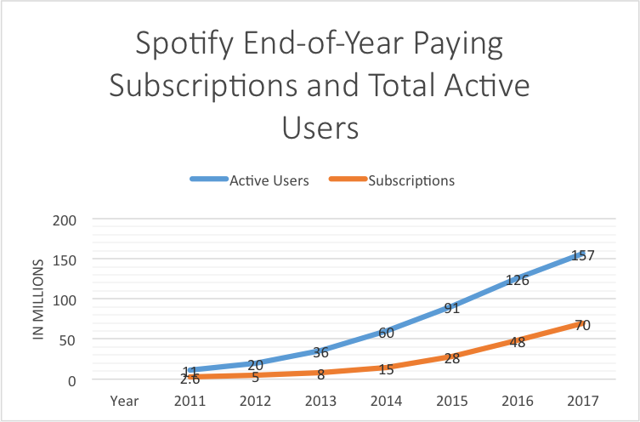 Source: Company Reported Numbers
The graph above shows the steady increase in paying subscribers and active users at the end of each year since 2011. In 2014, demand and sales of premium subscriptions jumped significantly after announcing the student discount.
On average Spotify's number of subscribers grew about 73% from 2014 to 2017. Music Business World Wide (MBW) projects Spotify to finish 2017 with 70 million paying subscribers and roughly 160 million total active users; resulting in roughly five billion dollars in annual revenues.
According to MBW, "subscription cash has contributed 90% of revenues, with ad sales on its free tier making up approximately 10%." With the forecasted 70 million subscribers in 2017, MBW also estimates Spotify will turn over $4.4 billion in subscription revenue alone.
Spotify continues to utilize the marketing strategy known as, word-of-mouth; allowing consumers to create buzz through social media. Social media platforms such as Facebook and Twitter have been a crucial part of Spotify's success towards reaching millennials.
Financial Future
Average Revenue Per Premium Subscriber
| | |
| --- | --- |
| Year | Average Monthly Subscriber Cost |
| 2012 | $8.37 |
| 2013 | $8.25 |
| 2014 | $6.37 |
| 2015 | $6.02 |
| 2016 | $5.35 |
Source: Music Business Worldwide
Despite falling revenues per premium subscriber, the company's recent Hulu consumer offer has created a value proposition that will allow Spotify to jointly grow new users and convert existing members to a Premium subscription.
The joint promotion with Hulu is only available for undergraduate students at the moment and will begin to charge users $9.99/month upon graduation. However, this strategy may sound alarms for future company in the near term. Perez stated regarding this issue, "…It seems the bundle is a way to eventually funnel higher-paying users back into their services, after the students exit college."
Spotify's partnership is an intelligent way for the company to also enter the video streaming market without a large upfront investment.
The company also announced that Spotify will start selling beauty products. Spotify's partnership with Merchbar just last year. According to Lunden, Spotify will begin working with makeup artist Pat McGrath and musician Maggie Lindemann. Enabling fans to shop the look of a particular artist or theme they like.
Consistently offering innovative features such as offline listening, Hulu partnership, and the new merchandise line helps the company build and maintain customer loyalty. With their continued adaption to new services year-to-year there is no doubt they will remain a top mobile streaming company.