Blue Apron, and meal kit delivery services: Focusing on consumer's behavior can help boost sales
By Sarah Sims
Sarah Sims is an undergraduate student majoring in Marketing at the Eli Broad School of Business at Michigan State University
Meal kit delivery services, such as Blue Apron (Sym: APRN), Home Chef, Sun Basket and Chef'd, are subscription-based services sending a box of fresh food and a recipe to consumers' doors. It's a promising concept with millennial online shopping behavior. Although, since Blue Apron went public the stock has dropped from $9.34 to $3.35 per share. It is the first meal-kit delivery service company to trade.
Financials
Blue Apron did however beat their Q4 projections and we saw the stock jump 8.45%. Even with beating out their Q4 projections, the long-term survival of this company will not be possible without major change. Their net income has consistently been negative, and with each passing year, they are losing even more money.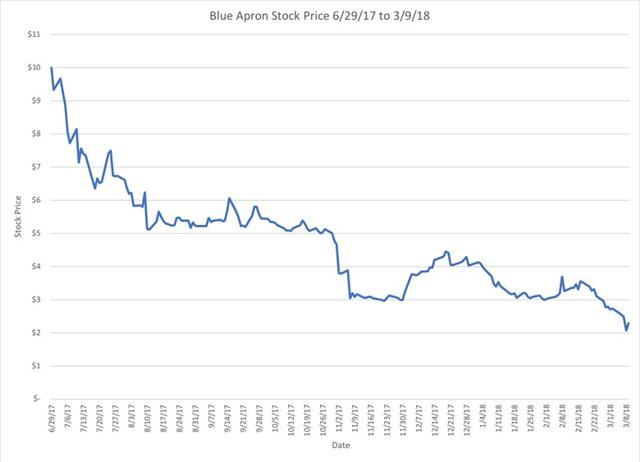 A close look into consumer behavior might help save this company, which does not have much time left.
While it is known that Millennials prefer to do shopping online, what Blue Apron needs to realize about their consumers is that they are price sensitive. Their meal delivery service subscriptions are high in price, especially when compared to local grocery stores.
It makes sense that budget minded consumers would opt to make a quick trip to the store. For a two-person plan it is $10.99 per serving, and a total of $65.94 a week for three recipes. This is comparable to eating at a restaurant, but you still have to do the cooking and cleaning.
When it comes to obtaining new subscriptions, Blue Apron needs to find consumers who shop online with a disposable income large enough to justify paying more for groceries that have a little more convenience. For a majority of consumers, it is easier to find groceries cheaper than a box service.
The price reflects the convenience of not having to grocery shop, but where Blue Apron could save their company lies within the large physical stores already established. A way to cut a cost to consumers would be to offer pre-packaged fresh food, ready to cook, in grocery stores. This eliminates the commitment of a subscription and reduces costs for the company.
This differs from instant meals such as boxed Mac and Cheese instant noodles, or frozen meals because it will stay true to Blue Apron, where it is fresh food you prepare at home with a guide. The move to stores will reach a wider market than focusing on those who use the internet for groceries.
Busy families who don't necessarily buy groceries online would be more willing to try Blue Apron if they see it in their local grocery store. And with a 15% drop in subscriptions, this switch to retail stores could give Blue Apron the exposure they need to gain new customers. Providing units in store will allow consumers to try the product, and if they enjoy their experience, a subscription could be their next step.
Acquiring customers is one of the largest marketing and advertising costs a company faces. It can cost five times more to get a new customer than to keep a current customer. When doing a simple search for Blue Apron there are tons of promotions or coupons to try the subscription service, which ends up eating profits. This is an example of the cost to acquire that new customer.
One of the biggest hurdles Blue Apron will face, and companies alike, is Amazon (Sym: AMZN). The largest dip in Blue Apron's stock was around the time Amazon announced its acquisition of Whole Foods Market. Amazon wants to dominate the online grocery business. Between Whole Foods and their Prime Pantry service, Amazon holds a potential combination to gain and keep most consumers in the online grocery market.
Their advanced supply chain enables them to keep prices lower, where companies like Blue Apron do not have the same large structure.
The packaging for these fresh-food deliveries is also a concern that could be fixed by moving to retail. These boxes contain fresh food ready to cook, although it needs to be packaged to maintain its freshness during the shipping to individual households. This creates a bulky experience for the consumer, and as the world becomes more conscious of the environment, excess packaging is unappealing.
A shipment of fresh food to a retail location will make it easier to ditch some of the packaging while maintaining the fresh aspect that Blue Apron is known for providing.
The niche fresh food subscription service industry needs to find a new avenue to attract customers or it faces being shut out for good by the well-established grocery giants that provide a good quality with prices that fit consumers' budgets.
Even though Blue Apron is specialized in providing one service, to become profitable it needs to look at the grocery industry as a whole, and how consumers buy, prepare, and eat food in conjunction with their lifestyles.
Sources:
Wall Street Journal APRN income statement: http://quotes.wsj.com/APRN/financials/annual/income-statement
Foodable, Karri Adams
https://www.foodabletv.com/blog/2018/2/16/blue-apron-subscriptions-have-dropped-by-15-from-last-year
Invesp, Khalid Saleh
https://www.invespcro.com/blog/customer-acquisition-retention/