The Race to Driverless
By Matt Rosati
Matt Rosati is an undergraduate student majoring in Supply Chain at the Eli Broad School of Business at Michigan State University
Autonomous vehicles are driving everyday across the country. However, they have yet to make their way to general public ownership and operation. Numerous companies are currently in a technology race trying to be the first to do so, but who will ultimately win the race? Apple (Sym: AAPL), Tesla (Sym: TSLA), Uber (Private), General Motors' Cruise Automation (Sym: GM), and Google's Waymo (Sym: GOOG) are the five companies in the conversation, but it seems to be becoming a two-horse race.
It will be a difficult road for all companies involved. Media headlines have outlined considerable doubt in self-driving technology. In Las Vegas, a self-driving bus was backed into, but the headlines for the incident pinned the fault on the bus rather than the vehicle in front of it.
A fatal Tesla crash grabbed the attention of consumers as well, with a headline reading, "Tesla driver dies in first fatal autonomous car crash in U.S." However, this crash was not an "autonomous car." Tesla's autopilot feature is designed to perform some tasks for the driver, but there is still a need for driver interaction.
Apple may not be the first company you consider for autonomous vehicles, but it seems the company has their hands in every technology, and self-driving technology is no different. Despite their late start, Apple may be poised to leap the others competitors in the new industry.
In a recent publication, two Apple engineers claim to have invented a new type of sensor technology that is far superior to the current "LiDAR" technology used by Waymo. Though this could be a huge step for Apple in the race for self-driving cars, they only tested in simulations, so it's not certain the same success will be seen in actual driving.
With Tesla's autopilot feature already on the market for a few years, the company should be expected to be at a greater competitive advantage. However, Tesla did not record a single mile of autonomous driving in 2017.
With the lack of real world tests, it is difficult to speculate if and when Tesla could be ready to unveil completely driverless cars. Furthermore, even though Tesla is known for their technology, the company is operationally behind their other competitors.
A key positive for Tesla is that, despite not testing actual driverless cars, they have thousands of cars on the streets using their autopilot. This is important for a few reasons. First, Tesla is able to collect data on failures and successes from these miles driven, effectively giving the company more driverless miles than its competitors.
Second and perhaps the biggest advantage is that Tesla has a reputation for their technology and luxury cars. This could give the company a leg-up on the market with a population likely to be very skeptical about the first autonomous vehicles.
Uber was the first on the list of competitors to launch a self-driving car project, but they seem to have fallen behind their competition. Despite making internal improvements in handling and safety, the company does not have a clear advantage in any aspect of the technology. The one area they have an advantage is the Uber ride-sharing service. It's much more widely used than Lyft and clearly ahead of the other companies who do not have an app. However, if Uber is unable to adapt cars for driverless operations before either Waymo or General Motors, then it is likely Uber's prices will be undercut, and they will lose their market share.
One company leading the way in autonomous vehicles is Google's Waymo. Google tested their self-driving technology using Chrysler Pacifica minivans in Phoenix throughout 2017, and in a January earnings call, Ruth Porat (Alphabet CFO) announced they would be releasing their own ride sharing app this year, suggesting the tests have been successful enough for wide spread use.
In addition, John Krafcik (Waymo CEO) stated they have moved on from research and development and into operation and deployment. More evidence of Waymo's readiness for market came when California released autonomous driving data for 2017. Google vehicles operated about 500,000 total miles driven by autonomous vehicles in California throughout 2017. Waymo accounted for 352,544 of them, which is over 70%.
In Waymo's 352,000 miles driven, the Google division had a total 63 disengagements. (A disengagement occurs when a human driver has to take control of the car). At a rate of one disengagement per 5,100 miles, Waymo's technology is clearly leading the way and with Google's name behind them, the rest of the field could be in trouble.
General Motors is also posing a threat to Uber as they gear up to enter the ride-sharing industry. Their subsidiary, Cruise Automation, has been able to manufacture a "mass producible" autonomous vehicle using the Chevrolet Volt.
With GM investing 500 million dollars in Uber's biggest competitor, Lyft, the two could be working to put Cruise Automation's driverless cars into an already established ride-sharing platform that could run prices much lower than Uber.
Cruise Automation isn't far behind Waymo either. With 131,000 miles driven and 1,250 miles per disengagement, Cruise Automation placed second in California's data. Though over four times the disengagement rate of Waymo, Cruise went from 35 to 1,250 miles per disengagement in one year, and with one billion dollars in investment scheduled for 2018 they are on track to catch up.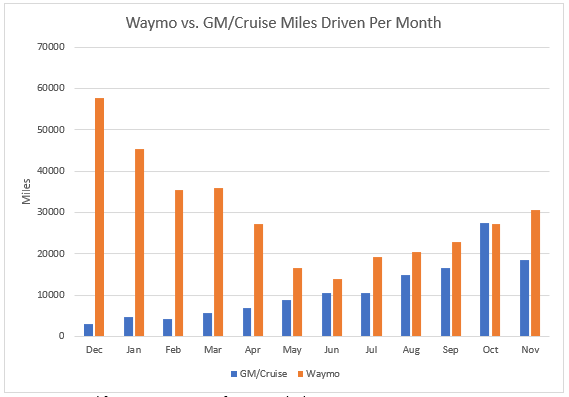 Date Source: California Department of Motor Vehicles
You can see from the chart Waymo has a clear lead dating back to December 2016. However, towards the end of 2017, Cruise had closed the gap significantly and actually posted more total miles for the month of October.
With a lack of profit thus far, and a bleak outlook on the current lawsuit with Waymo, Uber's hopes of being the first company to bring widely available driverless cars may be at risk. Waymo seems to be the leader currently, but with GM so heavily invested in Lyft and their own self driving technology, the gap could be closing.
Tesla already has a well-established brand with this technology which could allow them to win over consumers even if they aren't the first. Despite being last to join, Apple can never be counted out of a technology race. They weren't even first to create a smartphone and look what they've done.
Sources:
Fool, The Motley. "Google Just Made an Announcement That Should Make Uber Very Nervous." Business Insider, Business Insider, 15 Feb. 2018, www.businessinsider.com/google-just-made-an-announcement-that-should-make-uber-very-nervous-2018-2.
Vehicles, California Department of Motor. Autonomous Vehicle Disengagement Reports 2017, www.dmv.ca.gov/portal/dmv/detail/vr/autonomous/disengagement_report_2017.
Rosevear), newsfeedback@fool.com (John. "3 Things General Motors Wants You to Know." Madison.com, 15 Feb. 2018, host.madison.com/business/investment/markets-and-stocks/things-general-motors-wants-you-to-know/article_c54d30d0-1de0-5767-bc3b-916771750448.html.
Trousdale, Steve. "GM Invests $500 Million in Lyft, Sets out Self-Driving Car Partnership." Reuters, Thomson Reuters, 5 Jan. 2016, www.reuters.com/article/us-gm-lyft-investment/gm-invests-500-million-in-lyft-sets-out-self-driving-car-partnership-idUSKBN0UI1A820160105.
Duberstein, Billy. "Is Apple Catching Up to Google and Tesla in Self-Driving Technology?" The Motley Fool, The Motley Fool, 12 Dec. 2017, www.fool.com/investing/2017/12/12/is-apple-catching-up-to-google-and-tesla-in-self-d.aspx.
Davies, Alex. "Uber May Be Aflame, But Its Robocars Are Getting Pretty, Pretty Good." Wired, Conde Nast, 22 Dec. 2017, www.wired.com/story/uber-self-driving-cars-pittsburgh/.