Last Mile and Last Minute Delivery Transformed
By Emily Freeland
Emily Freeland is an undergraduate student majoring in Supply Chain Management in the Eli Broad College of Business at Michigan State University.
Different companies around the world are focusing on last mile delivery. This article focuses on some of the clever ways companies are competing with each other by way of corporate acquisitions and also with drone technology, to name two examples.
Last mile delivery is referred to as the last step in transporting a product to the final customer, usually at one's place of residence. It is not, however, always literally the last mile in a delivery. In fact, the definition of 'last mile' can include up to the last 100 miles in a delivery.
Online retail purchases have dramatically increased in recent years, which means there are more last mile deliveries. According to the United States Commerce Department, e-commerce sales increased 16% between 2016 and 2017.
Consumers are also now increasingly demanding their products be delivered sooner than ever. As a result, retail merchants have had to adjust by making interesting changes to last mile deliveries. Some of these changes include a focus on crowdsourcing, visibility, and even new methods of delivery.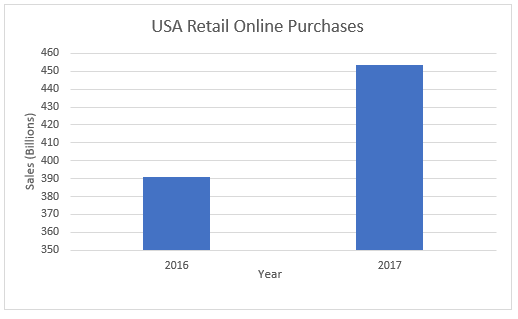 Amazon Flex
One such form of crowdsourcing is Amazon Flex, which allows common, non-Amazon employees to make deliveries for the company at a rate of $18-25 per hour, and allowing such deliverers to operate with extremely flexible schedules.
Flex provides an app that allows drivers to update their schedule, accept deliveries, check earnings, and even provides routing suggestions. The service is currently available in about 50 cities in the United States, but expected to grow. Before deliverers can begin working for Amazon Flex, applicants must undergo a background check.
Amazon Flex helps to alleviate the current shortage of commercial truck drivers. Also, Amazon Flex workers can deliver goods via car, foot, or bike. These modes of transportation are easier and quicker than a commercial truck in major cities.
Acquisition of Parcel
Walmart has acquired a start-up last mile company called Parcel. Walmart can now complete same-day, overnight, and two-hour deliveries in New York City. The goal of this acquisition is for Walmart to continue working on quicker deliveries while keeping operating costs low. As with Amazon Flex, Parcel has a vital technology component that allows users to track where their shipment is in real time.
Visibility is becoming increasingly important to customers. If a company offers their customers the opportunity to track their product's details within the supply chain, a customer may choose that company over a competitor.
Amazon Prime Air  - Drones
Amazon Prime Air is a new service that can deliver packages that are less than five pounds in 30 minutes or less around the world via drones. Amazon operates testing stations in the United States, the United Kingdom, Austria, France, and Israel. This type of last mile delivery can be especially convenient for last-minute needs and the elderly who cannot easily drive themselves to a grocery store, yet have a need for a product quickly.
Smart Lockers
Smart Lockers are another growing part of last mile delivery. A customer is given a code to open a locker located at shopping malls, gas stations, and parking lots. Lockers offer a delivery alternative for customers who may not be home to receive a valuable package – to avoid possible theft.
Companies such as Amazon, DHL, and UPS already utilize smart lockers, but the range of companies will continue to increase. Rather than waiting longer for a package to be delivered to one's doorstep, customers can receive their package quicker while they are already out running errands. Lockers are also less expensive for delivery companies, requiring fewer drivers and shorter delivery logistics. These companies may be willing to pass along these savings to customers.
Technology as a Benefit to Last Mile Delivery
As discussed earlier, the live tracking of packages is beneficial to customers. Further, temperature-sensitive items can be tracked with different devices. Customers can rest assured that their meat orders, for example, were not delivered in a warm environment at any point during their delivery.
Other weather tracking devices advise fulfillment centers how they should package their products to account for extra warm or cold days. These precautions provide visibility to the customer and a better way to make sure last minute deliveries are successful.
Each of these is a disruption to the last mile and last minute delivery concept. They are changing the economy and market share of commercial trucking companies. With an increase in e-commerce sales, companies must prioritize last minute deliveries in their budget with the end goal of a happy customer.
Works Cited
"About Amazon Flex." Amazon Flex, Amazon, 2017, flex.amazon.com/about.
Amazon Prime Air. Amazon, 2018, www.amazon.com/Amazon-Prime-Air/b?ie=UTF8&node=8037720011.
"Frequently Asked Questions ." Amazon Flex, Amazon, 2017, flex.amazon.com/.
Kaplan, Deborah Abrams. "9 Trends in Last-Mile Delivery." Supply Chain Dive, 22 May 2017, www.supplychaindive.com/news/last-mile-spotlight-trends-tech-gig-perfect/443091/.
Watrous, Monica. " Wal-Mart Goes the 'Last Mile' with Latest Acquisition." Food Business News, Sosland, 4 Oct. 2017, www.foodbusinessnews.net/articles/10691-wal-mart-goes-the-last-mile-with-latest-acquisition.
Woolford, Terry. "Intelligent Lockers for Parcel Delivery – The Last Mile." American Locker, 22 May 2017, www.americanlocker.com/electronic-parcel-lockers-for-parcel-delivery-the-last-mile/.
Zaroban, Stefany. "U.S. e-Commerce Sales Grow 16.0% in 2017." Digital Commerce 360, 16 Feb. 2018, www.digitalcommerce360.com/article/us-ecommerce-sales/.