New Plans at Pepsi and Coca-Cola to Reduce Environmental Footprint
By: Marcella Halboth
Marcella Halboth is an undergraduate student in the Eli Broad School of Business at Michigan State University
Throughout the years, environmentalists have often criticized Coca-Cola (Sym: KO) and PepsiCo (Sym: PEP) for producing a large environmental footprint. The discarding of individual soda bottles and cans has had a negative impact on the environment, particular landfill waste. Critics argue that the soda industry is increasing its sales, which increases the amount of plastic and metal containers being made, which ends up creating more waste in the landfills.
The supply chain industry is today encouraging businesses to operate with a lower environmental impact. A new generation of global companies are accepting this challenge and attempting to significantly alter production, consumption, and recycling of their products. Two major corporations at the forefront of this philosophy are, ironically, Coca-Cola and PepsiCo.
Environmental experts say, the advantages of emphasizing a more sustainable environment include: a more positive business image, improved productivity, and lower costs. They argue, by showing itself to be a better corporate citizen, customer demand will increase.
Coca-Cola has created a plan with a goal to recycle as many bottles as they are producing by 2030. Furthermore, Coca-Cola does not have to recycle all of the cans it created itself, it just has to be the same number it produces. Coca-Cola announced it will be recycling drink containers in over 200 countries to make sure it meets the goal of the amount of units produced is 100% recycled.
Coke CEO James Quincey responded to the critics' argument about increasing plastic rather than reducing it by stating, "There is no one-use bottle if they are all recollected." However, with its new plan, Coca-Cola will be seen to adhere to the United Nations proposal of Sustainable Development Goals. CEO Quincey stated,
"The world has a packaging problem… Bottles and cans shouldn't harm our planet, and a litter-free world is possible. Companies like ours must be leaders. Consumers around the world care about our planet, and they want and expect companies to take action. That's exactly what we're going to do, and we invite others to join us on this critical journey"
Coke has an image of a world without waste. Their goal also includes having all of their packaging to be 100% recyclable, making bottles that require less plastic, and more reusable content. To do so, Coca-Cola is partnering with professional economists such as the Ellen MacArthur Foundation's New Plastics initiative, Ocean Conservancy/Trash free Seas Alliance, and others to make sure the goal is successfully accomplished.
Coca-Cola's historical rival, the PepsiCo, has also used supply chain philosophies to improve its public image and become a more environmentally concerned corporation. To achieve this, PepsiCo has implemented a more sustainable supply side philosophy by: preserving global water, decreasing GHG emissions, working with suppliers and growers to improve sustainable agriculture, and reducing waste in landfills.
By implementing these procedures, PepsiCo has indicated that it believes a cleaner environment, with a smaller carbon footprint, will result in a stronger corporate economic situation. A more sustainable environment will ultimately add more disposable income for its client base.
Since 2010, PepsiCo has saved over $375 million on environmentally sustainable actions.  This was the result of implementing a complex strategy to help make PepsiCo a more active global power in this area.
By lessening its environmental impact, PepsiCo was able to save costs and increase profits. Through its supply chain management, PepsiCo was able to decrease water usage by 23%, reduce its greenhouse affects, and recycle over 90% of its waste. This dramatically helped save packaging costs and resulted in over 90% reduction in its waste going to landfills.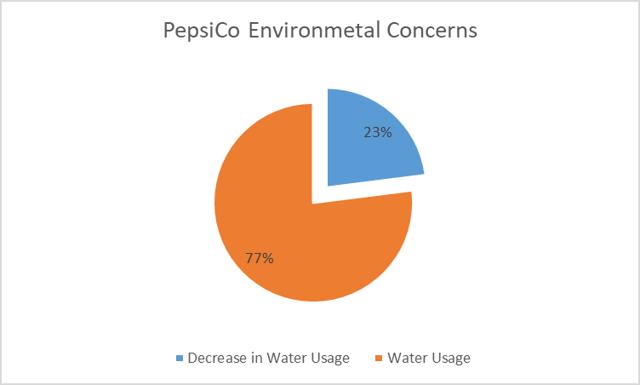 To comply with a United Nation feasibility report, PepsiCo developed a corporate strategy and titled it "Performance with a Purpose".
The CEO and Chairman of PepsiCo Indra Nooyi stated, "Performance with Purpose helps drive our business growth and prepares us to meet the needs of our changing world."
According to Nooyi, PepsiCo, as a corporation, will continue to reduce its carbon footprint and environmental impact and will help strengthen the communities and societies where it is an active business participant.
Coca-Cola and PepsiCo are two global corporations based in the United States that have achieved ecofriendly goals suggested by the United Nations and help achieve a better environment for its employees and customers alike.
Through the implication of environmentally sustainable supply chain procedures, both companies have incorporated a greater awareness into a strategy to increase corporate profits. The economic outlook of these companies has improved by becoming a better corporate citizen in regards to its environmental impact. This shows that reducing a corporation's carbon footprint does not need to result in an undesirable economic position for the company.
Sources
https://www.morethanshipping.com/supply-chain-and-its-environmental-impact/
http://thegreensupplychain.com/news/18-01-24-2.php?cid=13605
http://www.pepsico.com/sustainability/performance-with-purpose/planet
http://www.pepsico.com/live/pressrelease/pepsico-sustainability-initiatives-delivered-more-than-375-million-in-estimated-09242015
http://www.climateactionprogramme.org/news/coca-cola-launches-world-without-waste-campaign