Toys 'R' (Not For) Us
By CeCe Hermes
CeCe Hermes is an undergraduate student majoring in Finance at the Eli Broad School of Business at Michigan State University
On September 18 th, 2017, Toys 'R' Us filed for Chapter 11 bankruptcy protection. Between the accumulated debt and upcoming interest payments, Toys 'R' Us, now operating as a privately traded company, held over $5.3 billion dollars of debt. They other debt, vendor debt repayment, is also due to almost to almost every toymaker in the country including Lego, Hasbro (Sym: HAS), Crayola, and Mattel (Sym: MAT).
Most of these large suppliers are familiar with the nature of bankruptcy and understand they are at the bottom of the chain and they do not expect their payments. Other larger companies have decided to try and move on from this loss and focus on the future.
Smaller companies, however, such as producers of the Fidget Spinner, are dependent on Toys 'R' Us for sales and exposure. Being their mean source of income, they are determined to receive their payments and are hopeful that Toys 'R' Us will make a comeback (Bhattarai, 2017). As of late, most companies supplying to Toys 'R' Us are demanding a cash payment upon delivery on the toys to ensure the payment (Fickenscher, 2017).
Just recently in March 2018, Toys 'R' Us began to liquidate more than 700 stores, shut down all online sales and registries and are only offering sales out of the brick and mortar (Morris, 2018). As a result, stock of two of the publically traded suppliers, Mattel and Hasbro has fallenl 7% and 3.5%, respectively, as investors prepared for the worst (Monica, 2018).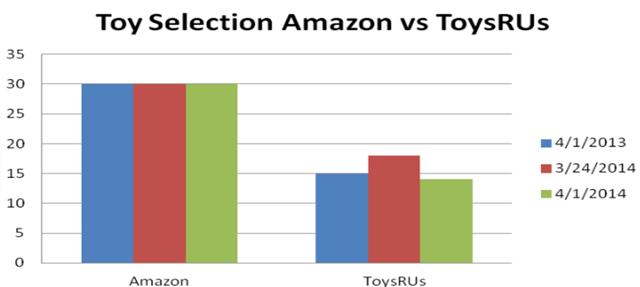 What caused Toys 'R' Us to fail so quickly and drastically? The most obvious culprit of this bankruptcy is Amazon (Sym: AMZM). Amazon and Toys 'R' Us have competed since the beginning years of e-tailing. Amazon partnered with Toys 'R 'Us in 2000 in which Amazon had the right to directly sell Toys 'R' Us toys on their website. However, in the following years, Amazon also began to sell directly to consumers, bypassing Toys 'R' Us.
Toys 'R' Us took Amazon to court and nothing was resolved. Toys 'R' Us actually ended up losing money from legal fees. This was one of Toys 'R' Us' major setbacks (Verdon, 2018). In addition to Amazon, Walmart (Sym: WMT) and Target (Sym: TGT) and other discount stores have also contributed to the fall of Toys 'R' Us.
In the end, the three strongest competitors, Amazon, Walmart and Target, quite simply, beat out Toys 'R' Us by being "low cost leaders" and having more of an online presence (Bomey, 2018).
Another factor considered in the failure of Toys 'R' Us are millennials. From 2012- 2017, the toy industry itself declined 3.1% annually (Thomas, 2018). Children were more likely to play with electronic devices such as computers and tablets. Millennials are also being blamed for the decline of annual birth rates, which not only effected Toys 'R' Us but the toy industry as a whole (Garfield, 2018).
No matter the reason, a loss of business comes with a loss of jobs. It is estimated that over 31,000 employees of Toys 'R' Us will lose their jobs across the 791 stores in the United States. Workers will get paid for the next 60 days and some will stay even longer to help with liquidation (Isidore, 2018).
Bhattarai, A 2017; Toys R Us owes big money to toymakers. Its bankruptcy sparked a
'widespread panic," Los Angeles Times
http://www.latimes.com/business/la-fi-toys-r-us-20170928-story.html\
Bomey, N. 2018; Toys R Us Blames Amazon, Target, Walmart for death blow USA Today
https://www.usatoday.com/story/money/2018/03/15/toys-r-us-liquidation-amazon-target-walmart/427209002/
Thomas, L 2018; Toys R Us liquidation sales start after a brief delay, CNBC
https://www.cnbc.com/2018/03/23/toys-r-us-liquidation-sales-start-after-a-brief-delay.html
Isidore, C 2018; 31,000 Toys 'R' Us employees: No job and no severance CNN Money
http://money.cnn.com/2018/03/16/news/companies/toys-r-us-employees/
Ocasio, V 2018; Without Toys R Us, 30,000 jobs lost and hundreds of retail vacancies, NewsDay,
LLC
https://www.newsday.com/business/toys-r-us-closing-jobs-1.17400726
Garfield, L 2018; Toys R Us says millennials not having kids hurt the company- and it could be
because of a looming 'demographic time bomb', Business Insider
http://www.businessinsider.com/toys-r-us-closes-millennials-babies-birth-rate-2018-3
Morris, C 2018; Toys 'R' Us Shuts Down Web operations, Fortune
http://fortune.com/2018/04/02/toys-r-us-shuts-down-website-operations/
Monica, P 2018; Toys 'R' Us could go out of business. That's bad news for Lego and Barbie, CNN
Money
http://money.cnn.com/2018/03/09/investing/toys-r-us-closing-hasbro-mattel/index.html
Verdon, 2018; Toys R Us timeline: History of the nation's top toy chain, USA Today
https://www.usatoday.com/story/money/business/2018/03/09/toys-r-us-timeline-history-nations-top-toy-chain/409230002/
Fickenscher, L 2017; Suppiers refuse to ship toys to Toys "R" Us after bankruptcy, New York Post
https://nypost.com/2017/09/22/suppliers-refuse-to-ship-toys-to-toys-r-us-after-bankruptcy/