Overview
Synalloy Corporation (NASDAQ: SYNL) is an American producer of steel tubing and specialty chemicals. The company is divided into two parts: the Metals Segment and the Specialty Chemicals Segment.
The Metals Segment is made up of three wholly-owned subsidiaries: Bristol Metals (BRISMET), Ram-Fab, and Palmer of Texas Tanks. The company's pipe manufacturing is its most profitable segment. The company can produce some larger diameter and more unconventional pipes, which are more profitable and serve niche buyers.
The Specialty Chemicals segment consists of two companies: Manufacturers Soap and Chemical Company and CRI Tolling.
A slightly more in depth summarization of this information can be found in the "General" section of the 2013 Annual Report.
China's Capacity Problem
According to US Steel (NYSE:X) CEO Mario Longhi, China's overproduction of steel is heavily impacting US steel prices and companies. Synalloy is involved in the metals sector, so China's overproduction and dumping is significantly impacting its profits.
In the early 2000's China had only a small overcapacity of steel and other metals. However, although worldwide demand has dipped - like it did for aluminum in 2009 - China continues to produce metals at the same rate as it did in the past.
The reason? Social issues. It's more beneficial for China's domestic metrics like unemployment and wages if it continues to overproduce steel. This works great for Chinese companies, since their are often mostly state-owned and receive large subsidies. But, for other companies, like US Steel and Synalloy, this is bad news. Steel prices are going down, and that's affecting their profit margins and their selling prices.
Synalloy, like US Steel, has dropped over 50% just this year. Synalloy's revenues have been sub-par because of import steel prices, including the dip in nickel prices.
Prospects for Synalloy - and other companies in the metals sector - will be dependent on future metal and steel prices, and thus on China's policies.
Earnings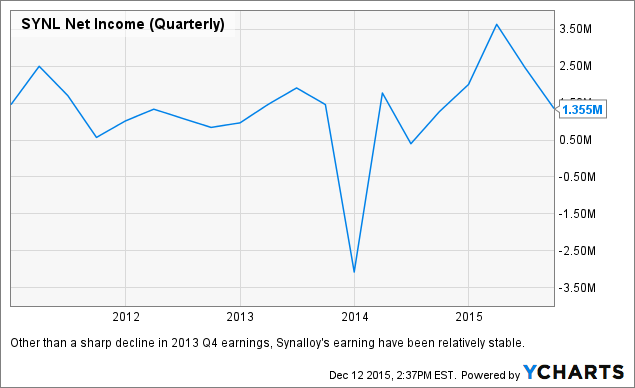 SYNL Net Income (Quarterly) data by YCharts
The above chart shows quarterly earnings for Synalloy over the past five years. Other than a sharp decline in income in the fourth quarter of 2013 - which was a result of huge amounts of backlog and the company taking on a very low margin but capital-intensive nuclear project - income has been quite stable, and even has a positive trend, with a 5-year high in the first quarter of this year.
It's clear that the base business of Synalloy is solid. In fact, over all of 2015, despite the company missing on revenues, they've consistently beaten on earnings. It's never a good idea to put too much weight on analysts' predictions, but what this does prove it that the company is actively making its business more efficient. In 2014, the company's cost cutting measures helped it cut costs by 7%.
Acquisitions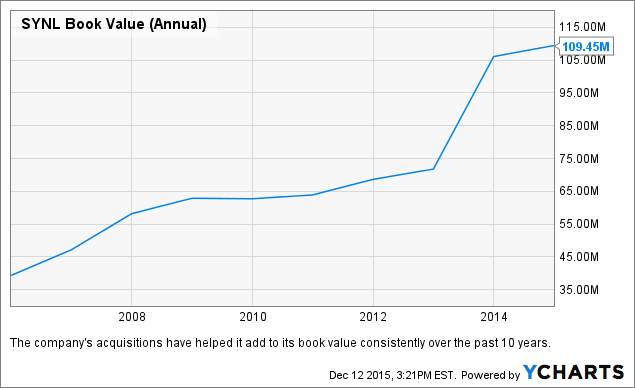 SYNL Book Value (Annual) data by YCharts
The company also consistently makes good acquisitions. In 2013, they bought Color Resources, which was an addition to their Specialty Chemicals segment. In 2012, they bought Palmer of Texas, a holding tank manufacturer. And in 2014, they bought Davidson Specialty, a manufacturer that produces high quality pipes.
All these business, especially Specialty, are great additions to the company and help make it more efficient and consolidate its resources.
The acquisitions have also helped the company increase its book value by over 150% over the past decade. After the recession, the company was able to make good acquisitions that helped the bottom line and provide security to the shareholder.
The company, being a manufacturer, also owns most of its facilities. Of the eleven facilities the company uses, it only leases two office spaces and two storage facilities. It wholly owns all of its actual manufacturing facilities. However, one chemical manufacturing facility is not in use at all. In my mind, the company would be better off if it sold this facility. As it is now, it's a lame duck property and only exists to depreciate.
The Bottom Line
The bottom line is that the company is worth much more than its current stock price. It has a P/B ratio of .52 and a P/E ratio of 6.98. It's definitely undervalued.
But, it isn't a the home run you'd expect and want a classic value stock to be either. Although growth has definitely been hampered by metal prices, the company has still not had really consistent income growth and it isn't a leader in its sector. It's a small company punching above its weight.
It is, however, a stock that every investor should keep an eye on. A lot depends on whether or not countries like China and Malaysia decide to curtail their steel production, but the long-term future of the company remains stable and it's undervalued right now.