Overview
Carlisle Companies (NYSE: CSL) is a diversified manufacturing company consisting of five segments which manufacture and distribute a broad range of products. The company's segments include: Construction Caterials, Interconnect Technologies, Fluid Technologies, Brake and Friction, and FoodService Products.
The company wants to be a market leader of highly-engineered products in the various niche markets it targets.
Construction Materials
This segments manufactures and sells rubber, thermoplastic polyolefin, and polyvinyl chloride membrane roofing systems. The company also sells accessories from third party suppliers. The company places special emphasis on roofing materials, selling insulation and re-roofing products.
The company serves a large customer base, but in 2015, two distributor customers accounted for 34% of this segment's net sales.
Interconnect Technologies
This segment designs and manufactures high-performance wire, cable, connectors, contacts, and cable assemblies for the transfer of power and data primarily for aerospace, medical, defense electronics, and test and measurement equipment. Sales are made by direct sales personnel and sales representatives.
In 2015, one customer represented 22% of this segment's net sales.
Fluid Technologies
This segment was created after the company acquired 100% of the Finishing Brands business from Graco Inc. The segment designes, manufactures, and sells highly-engineered liquid finishing equipment and system components primarily in the automotive, aerospace, agriculture, construction, marine, and rail industries. Nearly 60% of the company's sales come from outside the US.
The company sells the products manufactured by this segment via a global network of distributors, but also sells some product directly to end-users.
Brake and Friction
This segment consists of braking systems for off-highway, on-highway, aircraft, and other industrial applications. It also manufactures products for racing cars.
In 2015, one customer represented roughly 18% of all net sales.
Food Service
This segment sells products like tabletop dining supplies, table coverings, and serving ware, storage and handling material, and cleaning and sanitation products. The company sells these products to restaurants hotels, hospitals, nursing homes, business and educational institutions, and government facilities.
In 2015, three distributors accounted for roughly 28% of this segments net sales.
Earnings
The company's net sales have had strong and steady growth over the past few years. In 2011, net sales were $2.5 billion, and steadily increased to $2.85 billion and then to $2.9 billion and then to $3.2 billion in the following years before reaching $3.5 billion in 2015. The company attributed the rise in sales from 2014 to 2015 to the acquisition mentioned above, which accounted for 8.8%, and organic growth, which accounted for 3.6%. The increase from 2013 to 2014 was a result of organic sales growth of 7.9%.
Net income has also increased over the past few years, going form $209.7 million in 2013 to $251 million in 2014 to $320 million in 2015. The increase in sales from 2014 to 2015 and from 2013 to 2014 was a result of higher income from operations.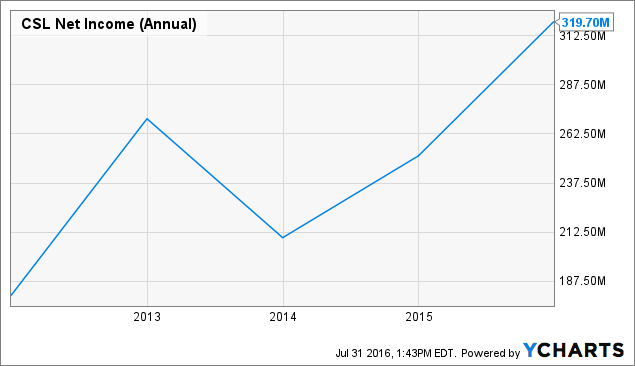 CSL Net Income (Annual) data by YCharts
As the chart above shows, the company's net income has risen substantially over the past few years.
Cash Flow
Cash flows, though, have had a somewhat turbulent history over the past few years. Cash provided by operations decreased from $414.7 million in 2013 to $295.9 million in 2014 to $529.2 million in 2015.
The slump in 2014 was a result of a sharp decline in inventory values and prepaid expenses. Overall, the company's cash flows were still strong throughout the period, and net income has increased significantly over the past few years.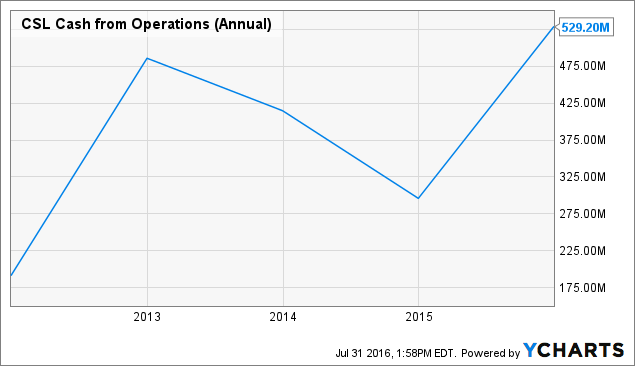 CSL Cash from Operations (Annual) data by YCharts
As the graph above shows, despite a temporary decrease, cash from operations has risen substantially over the past five years, going from roughly $200 million in 2011 to $529 million in 2015.
Book Value
The company's total shareholders' equity increased from 2014 to 2015, going from $2.2 billion to $2.35 billion. Total assets increased while total current liabilities and total long-term liabilities decreased.
Total assets increased from 2014 to 2015 as a result of high receivables, greater goodwill, and greater intangibles. Cash on hand decreased as a result of their acquisition spending. The company went from having no short-term debt in 2014 to having $150 million in short-term debt in 2015. However, long-term debt decreased substantially, going from $750 million in 2014 to $600 million in 2015.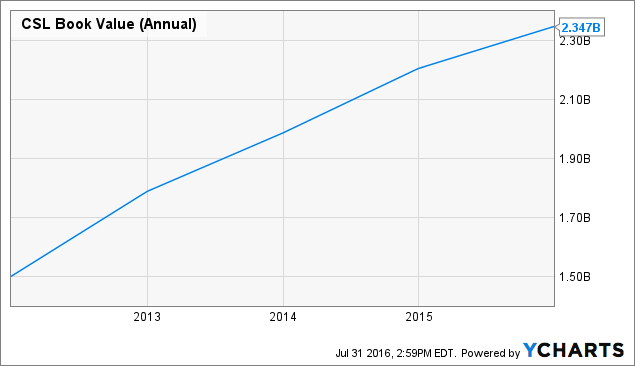 CSL Book Value (Annual) data by YCharts
Overall, as the chart above shows, the company has been able to strengthen its balance sheet substantially over the past few years, and its performance from 2014 to 2015 only reinforce this face. Long-term debt was down and shareholders' equity was up.
Price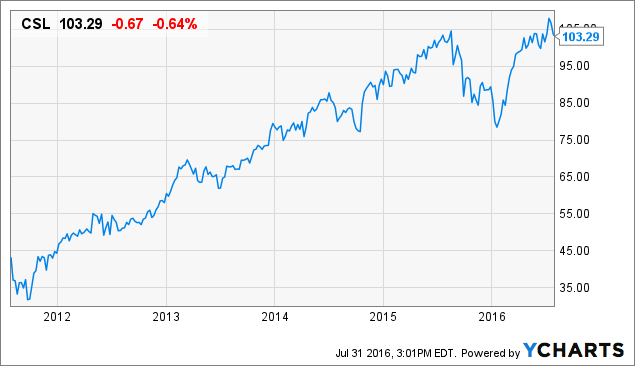 The company's stock price has reflected its strong performance over the past few years, more than tripling since 2011. However, a P/B ratio of 2.77 might suggest that the company isn't selling at a huge premium.
The stock price has decreased slightly in recent days as a result of the company's Q2 results. They beat on EPS but missed slightly on revenue. But, in the grand context of things, one quarter doesn't really mean much and investors shouldn't give much weight to the market's subtle reaction to the news.
The company's dividend yield is an unimpressive 1.16%.
Verdict
I think Carlisle Companies is worth the attention of any investor. It would be a strong addition to any portfolio.
The company seems to be especially adept at casting a wide net while also focusing on niche markets. Although it sells products for everything from restaurants to racing cars, its still managed to focus on a few things that can it excels at. It only added to this strength with its most recent acquisition, which created a whole new division and segment within the company while also serving a niche environment. The company's strong and steady sales growth reflects the success of this way of thinking. Furthermore, most of the company's growth in sales and net income have been organic.
The company's also added consistently and substantially to its balance sheet, and this trend seems like it will continue.
There is, of course, some downside. Any investor should also consider the price of the stock, which has increased substantially over the past few years. Although the company is strong and robust, the margin of safety at this price point is definitely diminished. Some investor might want to wait for a temporary decrease in price before buying in.
It's also worth keeping in mind that, although the company is quite large with a market capitalization of $6.7 billion, it still has major competitors in every single one of its fields. This doesn't seem to be affecting it, however.
Finally, I pointed out at the beginning of this article that much of the company's net sales comes from a few customers. It goes without saying that if even one of these customers leaves, the company will be adversely affected. But again, this doesn't seem to be something the company needs to worry about, since it already has substantial organic growth.
Investors should consider all of these factors as they make a decision on the stock. But as I said, I don't see them as major risk factors, considering the company's performance over the past few years.
I think the positives far outweigh the negatives when it comes to Carlisle Companies. Despite the price, the company has been able to focus on a wide range of niches while strongly and steadily increasing sales and profitability.