The Financial Times reports that Cisco will be competing against Google in the race to build an "ultra-high-speed system for internet access".  While it's still too early to judge exactly what these systems will entail, telecom operators like AT&T have to feel a little bit threatened, despite Google's claim that it has no interest in competing directly in that space.  One thing is for sure: internet users will benefit from these systems upgrades.

Let's take a look at how Cisco and Google are trading.  Cisco has been moving higher since reporting earnings on February 3rd, which came with cheery guidance.  Cisco has pulled back and is now resting at its 50-day moving average, not a bad entry point if you're bullish on the stock.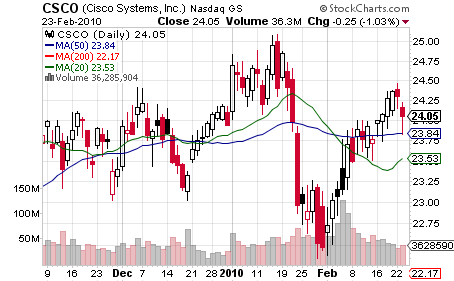 Google, on the other hand, has been trading as sideways as a stock can trade for the past couple of weeks.  If you're bullish on the stock and looking for an entry point, the best play would be to wait for a pullback to its recent lows (around 525-530) and put your stop right below it.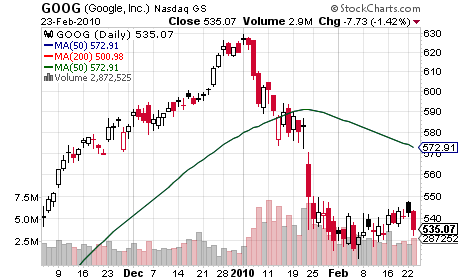 Disclosure: No positions