Injectable therapies for metastatic melanoma include Amgen's talimogene laherparepvec (TVEC) -- formerly BioVex's OncoVEX, Vical's Allovectin-7, Provectus Pharmaceuticals' PV-10, Interleukin 2 (IL-2) and bacillus Calmette-Guerin (BCG).
Dr. Robert H.I. Andtbacka, MD, CM highlighted injectable therapies for the treatment of melanoma at the HemOnc Today Melanoma and Cutaneous Malignancies symposium in March 2013. The slide below comes from his presentation.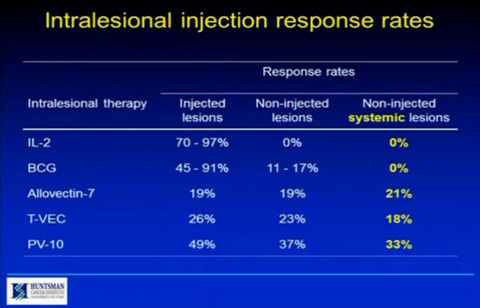 Taken From Connecting The Dots...Provectus Pharmaceuticals (August22, 2013).
"A new study at Moffitt Cancer Center could offer hope to people with melanoma, the deadliest form of skin cancer. Researchers are investigating whether an injectable known as PV-10 can shrink tumors and reduce the spread of cancer. PV-10 is a solution developed from Rose Bengal, a water-soluble dye commonly used to stain damaged cells in the eye. Early clinical trials show PV-10 can boost immune response in melanoma tumors, as well as the blood stream.
Various injection therapies for melanoma have been examined over the past 40 years, but few have shown the promising results we are seeing with PV-10," said Shari Pilon-Thomas, Ph.D., assistant member of Moffitt's Immunology Program...
...The researchers said the dye solution appeared to produce a robust anti-tumor immune response and may be safer than existing immunological agents."
Keywords [for me]: single injection, revolutionize, melanoma treatment, immune response, melanoma tumors, blood stream
Bold is my emphasis.
Moffitt's full press release is here.
Disclosure: I am long PVCT.
Additional disclosure: I am a large shareholder of Provectus Pharmaceuticals, have not sold any shares as of this Instablog submission, and also author the blog "Connecting the dots...Provectus Pharmaceuticals."