"Madness In Great Ones Must Not Unwatch'd Go." (Hamlet, act III, scene I)
When old grandpa Demographus entered the room and started speaking of changing trends in business, with more workers retiring and the best clients spending less, attention got dispersed. Distraction and entertainment were provided by granny Yellen. The white-haired and mild-mannered lady galvanized all the attention with some prodigal fairy tales.
Her stories took place in a land once outlined by mountains and valleys, until two mighty wizards exercised their power on it. One wizard was trusted to watch over the east and the rising sun, while the other watched over the west and the setting sun. Together, BOJ and FED used their magic to fill up the valley where their kingdom was found. By doing so, they had lifted those lowlands onto an enchanted plateau!
When some skeptics questioned what lies in wait at the end of such plateau, wizards and followers replied in a chorus that another rising slope shall eventually lead to higher and more fertile grounds. Many seemed to be mystically appeased by that seductive idea. But, amidst those marveled ones and a chronically distracted crowd, blessed by either indifference or ignorance, a stubborn bunch insisted on some preposterous and petulant incredulity: "Yet, at the end of such higher fields, wouldn't there be any precipice? Aren't the valleys a natural and necessary part of the landscape? Don't lowlands become more fertile too, since precipitation gathers nutrients that allow for more robust growth and richer harvests in the future? Or would the sky be the ultimate limit from now on? With ever higher altitudes, at what level would the sunshine provide no further warmth or nourishment to villagers?"
Many were apparently blind to the increasingly fragile state of the vegetation around them, with fewer and shorter roots grasping in those higher and drier grounds.
The thinning air of such heights had already affected whatever judgment and ability to reason was left in the kingdom of Dowjonesy...

The original scenery of my parable could have looked like this: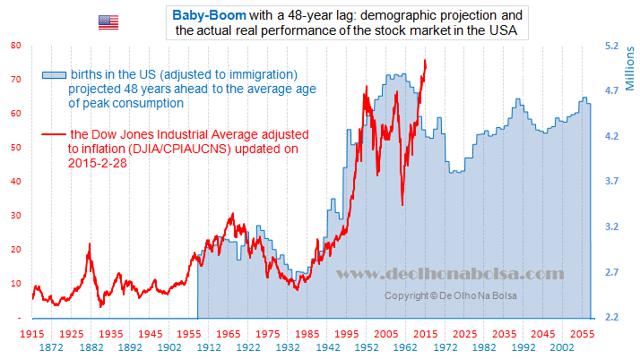 (the relationship in the chart above was brought to my attention by Harry S. Dent Jr.)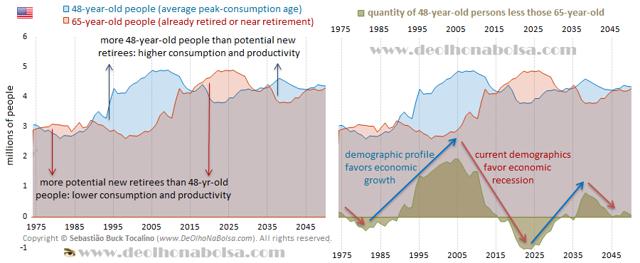 But, while the monetary magic of money being pulled out of hats may continue to entertain the economy, any due valleys and troughs will be postponed in favor of ever frothier altitudes...
The chart below shows all assets accumulated by the FED through its money-printing programs of quantitative easing superposed by the coincident trajectory of the S&P500.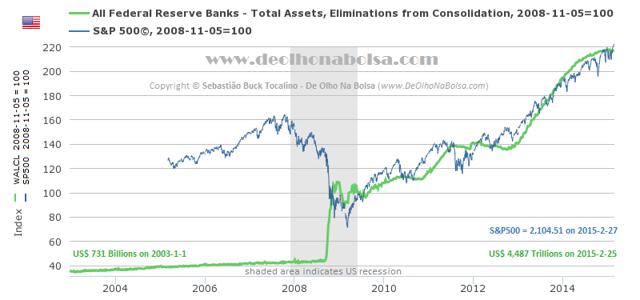 "And that I see, in passages of proof, (...) a kind of wick or snuff that will abate it; (...) for goodness, growing to a plurisy, dies in his own too much." (Hamlet, act IV, scene VII)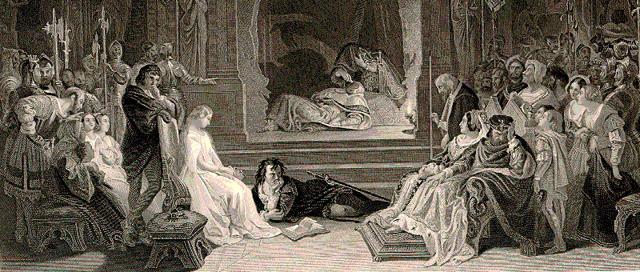 Reproduction of this article, in parts or in the whole, without reference to the author is prohibited.
Copyright © Sebastião Buck Tocalino - De Olho Na Bolsa (DeOlhoNaBolsa.com). All rights reserved.
Read more by Sebastiao B. Tocalino at deolhonabolsa.com
DISCLAIMER: Any opinions expressed by the author may be personal and controversial. This is not an investment recommendation!
This writing is for informational purposes only and does not constitute an offer to sell, a solicitation to buy, or a recommendation regarding any securities transaction, or as an offer to provide advisory or other services by De Olho Na Bolsa in any jurisdiction in which such offer, solicitation, purchase or sale would be unlawful under the securities laws of such jurisdiction. The information contained in this writing should not be construed as financial or investment advice on any subject matter.
All data used and shown here were gathered from accredited sources that we believe to be trustworthy, reputable and accessible to market participants.
De Olho Na Bolsa expressly disclaims all liability in respect to actions taken based on any or all of the information on this writing. INVESTMENT DECISIONS INVOLVE RISKS! For your safety we suggest you should seek the professional advice and guidance of a reputable brokerage firm and portfolio manager.
Disclosure: The author has no positions in any stocks mentioned, and no plans to initiate any positions within the next 72 hours.