I'm not the first person to call Apple's (NASDAQ:AAPL) bottom but maybe I'll be the last.
On June 28, 2013 - the last day of Apple's fiscal 3rd quarter - Apple hit intraday lows below $390 before reversing and marching upwards 6.5% over the following 2 trading days.
July 2 marked a very interesting day where Apple was up two and a quarter percent on a day where the broader averages all finished negative. Further, Apple's new highs were attained on higher than average volume 30% higher than average.
July 2nd Market Action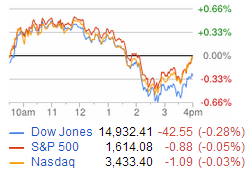 AAPL's July 2nd Market Action

Aside from the strong move upward against the grain of the general markets, there are four other reasons which tend to support that now is a time to buy Apple.
Apple is Very Oversold
The 9 month chart of Apple is horrendous. A 40% drop is significant and many would argue is far beyond what the fundamentals of the company would call for. But being oversold goes beyond a Reader's Digest version of the chart. In a recent article in Forbes magazine, DividendChannel.com discusses the concept of the "Relative Strength Index" aka RSI. This metric is measured as a score on 100. As of late June, Apple's RSI was below 30 which is often a sign of a stock being oversold. The ultimate conclusion is that the selloff may be running out of steam.
Secondly, recent short interest gives us some interesting insight into the behavior of Apple short sellers. The short interest over the last 6 weeks has been the highest since Apple's selloff in the Fall of 2012 save and except the outlying data point in April 2013.
This tells me two things: it tells me that a significant amount of short sellers have closed off their positions two months ago. But it also tells me that otherwise - aside from that outlying data point - short interest is still relatively high. It might be an overstatement to call for the 'mother of all short squeezes', however if Apple start to make a strong move upward, expect those shorts to begin to cover.
Technicals Favour Upside
My previous reason, above, talks about the outlying short interest in April, 2013. Looking at Apple's chart shows that April 2013 was when Apple broke its downtrend moving from sub-390 to the 460's only before returning to lows below 400. In doing so Apple has formed a double bottom which is a standard sign of a reversal.
Near Term Catalysts
Apple has no near term catalysts. However, Apple has the potential for a number of opportunities including "iWatch", "iTV", an internet radio opportunity, a possible deal with China Mobile, and finally, anything else which may come from Apple.
In making this point, I am aware that Apple has failed to execute on any of these fronts for quite some time and we have nothing tangible to suggest anything in the near term. However, my thesis is that the 40% drop in the stock's price reflects Apple's lack of Jobsesque wow-factor products. Anything which comes out would therefore be a surprise.
Further in a recent article, Jack Huddleston makes an excellent case why a deal with China Mobile could be imminent.
Apple is Still a Solid Company
Apple's fundamentals show that although the company has had a few quarters of missing expectations, the fundamentals are still strong. The company has a trailing PE of under 10 and a PEG ratio of 0.5. Apple has an excellent balance sheet and is an earnings heavyweight.
As any bear on Apple would respond, this has been the case at all material points during Apple's ride down from $750. Yes, that may be so and if this was the only basis for my conclusion, I agree that it would not be sufficient. But considering the totality of the circumstances it appears that Apple has now turned the corner.
Conclusion
Many people saw money rotate out of Apple as the stock plunged over the past 9 months. This money went into companies like Google (NASDAQ:GOOG) and Netflix (NASDAQ:NFLX). Both of those companies, like the broader averages were down today, as Apple was up on solid volume. The broken downtrend, double bottom, and numerous opportunities for this titan suggests that we are now at the turning point and that Apple has bottomed.
Disclosure: I am long AAPL. I wrote this article myself, and it expresses my own opinions. I am not receiving compensation for it (other than from Seeking Alpha). I have no business relationship with any company whose stock is mentioned in this article.
Additional disclosure: My cost basis for AAPL is $511