Editas Medicine, Inc. (EDIT) is a revolutionary development-stage genome editing company based the Cambridge, Massachusetts. At $1.4 billion in market capitalization, the company is undervalued at today's levels. In January alone, the stock has sold off from above $34/share to today's levels in the $26/share range. It's time to consider adding EDIT to your portfolio if you are a longer-term oriented investor comfortable with biotech exposure.
Fundamental Overview
EDIT is based in Cambridge, Massachusetts and was founded in 2013 with funding from Third Rock Ventures, Polaris Partners, and Flagship Ventures. EDIT licensed patents in the CRISPR-Cas9 gene editing space in order to launch and conducted its IPO in February 2016, four years ago. 
Today, the company sports a market cap of $1.4 billion, despite operating losses over over $100 million annually. There is a minimal amount of sales in the ~$15 million range on an annual basis. The company has not had a great 2020 this far, with equity shares falling to the $26/share range. From a liquidity standpoint, EDIT does not carry any debt on its balance sheet and has over $300 million in cash to fund the development of its technology. Despite this large cash amount, I believe it is likely the company will need to raise additional financing in future years given the capital intensive nature of its earlier-stage development programs. This could come in the form of equity or debt offerings or in the form of invested dollars from a secured biopharmaceutical partnership. 
The company has two primary lines of development: in vivo CRISPR Medicines and Engineered Cell Medicines. In the first, EDIT is attempting to utilize AAV-mediated editing with its SaCas9 gene editing technology in various therapeutic areas. In this line of business, EDIT has initiated a clinical trial of its candidate EDIT-101 for Leber congenital amaurosis 10 (LCA10) and dosed its first human patient, has achieved preclinical proof-of-concept for its EDIT-102 candidate for Usher syndrome 2A (USH2A), advanced its autosomal dominant retinitis pigmentosa 4 (RP4) program, and established a partnership with AskBio to tackle neurological diseases.
EDIT's second line of business sees the company developing medicines for (1) hemoglobinopathies (a group of blood disorders and diseases affecting red blood cells) using Cas12a gene editing technology and (2) solid tumors using iPSC-derived cell technology. Here, EDIT has presented preclinical data for its EDIT-301 candidate for sickle cell disease and beta-thalassemia. On the cancer side of this business line, EDIT has a partnership with Bristol-Myers Squibb (BMY) on T cell medicines and a partnership with BlueRock Therapeutics on iPSC-derived NK (iNK) cell medicine for solid tumors.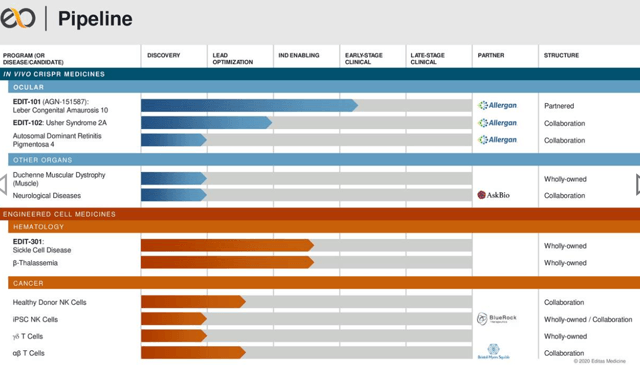 The company has around 200 employees (or as it calls them internally, "editors") as per its latest reporting. Among these are a CEO, CMO, CFO, and SVP of Operations. 
From a valuation perspective, I believe the 2020 selloff that occurred in EDIT equity shares in January presents a very compelling opportunity for longer-term investors to accumulate shares. Patience is key here as the company is unlikely to have many catalysts outside of progress on its development programs in 2020. However, this progress could be materially positive and could cause a great deal of attention to be paid to the stock, which may help equity value in the short term. In the long term, though, I am bullish on the company's technology and believe that sellside estimates that range from the $40/share to the $73/share range could be conservative if any of these development programs makes it through approval. Each of these programs individually has the ability to revolutionize its disease space and be a best-in-class treatment.
EDIT has a large short interest at nearly 20% of float today, also presenting an interesting contrarian investing opportunity. Shorting development-stage biotechs is a favorite hobby of many hedge funds when they see that there are few near-term catalysts. This gives me conviction that as a longer-term investor, EDIT could be an interesting part of my portfolio as upon the announcement of any positive news the stock could see a dramatic squeeze as short sellers cover - something I believe we have seen recently in growth tech names such as Peloton (PTON), Tesla (TSLA), Beyond Meat (BYND), and others.
The direct competitors to EDIT in the CRISPR space include Crispr Therapeutics (CRSP), a $3.1 billion market cap company; Intellia Therapeutics (NTLA), a ~$580 million market cap company; and Caribou Biosciences, a privately held company that may hold its initial public offering this year. Investors considering getting involved in the CRISPR space should familiarize themselves with the complex intellectual property landscape of the arena as this is likely to play a big role in which one of these companies emerges as the market leader over the coming years.
Risks
EDIT carries the same risks as any development-stage biotech company; moreover, given the early nature of the company's technology, intellectual property fights could consume management's attention and the financial resources of the company. This should be monitored carefully over the coming quarters as development against competitors progresses. 
There is also regulatory risk involved with EDIT as an investment; if the FDA or Congress begins to regulate gene editing more directly, this could be burdensome to the company. However, given the great promise of the company's development programs to relieve the burden of various diseases, I find this a less likely outcome. 
In a broader market downturn, there is the additional risk the company's valuation gets crushed to a greater degree than other companies given its negative cash flowing nature and the business's early stage. This is certainly not a company whose stock will see a "flight to safety" in the coming years if there is a broader recession or if something like today's coronavirus fears, for instance, causes economic conditions to deteriorate further. As such, this is an investment for long-term holders and not those who will be seeking liquidity in a shorter period of time. 
Conclusion
EDIT represents attractive risk/reward for longer-term investors willing to accept the potentially binary risk of biotech in their portfolios. The recent selloff allows investors who fit such a profile to gain exposure to a revolutionary set of development-stage programs that may generate great equity value in the coming years. However, equity value creation will take time with the EDIT story. Good luck to all.