The recent attack on the paper price of precious metals have been successful at artificially driving the price down. The mainstream media have carried on the attack, with their calls to the end of the bull market. The physical market isn't playing along, it has other plans.
Sales of physical precious metals has been reported to be intense since the recent takedown began. Smart investors are more aware than ever of the manipulation taking place in the precious metals world, thanks to the hard work of people like Eric Sprott, Jim Rickards, Peter Schiff, GATA and many others that share their opinions with the alternative media world.
Of particular interest is the drastic increase in silver eagles sales so far in the beginning of this month. The US Mint via SRSrocco reports a stunning start to October sales:
"In the first eight days in October, the U.S. Mint sold 2,250,000 Silver Eagles and is on track to being one of the strongest months of the year. Even though sales were strong last month, the weekly average of Silver Eagle sales in September were only 1,305,000… 42% less than the current trend in October."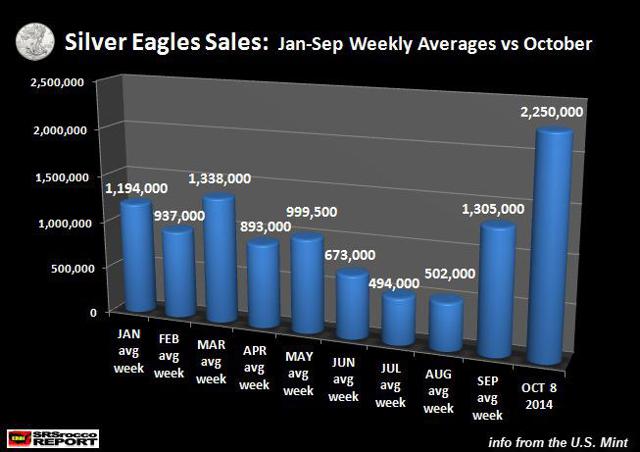 One look at this chart and you know that this bull market is far from over. The renewed vigor caused by this price drop, has resulted in the sales of October, surpassing both the July and August TOTAL monthly sales! You read that correct, the total monthly sales!
This intense increase in physical demand can only continue on for so long given limited supplies. The manipulators can attack and pillage the paper market all they want. The real market is in the physical market (PHYS, PSLV), and although contained for the time being by the paper market (GLD, SLV), it will one day break free. This break will cause a price acceleration that will have you sitting in your seats stunned.
Disclosure: The author has no positions in any stocks mentioned, and no plans to initiate any positions within the next 72 hours.