Disney's ESPN has the highest affiliate fee within regular programing. At around $7.21 ESPN commands a huge premium. The next channel to come close is TNT at ~$2. A look at the chart below gives the reader a look at the spread between ESPN and other channels.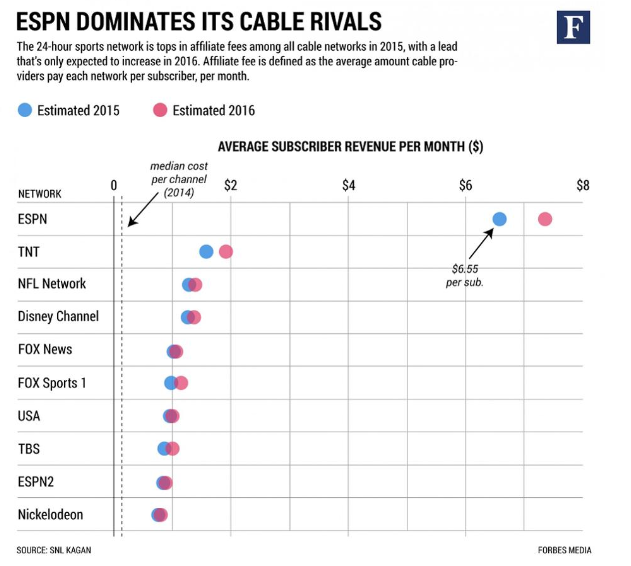 Cord Cutting
Now as a millennial I have an inside look into the cord cutting trend that has gained so much popularity. People my age know technology so well as to demand television to be at their disposable on a cheaper and easier platform. This has come in the form of Netflix, Hulu, HBO, and even to the extent of illegal streaming on Youtube.
The problem for ESPN and therefore Disney is that the going price for these service is in the range of $8-12 for basic packages. Now this doesn't leave much room for these platforms to pay $7.21 for ESPN alone. That affiliate fee is almost attune to paying for a Netflix subscription!
The cord cutting and over the top programing trend has been steady as well. 1 in 5 or about 1.1 million households have disposed of traditional cable package in 2015. ESPN alone has lost 9 million subscribers from 2013 to 2016. Recode has produced a great graph to show has the industry has stagnated since 2011 and has been in decline for the past 3 years.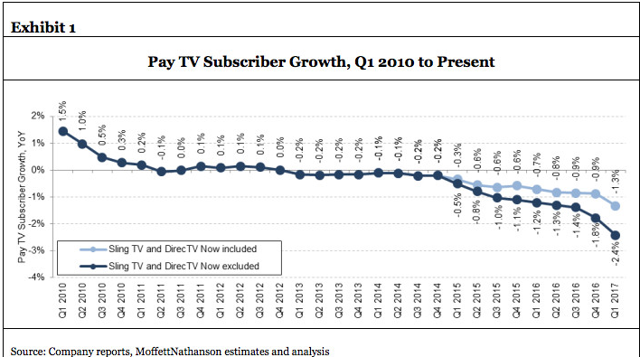 ESPN Costs Increase
Along with this downward trend ESPN has signed brand new contracts for live sports. The NBA just neogiated a deal for $2.66 Billion a year that will surely boost costs. The Monday Night Football deal will expire in 2021 and MLB/NFL in 2022. These deals will not get any cheaper with time and are due all at the same time.
Unless Disney can come up with a way to keep subscribers or keep revenues increasing there should be no problem. But that is a big if due to the cord cutting trends and the sky high affiliate fee that in uncertain to by paid on different platforms.
The Moat
Lots of people would argue that ESPN will be fine because live sports are watched live and therefore people will pay a premium for them. I would argue that it is easy for us younger generations to get around the system and find quality live streams fro free on the internet. I would also like people that use this argument to look at pay per view sports and how few people buy them.
Overall the moat is somewhat exaggerated and anyone in the age of 16 to 25 knows this very well. Also another note is that much of ESPN's slot time is not used on live sports but on Sportscenter and other programming that doesn't have the moat.
The Stock
So what does all this mean for the company's stock? Well the problem is that no one can forecast very well just how the ESPN problem will translate to earnings. We could see Disney create its own platform and stabilize revenues or lose it all to a cheaper product. The uncertainty in where the industry will go makes it impossible to make a good estimate of earnings in the future. The one thing we do know for certain is that Media Networks is 49% of all Disney operating income and ESPN is the biggest contributor to that. If ESPN does crumble it will be very bad for the company, their earnings, and therefore the stock. But I do have some faith Disney will find a way to keep subscribers and the nice affiliate fee, after all they are a business built on innovation.
My recommendation would be to not buy Disney right now because it is impossible to make a valuation with the current industry as is. If one wants to speculate they may purchase based on other segment strength or Disney's renown innovation. Stay away from anyone who thinks they can make an earnings prediction more than 3 years out for this company due to the rapidly changing television market and respect the fact that 49% of Disney is made from this industry.