Electronic Arts Is In A Better Position Then The Competition
Please Note: Blog posts are not selected, edited or screened by Seeking Alpha editors.
Summary
EA has been taking advantage of in game purchases and services.
The company has consistent financial performance due to strong brands.
EA beats the competition in many metrics.
Introduction
Electronic Arts Inc. (EA) is one of the largest developers of digital interactive entertainment in the world. The company develops, markets, publishes, and distributes games and content services around the globe. Not only does EA develop games for the popular Microsoft Xbox and Sony PlayStation consoles but also PC's, mobile phones, and tablets. EA has the ownership and licensing of some of the best selling games in the world such as FIFA, Madden NFL, Battlefield, The Sims, and Star Wars just to name a few. But within such a "hit driven" industry is EA the best video game developer to invest in?
The Strategy 
EA has stated in past yearly reports exactly what the company is trying to achieve. The company is focused on creating deep, ongoing, and meaningful relationships with the customers, increasing the push to digital downloads or physical disks, and utilize scale to create games on one engine that can then be sold on multiple platforms. The most impactful goal to the financials is that of creating better relationships with customers. EA like many other developers has increased the use of in game purchases and services to do so. On top of that EA is planning on developing more free-to-play games such as the recently released Apex Legends.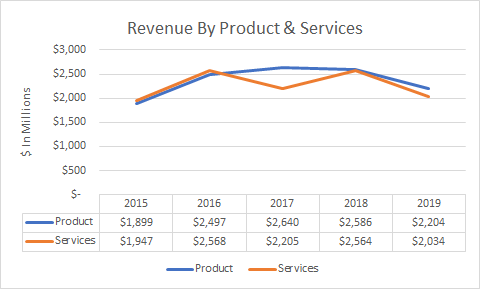 In 2020 this data was not stated. 
Source: SEC 10-K's
As can be seen above services has consistently made up around 50% of all revenue. Also to note is that while services is a major revenue generator to EA product growth has performed better over the five years with total growth of 16.06% compared to 4.47%. This means that the main driver is still quality content. To sum up how much in game purchases and services mean to EA the company's Ultimate Team sports game mode made up 28% of total revenues alone. With free-to-play games increasing in popularity companies like EA are going to relying more and more on that service revenue. 
Financials and Comparison To Competitors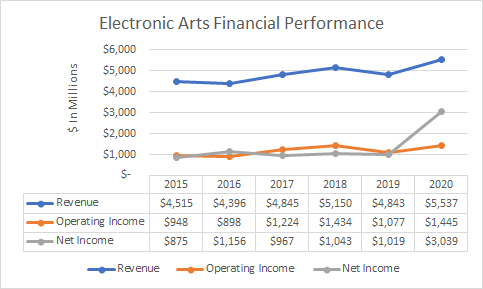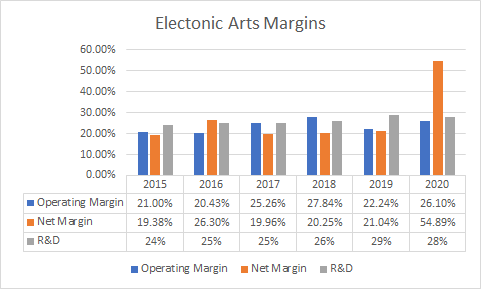 Source: SEC 10-K's
Before discussing the above, I must note that in fiscal year 2019 EA changes revenue recognition accounting methods but did not adjust past statements therefore 2015-2018 are as stated while the 2019 adjusted numbers provided were used. That being said no adjustments were provided in 2020 creating a large percent increase in revenue, net income, and margins. That being said as can be seen revenues are somewhat volatile and fluctuate with the release of games with vary in volume and success year to year. Overall, the company's margins have stayed pretty consistent. Operating margins have improved over time meaning that EA has seen success with lowering costs. I believe this shows the goals of increasing digital over disk and utilizing the one game engine model as both of these initiatives should be cheaper and more efficient than the alternatives.
| | | | |
| --- | --- | --- | --- |
| | Electronic Arts | Activision Blizzard  | Take Two Interactive |
| Operating Margins (5 Yr Avg.) | 23.35% | 23.92% | 6.68% |
| Net Income Margin (5 Yr Avg.) | 21.39% | 17.09% | 7.69% |
| R&D Percent of Revenue (5 Yr Avg.) | 25.80% | 14.73% | 9.10% |
| Current Ratio (MRQ) | 2.45x | 2.50x | 1.71x |
| Quick Ratio (MRQ) | 2.33x | 2.28x | 1.54x |
| Debt to Equity (MRQ) | 0.45x | 0.55x | 0.95x |
    EA average margins calculated without 2020 results as to not skew data. 
Source: SEC 10-K's & 10-Q's
What can be seen above is how EA compares to competitors Activison-Blizzard and Take Two Interactive. EA easily is the mostly profitable and financially healthy company with higher net income margins, equal or better liquidity ratios, and a superior debt to equity ratio. What stands out the most to me though is the research and development costs as a percentage of revenue. EA is spending way more on R&D per dollar of revenue and it seems to be paying off with higher net income. This is an important factor to the development of new games which in turn create new product and service revenues. In 2019 EA had a very strong presence with 4 of the 20 best selling games in the world. This is on par with Take Two Interactive and one less than Nintendo, a company that has its own ecosystem. 
The Pandemic Is A Tailwind
As would be expected the COVID-19 pandemic has been a tailwind for video game companies as people under lockdown try to stay occupied. In March video game sales increased 35% in comparison to prior year. This trend continued through June. In April sale were up 73%, in May 52%, and in June 26%. These are incredible numbers have run up the valuations on all video game stocks with over a 25%+ increase. Although in the short term the financials for the next year are going to be great, I don't think this increases the long term value of these businesses by 25%+. The long term value of these companies is effected by new hit brands that increase recurring revenue. When EA can develop another Madden NFL type brand is when investors should be look at larger increases in valuation, not a one-off year of lockdowns.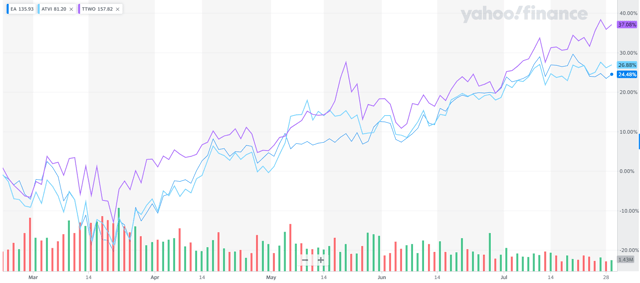 Source: Yahoo Finance
Risks
In 2017 Epic Games released one of the most industry changing games in the past decade, Fortnite, which is arguably the most popular free-to-play game ever made. As of march 2019 Fortnite had 250 million users with 70% of player making in game purchases. The format that Epic Games popularized has been the trend, which EA has recognized. With the release of Apex Legends in 2019 EA had solid results. The risk here is that EA may not be able to develop new brands and rather likely to mimic other company's successes. The battle royale style of game Fortnite made extremely popular is now very saturate with Call of Duty, Apex Legends, PUBG, and more. With a higher spend on research and development I would like to see EA start these trends not copy them. If there is a future inability to develop new concepts EA runs the risk of competitors creating stronger brands. This is a real concern for EA as the company has seen once popular sports brand NBA Live and MVP Baseball be taken over by competitors brands NBA 2K and MLB The Show. 
Conclusion
Electronic Arts has a goal of developing games that engage the customer in an ongoing and meaningful way. The company has seen stable revenue and net income over the years due to reliable brands. EA has capitalized on in game purchases and services that now make up around 50% of total revenues. Compared to the competition EA shows better metrics all around. The company has very solid liquidity and leverage while boasting a better return on each dollar of revenue. With a much higher rate of R&D expenditure EA may be able to develop future hit games. At a price of $135 the stock is trading at 5.22x book value per share and 4.40x times net tangible assets per share. Although EA is a leader within the industry financially, I am not a buyer at these valuations for many reasons. The first is that the recent run up is a short term catalyst and does not affect the long term business much. Also, EA hasn't really proven that it can produce hit games at a higher level than competitors with much of revenue coming from recurring brands and new services within those brands. 
Analyst's Disclosure: I/we have no positions in any stocks mentioned, and no plans to initiate any positions within the next 72 hours.
I wrote this article myself, and it expresses my own opinions. I am not receiving compensation for it (other than from Seeking Alpha). I have no business relationship with any company whose stock is mentioned in this article.
Seeking Alpha's Disclosure: Past performance is no guarantee of future results. No recommendation or advice is being given as to whether any investment is suitable for a particular investor. Any views or opinions expressed above may not reflect those of Seeking Alpha as a whole. Seeking Alpha is not a licensed securities dealer, broker or US investment adviser or investment bank. Our analysts are third party authors that include both professional investors and individual investors who may not be licensed or certified by any institute or regulatory body.