When narrowing down a list of potential portfolio constituents, it is beneficial to eliminate companies with characteristics that tend to lead to underperformance. One metric that helps us to eliminate potential torpedo stocks from our pool of potential companies to own is Earnings Quality, or the amount of accruals a company has on its books.
Accruals are the difference between Cash Flow and Net Income, essentially the percentage of net income which is owed to a company from their customers (accruals), to what they have already received in cash. Being that companies have an astounding amount of leeway in preparing their financial statements, a dollar of net income often times does not represent a dollar of cash flow.
The Applied Finance Group (NYSE:AFG) score's the quality of each company's earnings to determine which are or are not sustainable into the future. If a company has an extremely high level of accruals relative to its industry peers, it is likely that the company will not receive full payment from all customers, which leads to potential poor earnings quality. Whether it is stuffing channels with excess inventory, delaying bill payments or other "creative" accounting techniques to manipulate earnings, companies with a high amount of accruals have proven to encounter far more negative earnings surprises and inferior returns than firms with lower levels of accruals.
While most investors would like to see a company grow its earnings, an intelligent investor would like to feel secure that those earnings are repeatable and accurately represent the company's operations. This is why AFG excludes the lowest ranking earnings quality (highest accrual) companies from our candidate pool.
A company with poor EQ does not necessarily mean a company is not an attractive investment opportunity as other metrics such as valuation, momentum and other quality metrics need to be taken into account. This list does serve, however, as a list of companies that contain characteristics found in companies that tend to underperform. Below we have provided a table of companies that have a high level of accruals that should be monitored closely before owning.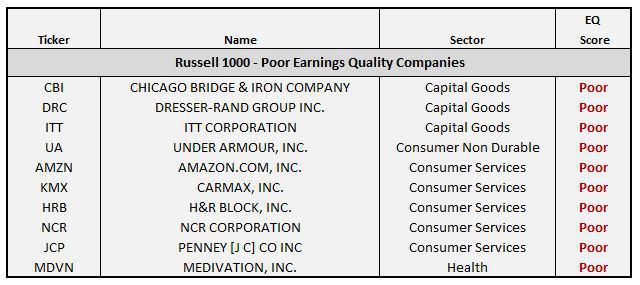 Disclosure: I have no positions in any stocks mentioned, and no plans to initiate any positions within the next 72 hours. I wrote this article myself, and it expresses my own opinions. I am not receiving compensation for it. I have no business relationship with any company whose stock is mentioned in this article.