Being an investor, focussed on shipping, is like living in a rollercoaster. Very weak sentiment in the sector for a long time. Crazy low stock valuations across the board. Just a hated sector. Recently that roller coaster has turned into a thrill ride though. Rates across multiple shipping sectors are skyrocketing up.
For bulk stocks, the BDI set new, almost decade, high a couple weeks back. LPG (VLGC) shipping have been rocking it for a halve year with unbelievable rates (new multi year high today). I've been vocally very enthusiastic about Dorian LPG in that sector last months. No idea what the stock is still doing in 10-11.5$ range. Last weeks, crude tanker rates followed suit and have been nothing but unbelievably bullish. Just yesterday, I wrote a blog about why I think it's not too late to buy EURN.
LNG shipping has long been a weak spot. Rates have not been impressive. Maybe not that bad on a absolute level, but certainly very bad relative to the very high expectations of industry insiders. Sentiment amongst investors, has been very weak as well, with stocks like GLOG, GLOP, GMLP, HMLP, TGP and GLNG all having a though year.
The sentiment in GLNG has been the worst of all. The stock showed one steady slide down. Like other blogs of mine, I don't feel like a full detailed breakdown of the GLNG or spend a lot of time on grammar and editing. But still thought this is a great time to pen down some thoughts.
GLNG 1 year graph: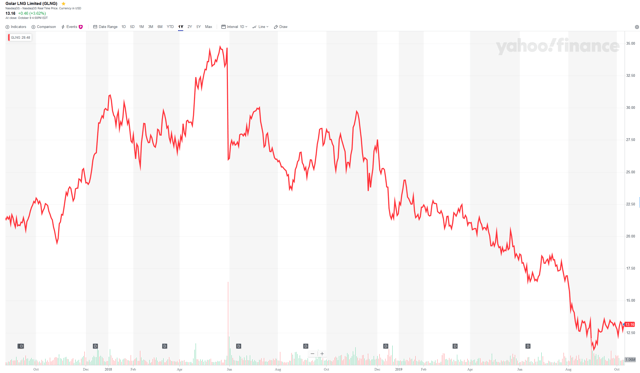 GLNG is a combination of a LNG shipping company and a LNG infrastructure one. The infrastructure parts and their FLNG technology are the exciting parts of the company. The LNG shipping part, operating mostly on spot markets are catching most of the attention though. I think, this is for a good part, because many of GLNG's projects will start to generate cash in the future so are not in current results.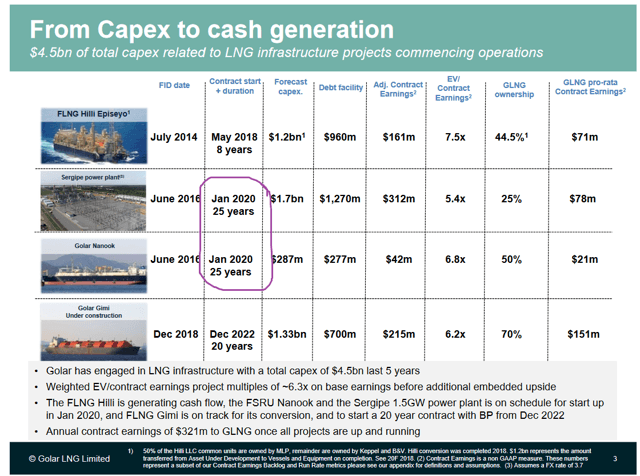 Just a couple month away, is the start-up of the major Sergipe power plant project. That adds a stable source of cash flow for GLNG.
There is plenty of good research from the long side, on Seeking Alpha. Reports by J Mintzmyer and Darren McCammon share a lot of the details of the long GLNG story. Not going to rehash the arguments from longs here.
Negative sentiment peaking after Q2 report
After GLNG reported their Q2 report, the stock sliced down another level. This article, titled Golar LNG - Selling Off After Q2 results raise liquidity concerns, is a great source to look back at the sentiment at the time.
Below the article, and on other places where GLNG was very actively discussed. I was vocal about the excessive negative sentiment. I made it clear that I thought it was a horrible timing to sell and give up to the story.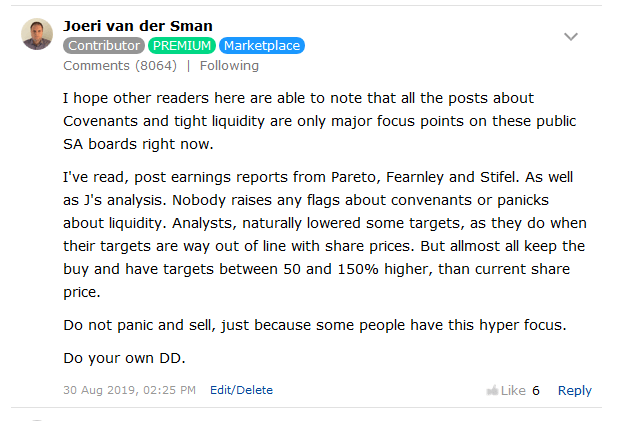 During those days, I've read numerous (hundreds?) of posts about how GLNG was running into gross liquidity problems and other doom say.
I also remember some long discussion's about how bad those liquidity concerns are going to get when LNG shipping rates average $30k/day. I made very clear what I thought about those panicky comments, right when the stock is under extreme pressure.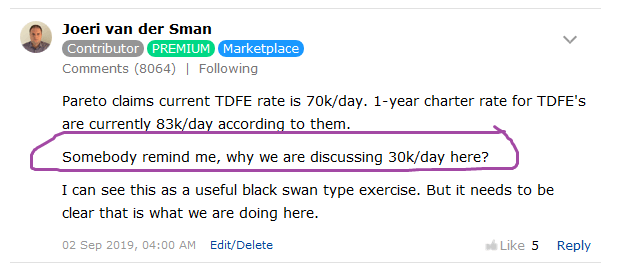 It might be relevant to remind people that there is, and have been for a long time, quite a bit of short interest in GLNG.
Looking back, I finally get the $30k/day lines...

Source: Fearnley weekly
It was clearly a misprint, with software erasing the 1 ;-)
The discussions about GLNG, quoted above, took place when GLNG traded mid 11$. Currently it's a bit above 13. So I had been right so far that selling GLNG was a very bad idea there?
The irony is that I wasn't right. Many other shipping companies moved up much more in that timeframe, GLNG was an underperformer.
This week LNG shipping rates surged up
Last few weeks I've read some reports about some offshore storage in LNG picking up, to profit from the difference between the low spot LNG prices, versus much higher futures. A result of the seasonal demand for gas.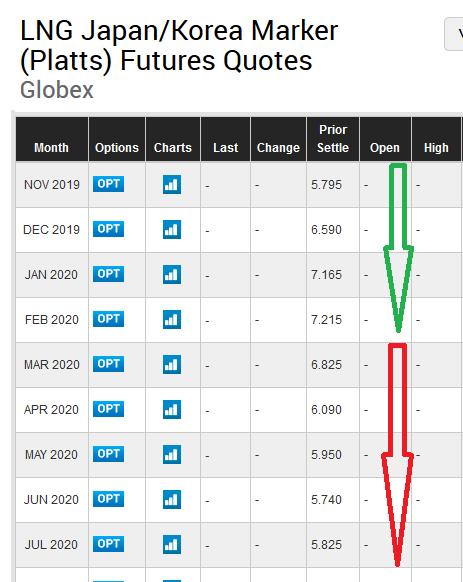 JKM futures for LNG delivered in Japan
Other reports have been focussing on very few LNG ships being available in the Atlantic. Or about the (finally, most projects are delayed a bit) ramp up of multiple US LNG export facilities. Or just normal seasonality, where gas importing countries stock up for upcoming winter.
Whatever the reason is, or the combination of reasons, the bottom line is that LNG rates are spiking up hard.
When I saw that Fearnley report posted yesterday, I rushed to add a lot to my GLNG position.
I dropped a hint for people that might be short:

It seems that more people today are also focussing on this developing LNG story. Today Tradewinds has an article out on it: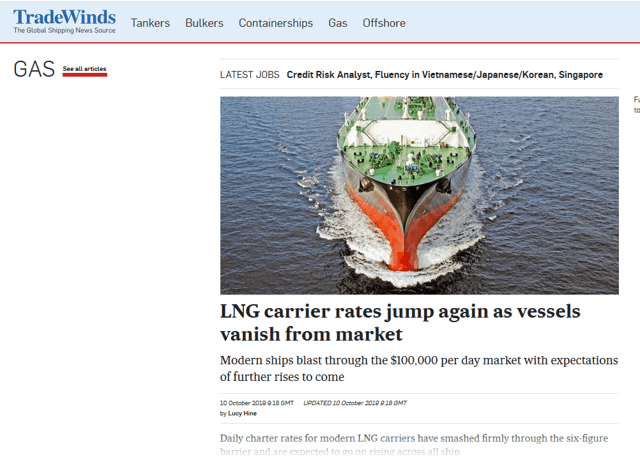 Joakim Hannisdahl from Cleaves (follow him on twitter if you are into shipping), is eying the same angle: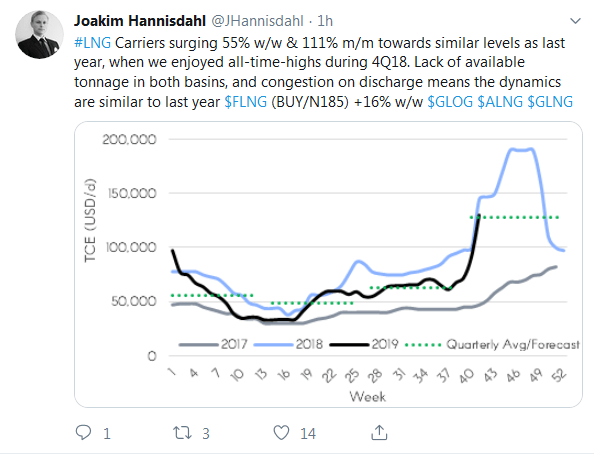 Last year when rates hit these levels, GLNG was trying to break $30 resistance. The difference a year makes...
People are also definitely buying the story at the moment. Flex is a pure play LNG shipper and probably reacts much more volatile to the rate improving, compared to GLNG later today. But it's clear that I expect a strong day today for GLNG: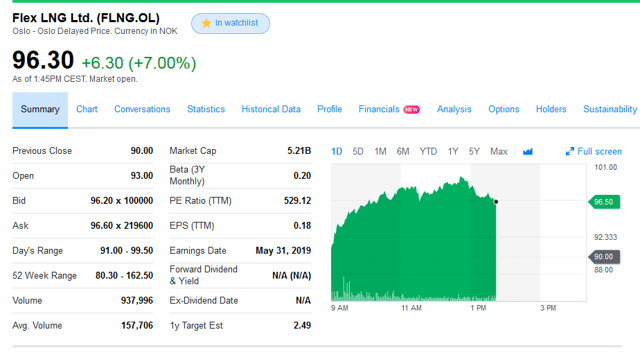 Some other details on GLNG I am looking at include;
- A major power auction in Brasil's Bacarena. Golar Power might very well announce some progress here by late October (18th October should be the auction date). This possibly involves employing an FSRU as well.
- GLNG had a plan to possibly spin off the LNG vessels with the goal to get a lot of debt and volatile results off their books. I imaging that it's much easier to accomplish this, in a bullish LNG shipping environment.
- Small reminder that GLNG had fixed some vessels on index linked contracts last Q2 report: "three of Golar's 11 carriers now employed on 1-5 year index linked contracts and two vessels on multi-month fixed rate charters."
- Maybe finally a Hilli T3/T4 decision by Perenco?
To conclude
I tried to write this article in a bit of a loose and fun way, even quoting some past discussions. The goal was not to provide a full overview of the bullish case on Golar. I assume, that people caring enough to read a blog from me, probably know the operations of GLNG and know what things like Sergipe and Hilli T3 stand for. If you are not aware of the bullish case, then this article is a great read (J's target has been reduced since this was written, this was prior to Q2 report).
To be clear about this, I bought an excessively large GLNG position. Part of that will be a short term surge position just for the next weeks. I will definitely sell some on potential strength, as my position is oversized right now. Daily trading volume in GLNG is $20 million, so I don't have the illusion a blog like this moves the price. But I still think it's good to make this caveat.
But the bottom line of this article, is that I think GLNG is a great buy. Fundamental reasons why, have been discussed before. This article focuses more on the timing and I think now is a good time.
Disclosure: I am/we are long GLNG.