By Thom Lachenmann
Amazon (NASDAQ:AMZN) is an interesting investment to try and think about at the current time. Our hope is to try and analyze an overhead view of what the pros and what the cons are for investing in Amazon are in the current market environment. Our final take on the company is cautious, and we will explain why heading forward.
Ever since we have come out of the financial crisis in 2007, equities have begun a slow and steady ascent upward in terms of how they are valued and the multiples that they carry.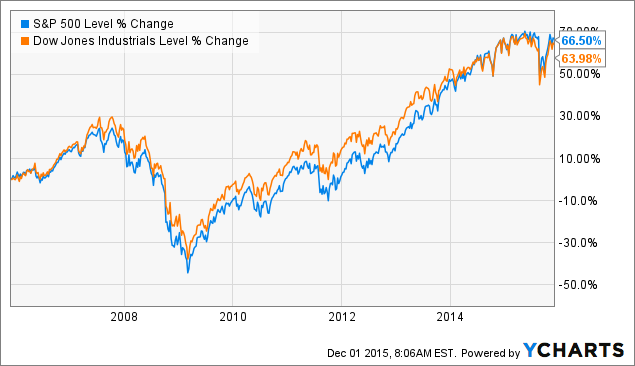 The S&P 500 now sports a multiple of somewhere near 18 times earnings, indicating that in an investment in a company today would be likely to learn what you pay for it over the course of the next 18 years if it keeps earning at a perpetuity/steady pace. Companies like Coca-Cola (NYSE:KO) and Johnson & Johnson (NYSE:JNJ) can be easily assigned multiples like these due to the track record they have over history.
Consistency results in steady multiples and safe dividends, but then you miss out on the big moves like the one shown in this KO vs AMZN 10 year comparison.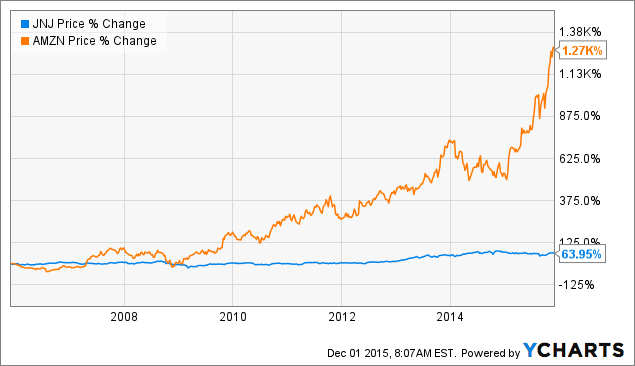 Both JNJ and KO have made their way through numerous recessions and the consumer demand for their products is very consistent, to the point where the companies have become safe havens to allocate money to over the course of the long term.
Amazon is a little bit of a different story.
The company trades at an insanely large multiple because, even this far into its growth, the emphasis has been on the company's ability to grow its revenue and the company's disruptive sector, in online retailing. Over the last 20 years, Amazon has done a fantastic job in making itself the best online retailer in the world. There are no arguments about how well the company has done to this point and how tough of a competitor Amazon is. The company continues to produce record numbers, and we're guessing this holiday season won't be any different.
However, Amazon as an investment is a different story. What we look for from an investment is we look for a company's ability to return what we pay for it in cash over the course of however many years we plan to be investors. Well Amazon is running a fantastic business that has shown some signs of generating a profit, the current market environment and our philosophy on investing prevents us from being a long-term bull at these levels.
First, the current market environment feels to us like it is once again reaching a top. We think we are going to be retesting the highs of earlier this year, and we have predicted numerous times that we do not believe these levels will hold and that the market will once again test the Dow 15,000 level in 2016. When the market turns from a euphoric to a skeptical view, companies like Amazon that trade at enormous earnings multiples are generally the stocks to get hit hardest, due to the room that they have to bring their multiples in.
Fundamental companies, like Johnson & Johnson and Coca-Cola can weather the storm, because there is an expectation of the business being able to continue generating steady profits and steady cash the way that it has been over the course of 30 or 40 years. Amazon is not afforded this assumption.
Another key concept that is always looked at with companies that are growing as quickly as Amazon is when to stop investing in the company and went to start actively managing the companies operating expenses as to maximize profit.
We don't think that there is anything wrong with what Amazon has chosen to do, which is to perpetually invest in itself to grow and to employ new strategies for growth. From an investment perspective, however, we would like to see some light at the end of the tunnel, as curbing the spending is going to be the only way for us to be able to assume what the company's profits may be moving forward. While the street seemed impressed with the last few quarters that the company posted, the profit was minimal and Amazon has continued to spend.
Let's quickly look at the valuation. What you are buying when you buy a share of AMZN at about $670 is a company that's trading an astounding 25 times what it's worth on paper, with an EV/EBITDA of 45x and a P/E that's over 100x.
The EV/sales of 3.1x and the revenue numbers from the company are what continue to make it attractive to potential investors. The company has $18b in debt, which is relatively nominal to the $14b in cash that they have on hand, and they're doing an astounding $100 billion in revenue over the last ttm period. This is the number that brings in investors. Should the company start to operate at decent margins, we could see today's EBITDA of $7 billion easily triple or quadruple moving forward.
But then the question becomes, when is it time to take the junkie off the medicine? When does the spending stop. With moves into streaming media now, it doesn't seem that Amazon has figured this one out yet.
Amazon is definitely an interesting breed. If we had to choose any online retailer, we would take Amazon over companies like Wayfair (NYSE:W) any day of the week. Amazon is finally large enough for it to make sense as a business, and we think the company has real staying power. Love them or hate them, the executives of the company have done a good job building Amazon to its current point, but again we think an investment in the company at these levels should be considered cautiously.
We are seeing commodities in a recession, China had a market meltdown a couple of months ago that economists are not sure has really even started, Greek banks are heading into the same old trouble they have been in for years, and Russia is now heading to war with Turkey.
Geopolitically and from a global economic standpoint, with our markets nearing what we believe to be another top, we don't see a reasoned, well thought out case for being investors in a highflying companies where only revenue matters at this point. We cannot pay 100+ times earnings for Amazon at these levels. Especially, companies that have been around for many years, but still fail to focus on the bottom line.
We like that Amazon is expanding and that it is moving into things like streaming media, but there is no doubt that in the future one of the highflying non-cash producing names, like Tesla or Netflix, isn't going to make it. We don't know which one yet, but we know reality will strike eventually. When this happens, expect companies like Amazon to share the pain.
While we like Amazon as a busienss, in today's market climate, we are cautious about Amazon and would not be buyers.
Disclosure: I/we have no positions in any stocks mentioned, and no plans to initiate any positions within the next 72 hours.
I wrote this article myself, and it expresses my own opinions. I am not receiving compensation for it (other than from Seeking Alpha). I have no business relationship with any company whose stock is mentioned in this article.