By Scott Tzu
There are a lot of reasons to take a look at BlackBerry (BBRY) at the stock's current levels between $6 and $7. You could point out the fact that the company is sitting on a healthy cash balance that they plan on keeping at or around $2.5 billion. You could point out that the company continues to be cash flow positive. You could point out that the company is trading at almost exactly 1 times its book value. You could also point out that the company has arguably had its worst few quarters behind it, as last quarter the company came out and beat almost all of the expected numbers that analysts estimated.
Yet with the market, the stock has suffered. We think it has suffered too much as a result of the market pullback, and will eventually need to converge back upward, closer to in line with the S&P.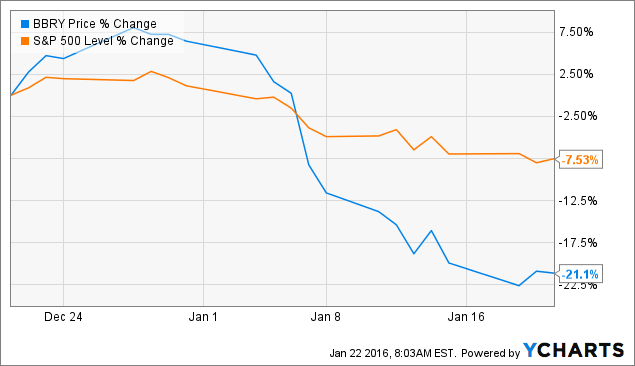 Everyone that follows the company knows that the giant push during January's Consumer Electronics Show was to show off the company's capabilities in automated driverless technology. BlackBerry already has a leg up because their QNX operating system is already in over 60 million vehicles worldwide. QNX, which has been praised for its simplicity and security, is the operating system that allows many cars with dashboard computers to access amenities and music via the on-screen dash.
Judging by the market caps of newer automakers, we are going to guess that automated driverless technology is going to be a a sector that is worth well into the billions in coming years.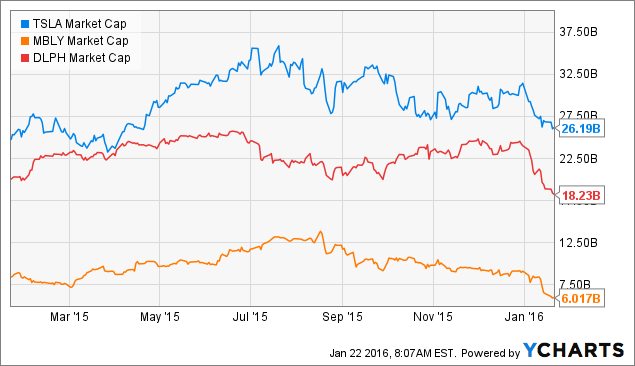 TSLA Market Cap data by YCharts
Companies like Mobileye (NYSE:MBLY) have been given very high valuations (once over $12B) based on the prospect of automation in the vehicle moving forward.
Ostensibly, BlackBerry would be one of the best for this type of technology. It just makes sense. We have heard horror stories about people's vehicles, including Teslas (NASDAQ:TSLA), that have had their computers hacked and where the driver has lost control of the vehicle. Remember this headline?

When driving, one needs the most secure of operating systems, especially in a day and age where vehicles will eventually have built-in Wi-Fi and will probably be almost 100% computer-based. BlackBerry obviously fits this mold due to their world renowned security and focus on simplicity.
So while many companies are far along down the track working on driverless technology, we know of two that are still at the beginning stages. Both Blackberry and Apple (NASDAQ:AAPL) are both working on driverless vehicle projects, as it has been reported over the last few months. Reports surfaced yesterday that Apple had moved a division of its auto services offices into the same office park where Blackberry's QNX software is engineered and worked on. The article in Apple Insider stated,
Citing people familiar with the matter, the Ottawa Business Journal reports Apple will take up residence in the G. Best Building at Kanata Research Park. Ottawa-based tech company DragonWave is currently the main tenant - its logo dominates the building's facade - but the website of building owner KRP Properties has a listing open for a 22,100-square-foot suite.

A description of the property notes a "full-floor office suite" with an executive boardroom, meeting rooms, offices, a server room, lunchroom, lab space and even showers, according to the report.

Kanata is home to QNX Software Systems, a BlackBerry offshoot focusing on automotive software solutions. There is no evidence to support claims that Apple plans to conduct automotive product research in the region, but opening an office near QNX's headquarters is sure to raise a few eyebrows.
Is it possible that this could be a coincidence? Yes it is.
But with Apple's world headquarters in Cupertino California, what would be the reason for moving to such in interestingly remote location in Ottawa, right near BlackBerry's office? Just international expansion? Maybe.
We know that many of the car companies have already partnered with technology companies to try and advance this type of technology. We are expecting that Apple is going to have to complete some mergers and acquisitions in order to round out this segment of its business. Sparing you the talk about Apple buying Tesla, it does seem to make a lot of sense for Apple to be able to buy Blackberry, extraordinarily easily (they could pay a 100% premium by using about 4% of their cash), get all of its patents, software, server business, and its technology for automobiles.
If Apple does not buy out BlackBerry, which it probably won't, it would still make for a great partnership. It would also be a partnership that would revitalize the BlackBerry name and single-handedly change the way that investors and Wall Street look at the company.
We are not saying that this is going to happen.
We do find the speculation about these two companies extraordinarily interesting. It also happens to be coming at a time where BlackBerry stock is priced the lowest it has been since John Chen has come on board, at a time where the company is arguably the strongest it has been and the furthest it has been through it's turnaround.
The company trades with an EV/sales of 1.11x and an EV/EBITDA of 4.6x, as well as a price/book of 1.04x. If someone, anyone, was looking to buy out this company, this may be the time to make a move.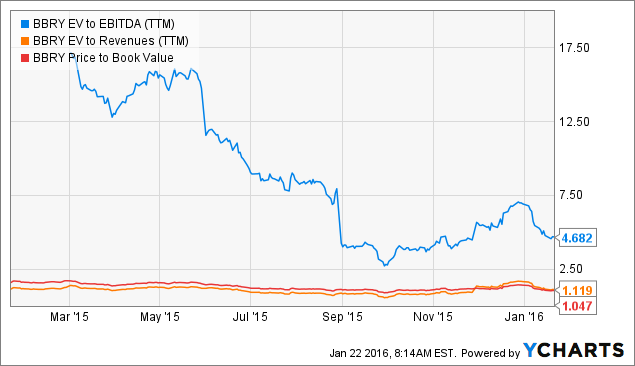 BBRY EV to EBITDA (NYSE:TTM) data by YCharts
BBRY EV to Revenues (TTM) data by YCharts
Of course there is a chance that this could all just be coincidence. Apple has strength in its iOS platform and it would also make a lot of sense for the company to try and implement this OS into its vehicles. This would especially make it convenient in synchronizing your vehicle with all of your Apple ecosystem.
There is also a case for potentially trying to sell the QNX division of the company. I am sure that if John Chen got the right price, he would consider it. QNX could arguably be worth in the billions.
This article from TechVibes in Feb 2015 states the connected car market could be worth $50 billion, and that QNX is "dominating" it,
One thing that has not changed, though, is QNX's impressive marketshare of the automboile industry's "infotainment" space-you know, all the new-fangled, problematic interfaces most new cars come with these days. QNX, born in Ottawa in the '80s by two University of Waterloo, owns more than half the market. And it's a fast-growing one, too.

QNX isn't a massive part of BlackBerry's overall revenue-around 3% to 5%, according to some estimates-but the automobile industry is half of QNX's revenue. Which is why it's a little wary of the sudden appearance of Google's Android platform in motor vehicles today.

The connected-car market is expected to be worth more than $50 billion by 2015, according to a 2013 forecast from the GSM Association of mobile operators, which is more than triple its value today. That's a big opportunity for QNX-and its competitors, which includes not only Google, but also Apple, the world's most valuable company.
QNX is just one part of the sum of the parts that we think makes BlackBerry significantly more valuable than it is priced today. BlackBerry today trades at a single digit billion enterprise value. We think the driverless auto segment alone could eventually be worth $40 to $60 billion, and we think that there is still significant value in the other segments of BlackBerry's business.
With the company's continued momentum in handsets, software and enterprise, this could be an aggressively growing niche of the company's business. This company has not seen in aggressively growing segment to its business in many years. Mobileye trades at absurd current valuations: 12x book and 38x forward earnings. To even give BBRY a taste of these valuations would be instant multiples on your original investment at these levels.
If you were to assess BlackBerry at levels like these, the stock price would be astronomically higher than it is now. If Wall Street sees some type of future promise in this company, regardless of what segment it is in, the valuation should expand and shareholders at today's level should recognize significant gains.
We are not going to run down the entire valuation of the company, but you can see that the foundation is strong. With $2.5 billion dollars in cash and a book value of about $6.70 per-share, we think there is a giant opportunity and BlackBerry shares year.
Disclosure: I am/we are long BBRY, AAPL.
I wrote this article myself, and it expresses my own opinions. I am not receiving compensation for it (other than from Seeking Alpha). I have no business relationship with any company whose stock is mentioned in this article.