By Scott Tzu
All eyes are going to be on Apple (AAPL) today, as the company is set to report earnings after the bell. Apple has already been hit very hard, down off its lows near $130 and today trading right around the $100 mark, seemingly waiting for direction and prompting from a new set of results.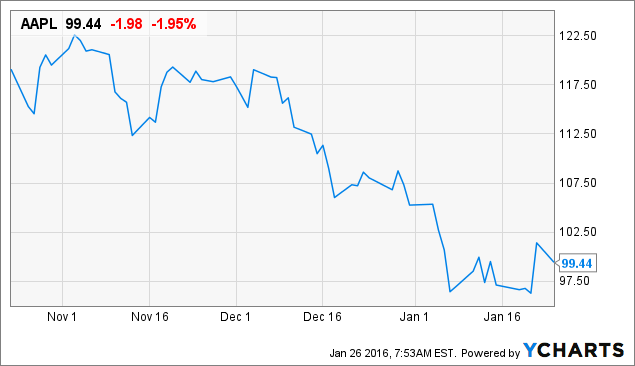 It's been an ugly three months. Sentiment around the company has been very poor for the last few weeks and it got us to thinking about what tricks the company could have up it's leave in order to unlock more value. We think the company has two; either get bigger, or get smaller, or both. We will explain.
We know that many Apple suppliers have posted poor numbers, which is just one of the items that is leading Wall Street to think that Apple is going to miss the quarter significantly. Reports like this one from November 2015 keep popping up,
Several days ago, one of Apple's component makers - Dialog Semi - issued cautious guidance strongly suggesting iPhone sales momentum was weakening. Apple's earnings produced disappointment asChina sales rather notably fell (but was quickly dismissed by analysts as US sales rose) and now, perhaps most worrying of all, Taiwan's Pegatron Corp - maker of Apple's next-gen iPhone 6S and iPad - has halted hiring in its Shanghai factory as workers note "sales of iPhone 6S have been disappointing."
Of course, iPhone sales are going to be the number one watched indicator of how well the quarter went for the company, even though that shouldn't necessarily be the only indicator of how the business is doing. Unfortunately, significant growth in the App Store and also in Apple media and in Mac continues to go unnoticed as Wall Street analysts cling to the iPhone sales number as their main determining metric in how the company is doing. Apple is really, by its nature now, a smartphone company first.
Apple investors are frustrated and rightfully so. The company has a robust cash position and is one of the largest companies in the world. However, the company's debt has also silently grown, leaving the idea of more capital deployment looking like it could be farfetched.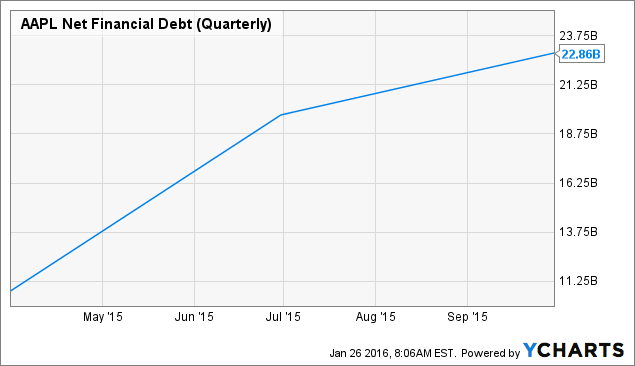 AAPL Net Financial Debt (Quarterly) data by YCharts
But Apple has showed nonstop growth since the early 2000's, with the iPhone being the catalyst of late. The company was able to capitalize on a new emerging market, smart phones, which they entered at just the right time. Many think that the company is going to find similar success in both driverless automobiles and streaming content. While the old Mac division is still humming along and more computer users continue to switch from PC to Mac, Apple is on the forefront of two new burgeoning businesses in automobiles (estimated to be a $50B business) and streaming content (already a $50B+ business).
As of today, investors can only hope and cling to the idea that one of these new segments is going to help unlock some of the value in the company for shareholders. Apple continues to trade at an extremely conservative valuation as if it was not a technology company, but a company that worked in some type of commodity space. Look at this comparison to peers in hardware and software.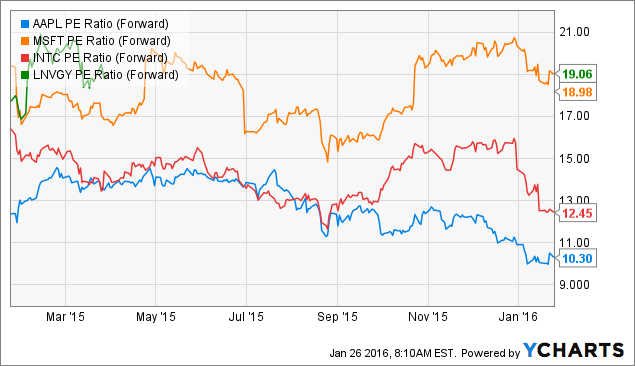 AAPL PE Ratio (Forward) data by YCharts
Many Apple bulls that we know, us included, believe that if there is not room for multiple expansion in one of the most fundamentally sound companies on the planet, where is there room for it?
We have seen increased buybacks at the request of the large shareholders like Carl Icahn. We have seen the company pay and raise its dividend for investors. We have seen the company undergo a seven for one stock split, which also helped unlock value. With tremendous cash flows, the question then turns to what can Apple deliver to help unlock value for shareholders?
Here are two scenarios that we came up with.
The first idea would be for Apple to make some targeted acquisitions of companies whose technology could be of value to them in the future both with legacy products and with new coming products.
Companies like Tesla (TSLA) and Mobileye (MBLY) could help with automobiles; BlackBerry (BBRY) and GoPro (GPRO) could potentially help build out hardware and accessories; and Twitter (TWTR) could help move Apple into social media for the first time. All of these names have been in a speculative discussion at some point. There has also been speculation about Apple potentially trying to make an acquisition for a company like Time Warner Cable (TWX), who seems to be perpetually up for sale over the course of the last year and who could give Apple an instant leg into cable and streaming content. Netflix (NFLX) has also been talked about in the same regard, as it would significantly bolster Apple's offering in streaming content and would put the company instantly into numerous countries with tens of millions of subscribers.
iTunes and the App Store, we think, are two overlooked parts of this business. Their growth continues quarter after quarter with nobody noticing and a strategic acquisition like a Netflix or a Time Warner cable could move the company's media and content reach to another level. Forbes recently reported,
Apple Inc. AAPL -1.95 % said App Store billings topped a record $20 billion in 2015, but growth from the business appeared to slow even as the company introduced apps on new devices such as Apple TV and Apple Watch.

Apple keeps 30 cents of every dollar that flows through the App Store, meaning the store generated more than $6 billion in Apple revenue for the year; the remainder of the money goes to developers.

The figures highlight the growing financial importance of apps for Apple, which posted revenue of $233 billion and net income of $53 billion in the fiscal year ended September. The roughly 1.5 million available apps boost the appeal of Apple's highly profitable hardware and help to distinguish Apple's products from its competitors.

Apple created the App Store for the iPhone in 2008, later adding apps catered to the iPad. Last year, it opened a software marketplace for the Apple Watch and its latest Apple TV box. By opening those products to software from outside developers, Apple supplements the basic features of its products with broader and more diverse offerings.

The company said it had its biggest day of sales in the App Store on Jan. 1, when customers spent more than $144 million.
We eventually think that Apple wants to control a home's entire ecosystem, similar to the direction that Google (GOOG) wants to move in, and we think that these types of acquisitions could be good steps in the right direction to help it do that.
Again, there is also the overlooked option of making a social media acquisition like Twitter. Want to add value on a large scale? Social media could be the way to do it; Facebook (FB), for example, is valued at $277 billion right now, more than 10x Twitter's market cap.
Apple currently has very little footprint in the social media space and the opportunity to create an entity similar to Facebook by acquiring Twitter and revamping it could lead to significant multiple expansion for the business, if they can continue to get Twitter to grow. No doubt about it, we believe that if Apple were to acquire Twitter, they could fix what Jack Dorsey is having trouble fixing.
Conversely, another way to unlock value could be to spin off parts of its business. Namely, there are a couple ideas for this. One idea would be to spin off iPhone on its own and separate that from the rest of the core business. This would segment the ecosystem and allow Apple to finally put the focus on its other segments, like Mac and iPad, that have shown strength but have not been enough to please the street.
Or, Apple could consider splitting off it's media portion of its business and creating a Netflix like entity of its own. Keep the hardware in one business, and spin off all of the digital business, along with the limited software that allows it to operate.
Aside from ideas like these, it is tough for us to think about what type of levers Apple can pull to simply generate more value for shareholders instantly. Yes, the stock is significantly underpriced. Carl Icahn will tell you that any day of the week. But if the market thinks it is priced correctly and everyone buys into that, what then becomes the key to unlocking the extra 40% or 50% that many investors think should be tacked onto the share price via multiple expansion?
Sure, the company could issue a special dividend or it could raise its dividends, but we don't think that is enough to appease the street. Also, we just don't think that plan would be very impactful for those that believe Apple should be priced much higher. Finally, Apple is starting to have some debt, not to worry about, but definitely to be congnizant about.
The company can continue to buy back stock, which it has been doing regularly and which will probably give it some support on the bottom line. With the stock as cheap as it is, we would not be surprised to see an increased buy back yet again and Apple hungrily eating away at its own shares. Again, we do not think that this method is going to generate instant value the way that many Apple bulls want it to.
While they seem like two wild-card scenarios, we think that the idea of Apple separating itself makes a lot of sense. So much of what holds the company back is often quoted as "the law of large numbers". In order to escape that stigma and to allow for a higher valuation and multiple expansion, separating parts of the business, or moving into streaming, automobiles, or social media via an acquisition seems to make the most sense for us.
With the company's debt rising, these may be the last two tricks Apple has in its bag.