The majority of CEFs follow discretionary distribution policies. In other words, the board gets together, looks at a bunch of information such as fund income levels, competing fund yields, forward-looking factors such as short-term rates or portfolio rotations that will drive income changes and come up with a distribution. Most of the time distributions don't change which makes them hard to forecast. 
Funds that have managed distribution policies, which number at least 120 by our count, have distribution changes that are much easier to anticipate. This is particularly the case for funds with formulaic policies but also those with a strong historic pattern. 
A case in point is the huge recent rise in the distributions of Calamos CEFs, shown in the following table that was released on 21-Jan. 

As it happens, the Calamos funds have managed distribution policies though they are not formulaic. Rather, they appear to be based off changes in the NAV.
In an October article we discussed how this works. The funds tend to raise distributions once the NAV rises appreciably as the following chart for CSQ suggests.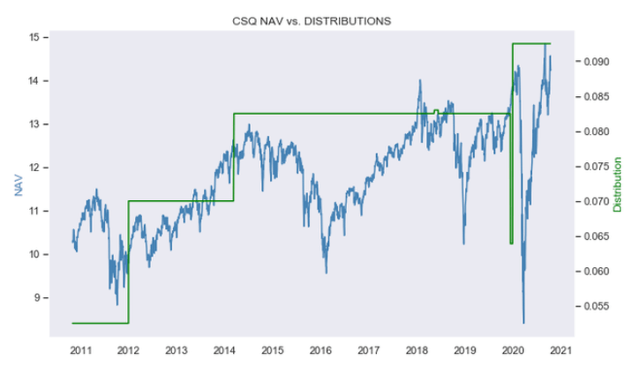 In a recent January article (not yet released outside of the service) we said that given the strong performance of the convertibles sector in 2020 we expected these funds to raise distributions.

Source: 11-January article
We have now added a new feature to the service which specifically tracks funds with managed distribution policies which can allow investors to stay ahead of these changes in a systematic way.
A fund that we continue to like is a high-yield CEF EAD which we expect to begin to raise distributions at the start of Q2 given the way the distributions are set. The fund also features strong historic returns and attractive discount valuation.
Thanks for reading. Take advantage of our max-20% discount this weekend.

Check out Systematic Income and take a look at our suite of Income Portfolios designed from the perspective of yield and risk control in mind.
Explore the best of the fund, preferred and baby bond markets with our powerful Interactive Investor Tools.
A free trial also gets you a look at our Guides to CEFs, Preferreds and PIMCO CEFs.
Check us out on a no-risk basis - sign up for a 2-week free trial!